Greetings from Jæger – Nå skal vi kose oss!
As bodies, like sundials, turn to face those first rays of a forgotten sun; we escape the dark, dank confines of our winter habitat, tentatively making our slow migration outside, where rejuvenated fauna, birdsong and a locked groove await us. The steam has cleared from our sauna booth where MC Kaman has been residing these past winter months, and as he now takes up new residence in our basement where the sub-bass has never had such a workout, the rest of us move into the courtyard. The bamboo outside is looking green and lush, reaching new delicate heights this year, creating our own little Eden where we can disengage with the cruel realities of the outside world that lie beyond the comfort of our green slice of music heaven. Ignorance is bliss, and it's the escape we so desperately crave more than ever now. The beat of a drum will be the only authority we recognise and the synthesised melodic refrain our anthem, from which we will embrace the pagan rituals of our ancestors as we celebrate new beginnings and a new season in the transcending dimensions of a repetitive beat.
This last week the prospect of a new season has already tempted us outside with the lure of a faint warmth. Det Gode Selskab and Mandagsklubben took the first speculative steps outside with vampire-like caution, but it is in fact the easter weekend that will host the the official opening of our backyard with our strong reliable annual lineup, featuring Boogienetter, Skranglejazz, Frædag, Nightflight, Footfood, Det Gode Selskab and Mandagsklubben and a host of international and local guests. DJ Slyngshot and Mark Ernestus join us from Berlin for the weekend, and we've given Mark Ernestus our basement which he is using to showcase his newly established Ndagga Rhythm Force in Oslo. A group of Senegalese musicians, Ndagga Rhythm Force is Ernestus' invention in which the borders of Techno and African rhythms are re-drawn and they come to Jæger's stage to perform tracks from their incredible Yermande album. Ernestus will also be in our booth for an exclusive set making this Ernestus takeover. Mark Ernestus is the proprietor of Hard Wax and one half of Basic Channel amongst other things and contained within those two minor details are just about the history of Techno in Europe, so really not to be missed.
An undeniable highlight, it shouldn't distract from the rest of our spring season however, where Ola has gone all out to make sure to keep things dynamic with some incredible international bookings in amongst our solid weekly residencies, which just seem to go from strength to strength each week. Øyvind's Untzdag residency, which brought us Palms Trax just recently, has some return guests, Young Marco and Willie Burns returning to our booth. Young Marco arrives this week as part of his Dekmantel Selectors series and we're really looking forward to decoding the differences between selector and DJ for this event. Another known selector Willie Burns is also back on his annual visit, and sure to have some interesting new anecdotes to tell. A recent article in RA gave us an insight into his daily life over at the thing, and we look forward to some laughs and great music, although we'll try and avoid the "hooge" orange elephant in the room. Untzdag also sees Øyvind Morken travelling to Berlin and Berghain in May, for a set in the infamous Lab, and we'll be going along for the ride, looking forward to share our midweek treasure with Berlin.
From Berlin to Frankfurt, and two other DJs returning to Jæger are ATA and Roman Flügel who will be here on the same night no less. They are taking Live at Robert Johnson on tour to celebrate the release of Lifesaver 3 and will be stopping off at Jæger. Roman Flügel's "all the right noises" is still a prominent feature in our cafe and the memory of his last visit is still pretty fresh in our mind, so this should be an electric night. With Alter Ego, Acid Test, Warp 69 and Soylent Green all attributed to his name, he has set a few benchmarks in his time, much like Ernestus, and as we look set to get a visit from DVS1, Kerri Chandler and Erol Alkan this season too, I think we can safely assume the history of the dance floor is largely accounted for this spring. After missing out on Erol Alkan two years ago during Øya when the DJ, due to unfortunate circumstances outside of his control had to cancel, we are very pleased to announce he's coming to Jæger in May, a booking that is one to look out for as the Phantasy Sound label head and DJ plays our intimate basement. It's so cozy down there at the moment that another return guest has decided to make it home for three events this year. Leon Vynehall comes back to Jæger for three residency events, with the first coming to us at the end of April. Jæger is one of of a select few venues that the DJ will call home during a reserved touring schedule this year and we'll be announcing more on this event really soon.
It's a lot to look forward to in the next two months, and since we are restless souls, we've been constantly updating our interior too, adding or taking away pieces to accommodate Ola, Scott and Kaman's insatiable vision of a club space. It's getting cozier in our café with more fauna, more books, more records and a brand new booth, a little brother to our roll-over booth in our basement. And it getting bolder in our basement, Ola constantly tweaking that impressive Funktion one system and its surroundings to get the most out of everything. We've never heard it as loud or as clear, every little nuance finding it's space with the room accompanying it perfectly to provide the warmest sounding Funktion One system this writer has ever heard.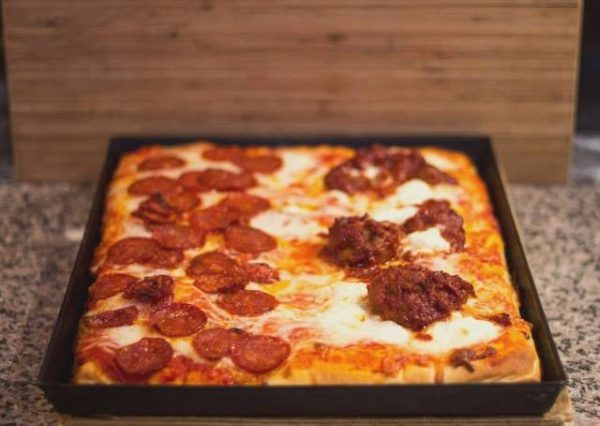 But with all this rejuvenation comes some re-invention and re-invention requires sustenance, and what greater sustenance than the Norwegian national meal, pizza. The Italians might have invented it, but Norway certainly owns it, and with a new collaboration between Mama's Pizza and Jæger, Thursdays to Saturdays the cafe now has Pizza slices on the new Æperitivo menu. It's all coming together, and a year on from our major renovations Jæger is looking more and more familiar, and spring has certainly showed Jæger under a brand new light. We're getting there, although where there is is anyone's guess, but with the first hints of spring in the air it gives us just cause to be very excited indeed. Nå… skal vi kose oss!