In the immortal word of James Murphy's lyrics for the LCD Soundsystem track, I'm losing my Edge, Svømmebasseng trade their guitars for turntables and move from the stage to the booth in this latest edition of the Jaeger mix series. Svømmebasseng are an indie pop band that have won over a large audience with their pragmatic dance floor creations and sweet melodic reveries.
Taking those rudimentary foundations of Disco icons like Chic, Earth Wind and Fire and Kool and the gang, Svømmebasseng perpetuate the sound of these forebears in a modern, electronic sonic aesthetic with a familiar Norwegian slant. Two LPs and a handful of EPs  have established them as a favourable force on the Norwegian live circuit with a very unique style as bouncing percussive arrangements and enigmatic Norwegian lyrics coalesce around the dance floor.
Svømmebasseng arrive at the Jaeger mix with a brand new EP, "Essensen" and off the back of a countrywide tour, but they exchange their instruments for the decks to lay down a mix that disseminates their sound as band further through the music of others. They are of course no strangers to the club concept and regularly host nights as Svømmebasseng Djs and Ullern Villaklubb, often at Jaeger.
Philip Linberg and Jens Heli drew the long straw and laid down a vivacious percussive mix with icy cool arps and pads swooping in and out of the mix. With a mix of music that offer very similar strands to Svømmebasseng's own music, but channelled towards the late night courtyard for the first steps towards the dance floor, Philip and Jens sew the first seeds of a night out on the tiles.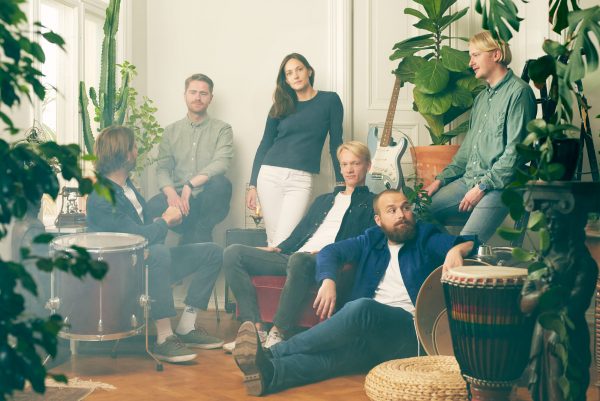 Give us an introduction to your Jæger mix.
First of all, thank you guys for having us on! The selection is a bunch of songs we really like to both listen and dance to. Some old and some new. In addition, we start and finish with our own unreleased productions. Hope you guys enjoy the selection ;)
What is your earliest memory of a piece of music?
Jens :  "When I was a kid, my father's jazz band had practices in our living room. I used to fall asleep on the couch to Straight No Chaser and other bebop classics " Philip: "I can't really remember a specific one, but I always used to sing Jan Eggum and Leonard Cohen songs with my mother in the car. Fun times!".
What encouraged you towards a career in music?
Music is fun and we love it! Nothing is more fulfilling than creating or playing something you really like. So, I guess that's the main encouragement, the enjoyment of it. When we lived in Bergen 6 years ago we started Svømmebasseng with no other ambition than having fun making music. The same goes for our club concepts Svømmebasseng DJs, Svømmebaseng Presenterer and Ullern Villaklubb, which are all just excuses for having fun, showing others music we love and drinking free beer! But now it has suddenly given us the opportunity to travel around the country, playing shows and festivals, so thank you everyone!
What do you consider your role as DJ should be?
For us its all about showing people music we love and selecting songs that make people dance. We stay away from the fancy filters and try to salute the artist by playing as may seconds of their songs as possible.
How have your musical tastes and sets evolved since you started?
I think it goes a bit in circles. From rock, to hiphop, jazz, soul, disco, house and techno, but mostly just one genre at the time.
Are there any favourite tracks in this mix?
We love them all! But, Man by chhmr is a real classic, and Syths of Jupiter is an absolute killer although we really trashed it during the transition, haha! Sorry, Magnus… The nerves were getting to us…
What do you hope your Æmix relays to the listener?
Hopefully they discover some tracks they did not know about and get a relationship to them.
What's next for you after this mix?
We are playing some festivals with the band this summer such as Bergtatt, Under the Bridge Oslo and Trevarefest as the big highlights. Club wise we host Øyanatt at Dattera til Hangen on the 9th of August with Dekmantel Soundsystem coming over! A killer for sure.