An intricate sadness overwhelms the listener on MANOID's debut LP, "Truth" as droplets of electronic melodies pour down from some desolate post-utopian wasteland. Elements like broken neon lights flicker for a moment in the foreground, before disappearing into the miasmic orchestration between man and machine. For a moment, a semblance of life appears as a lone string quivers on the fringes of the music in a legato dirge before the opening track, "No Time"  disappears back into the nothing from which it arrived.
There's a humility captured on "Truth" that borders on despair which MANOID (Karol Murawski)  tells me is "really a truth from heart" that he's trying to convey through music in his debut album. He's in Warsaw, Poland where he lives when I phone him up to talk about his latest album and more and in a pronounced Polish accent, he elucidates; "I created this album at a really important moment in life."
The sadness I perceive at first is in fact a serene gravitas at the core of the album, an artist projecting some inner truth through the musical form. "Truth" coincided with the birth of his son and the album was about really trying to "catch the moment" which he does in music that combines effervescent synthesis with blistering rhythms, interjected with stark melancholic movements.
"To Grieve" enshrined the artist's music in the recorded format for the first time. Released via hafendisko (a HFN sublabel), bulging percussive arrangements thread through a dynamic electronic topography. Raspy synths protruding out of the rolling landscape interject waves of texture that envelope the audio spectrum. A stark arid cloud hangs overhead with elements of white noise and static controting through the track that established MANOID as a recording artist. It was the first track he sent to the Hamburg based label label, while the sound of the budding LP was still finding its voice.
How did the Polish artist end up on a Hamburg label?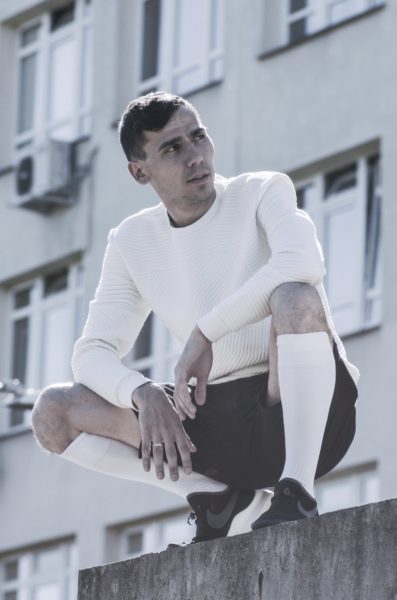 "It's really simple," he explains. Some of his "family lives in Hamburg" and he would often visit them there. He became familiar with the label through the music of Kasper Bjørke and sent them the demo for "To Grieve". Two weeks later HFN  answered "yes, it's cool, we want to release it," but y then the idea of an album had started to take shape, and Karol would only give them the single if they released the album. The acquiesced and "Truth" was born.
MANOID draws comparisons and inspiration from the likes of Kasper Bjørke, Trentmøller and Andy Stott, Karol tells me. "Andy Stott is much darker than me," he suggests. Where Stott's music prefers a fractured kind of dissonance created by raw materials, MANOID favours "clarity" above all else. There's a glossy kind of sheen to the music that barely ripples as beats skip through the arrangements. Although inspired by an artist like Stott, for Manoid it was never about emulating their sound, but rather the philosophy that informs an artist like that or Max Cooper's work.
"For me it's always curious to hear an artist whose made a really interesting palette of sound," he says. As MANOID it was about "looking for something new" and that couldn't be about co-opting someone else's sounds. "It's easy to recreate someone else's sounds," he suggest, but that's not what he's striving for in music. "I want to create my own style," and for that he relies on "field recordings and whole palette of effects" to achieve the desired results. He combines those elements into a lonesome soliloquy from machines tethered to the depths of the artist's own experiences and feelings.
Before MANOID, Karol Murawski was an unknown, trying to find his voice as an artist and producer. Born and raised in "a small village on the east of the country," Karol grew up on the edge of a forest, a "really small village surrounded by trees and maybe fifty people, mostly old people"
What sort of music would he have been exposed to?
"I had the internet, and my friends were listening to Hip-Hop." Besides skating and listening to Hip Hop there wasn't much else to do but make music. At first he "tried to make some hip hop beats," but it wouldn't be long before the allure of electronic was too good to resist. Through electronic music he first found those "endless possibilities to make new sounds" that would eventually inform MANOID. He bought his first synthesiser, the small but powerful Waldorf Blofeld, and "from that moment it was easy to learn how to create these new sounds."
When it came time to go to university, he moved to the bigger city of Lublin to pursue his studies, all the while nurturing his own artistic endeavours. In Poland where there are "maybe two or three" dedicated electronic music labels and "straight proper Techno" is dominating the clubs and festivals at the moment, the Polish scene is only now "starting to grow up" according to MANOID. Festivals like UNSOUND in Krakow and big city "clubs where you can go and see underground music" are also nurturing more of an experimental electronic scene in the country.
It's from this spectrum of electronic music that MANOID too would emerge as an artist, but he shares no personal connection to any particular scene at home. He's a singular figure that occupies a corner of electronic music where heady electronic textures eddie and swirl around stoic dance floor constructions like Techno, without succumbing to the hardened sounds of the dance floor genre.
His latest single, "Take Me" is the only song from the album that features vocals and has all the markings of a crossover success, similar to something like Trentmøller's "Moan" or Andy Stott's "Faith in Strangers." Although MANOID's purpose was to create an "instrumental album" by the time he "finished the draft of 'Take Me'" he felt that he "missed something." He approached HFN label affiliate and Darkness Falls vocalist Josephine Philip to collaborate on  the penitent slow-churning charmer "Take Me."
Philip's vocal adds that essential element of human warmth to the album in a plaintive lament that emphasises the stark electronic atmosphere of the entire album. "Truth" plays on the same kind of evocative mood that from its influences, but as MANOID, Karol avoids any perceptible relationship to any other artist, and rather tethers his sound to something personal, that lives beyond the sound.
The album lives on today in a live show, which MANOID uses as a platform to "recreate and expand the songs."  Including new and unreleased material, he says "the live show is always something different" and in the MANOID ethos he continues to strive for "something new."
It's unclear where this will take him next, but you get the sense that it will surely not be fleeting or immediate. There's a gravitas on his debut album that sits with the listener as it fades out through "letting freedom grow." MANOID leaves the album something of a cliff hanger with probably the most beat-driven track on the entire album, with a fluffy 4-4 kick and those brooding electronics pulsing to the beat of a dormant dance floor. As 16 bars count out the end, there's a sense that "Truth" might be unfinished, but MANOID has indeed said all he has to say, for now.
*MANOID plays live this weekend for Frædag x Filter Musikk.