Prowling the fringes of Disco, Boogie and Funk, a new sound is emanating out of the graffiti-clad facade of Oslo's Hausmania. Two 7 inch singles and a couple of LPs, arriving under the newly-established Lyskestrekk Records banner has permeated the fringes of Norwegian club and music culture over the course of the last year. Cartoonish musical figures with names like Jelly Jels and Torb Roach, embodying aliases that hide previous musical projects, arrived on the scene in a collage of sound that went from the primal sounds of West-African funk to the cosmic outer fringes of Norwegian Disco.
Stalking the shadows of the mystical collective was a yet undefined character and artist that would eventually become Leoparden and take the Lyskestrekk sound cosmo-pop with a single called "Boliglån" and an LP "Stilen er Svimmel". It was incredibly "random" says Yakob Changezi, the man in the leopard-print coat that goes by Leoparden. Leoparden is Changezi's first foray into music as an artist, and Leoparden was a "really spur of the moment thing" that came together at the behest of Lyskestrekk founder and Flammer frontman, Torb Roach. "I am very happy and lucky to have friends that are into music and have been doing music for a long time," says Changezi over an impromptu telephone call ahead of his appearance at Jaeger this weekend.
He had met Torb "through b-boying several years ago" and when Torb asked the latent Leoparden to come into the Hausmania studios to do some "really stupid ad-libs" over a couple of Disco tracks he had created, something just clicked for Changezi. "I was getting into it," remembers the vocalist and then "all of sudden we made up our first session." That first session was "Boliglån."
By the time they went to shoot the video for the track, Leoparden was still but a twinkle in its creator's eye, and it was only when the visual component came together that the name and the character of Leoparden was officially born. Like everything about the musical project, the "whole way the name came up was also random." Digging through the props for the video, Changezi stumbled upon the leopard-print jacket that would eventually define the character and the artist and sever ties with the person behind the character. 
"Boliglån's" stuttering keys, funk-imbued synth bass and Changezi's echoing purr over the track, create a very amicable atmosphere. Similarities toTorb Roach's other project, Flammer are obvious especially in light of the fact that Changezi doesn't play any instruments and Torb was behind the controls, but where the two projects diverge from each other, is that Flammer's more afro-psychedelic fancies are curtailed for a more effervescent psych-pop assemblage. There's that characteristic fusion of esoteric musical styles that has been distilled down the Lyskestrekk sound via the label's head, which Changezi channels through his own enigmatic influences.
Born to an Afghani father and a Norwegian mother, Yakob Changezi's early musical influences bounced between the "diverse tastes" of his father and the classic Norwegian "singer/songwriter stuff" his mother would listen to like "Odd Nordstoga and Finn Kalvik". Eventually his own tastes diverged on a musical path that forked at Sadé and went on to Hip Hop. "Listening to 'Smooth Operator' was my introduction to this type of music," says Changezi. These musical experiences led to breakdancing and today his "interest in music at this level is from dancing." He started breakdancing at the age of 14 in youth clubs and groups around Oslo, but recently he's "stopped dancing that much, tapped in to collecting records" and started DJing in what is a familiar narrative in Norwegian club music.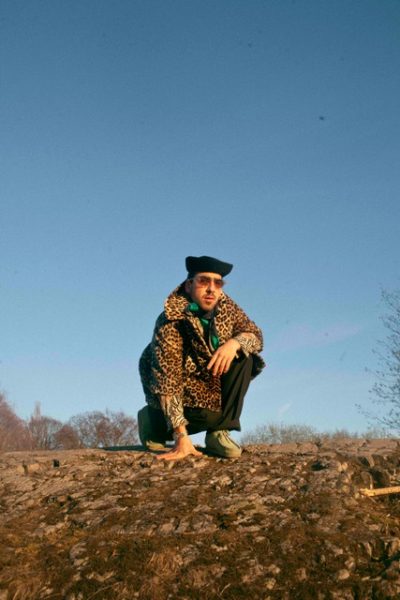 While Hip Hop remains the "backbone" of Changezi's tastes, "funk, breaks, disco, boogie" and even Norwegian folk music has influenced the rich musical palette that would eventually inform Leoparden. "One of my biggest influences in that respect" stresses Changezi, is "Lars Lillo-Stenberg." "I want to have a record with him," he tells me in a breathy awe. Leoparden is a variable melting pot of these influences for the artist and while he "can't define what we were doing," Changezi admits that "all of these underlying influences comes up" in Leoparden's music. 
After creating "Boliglån," Changezi and Torb Roach spent a month in Lyskestrekk's  Hausmania studio to put together Leoparden's debut LP "Stilen er Svimmel." The LP goes from bouncing disco club tracks like "Total Disko" and "Rist Skilletet" to affabel cosmo-pop of the second single "Hagefest" with a distinctive adventurous sound tracing a red line through these tracks, even though they are assembled from a diverse musical palette. It's "a strange mix" considers Changezi and one that he does not think he "would come up with outside the studio." It's all down to Torb and his ability in "making great stuff out of nothing" according to Changezi. 
"Torb played everything" on the record besides the guitar parts, which came from Flammer bandmate Jelly Jels. "A lot of music was done and then I came into the studio," explains Changezi with only some fine adjustments coming in the post-production stages of the record. "It's really DIY," he says of their collaborative efforts "and you never know where things are going, but they end up really well" and that ties the sound of "Stilen er Svimmel" together; a kind of improvised session coming together under the auspices of the intangible Leoparden concept. 
Changezi created the character as some form of artistic escapism through which he could indulge quirky fantasies. "I would never be dressed like him or say the stuff he says," explains Changezi. The lyrics are "just about having fun" and inventing a phrase that "doesn't make sense, but you sort of get it" and "leads you into several different paths." With lyrics that deal predominantly with "clubbing and experiences from the dance floor" there's a jovial frivolity locked within these random phrases that he creates for the music, which allows Changezi to get some distance between his personal life and the character. The only time he's ever broken that fourth wall was for "Boliglån." 
When asked by Torb to create something somber for the track he only had a personal experience to turn to and "that's where the character struggles with me as a private person," says Changezi "because that is a real life problem I'm still struggling with today."
It's the only time there is something of Changezi creeping into the Leoparden character, which seems to be mostly interested in a hedonistic lifestyle. Social commentary like that of Boliglån now seems slightly out of place in the rest of the Leoparden catalogue, but even in the more serious moments, there still seems to be some infectious aspect locked in the grooves of these tracks.  
Even though Boliglån blurs the lines somewhat, Leoparden is certainly living a life of its own.  For the moment Changezi is content developing the character further through live performances, but he's "been trying to define the Leoparden character since the beginning" and it's a process of constant development and discovery. He's still unsure of where the project will lead to in future recordings, and whether Leoparden will even be recogniseable at that point, but he knows he would like to exercise "more control" over the inconsistent product of his imagination going forward.