Jaeger resident, and our permanent connection to House music's US roots, DELLA returns to the Jaeger Mix for the fourth time in the series. Her return visit finds the Jaeger Mix in its next evolution, extending the concept into the rest of Sunday and absorbing the skills of Karolinski as resident alongside Ivaylo. What better way to inaugurate this next phase than with the guest that started it all, 175 episodes ago.
DELLA once again pursues a resolute course through House music's discourse as 4-4 kicks and syncopated hats lay the foundation for deep, melodic tracks to come together. Beatific vocal lines, expressive keys and the corporeal delights of the beat stay the course of the mix. The DJ and artist has been gracious enough to include the full track list for this mix, which reveals amongst new and established artists, a surprise appearance by Jaeger Mix resident Ivaylo. 
Elastic bass-lines bounce between effervescent melodies and luscious textures in what DELLA has described as one of her "favourite Jaeger mixes yet". Flitting between new music and entrenched classics in the House music canon, DELLA's dedication to the genre remains implacable, setting a captivating tone for her next appearance at Jaeger where she'll be flying solo all night long at DELLAs Drivhus .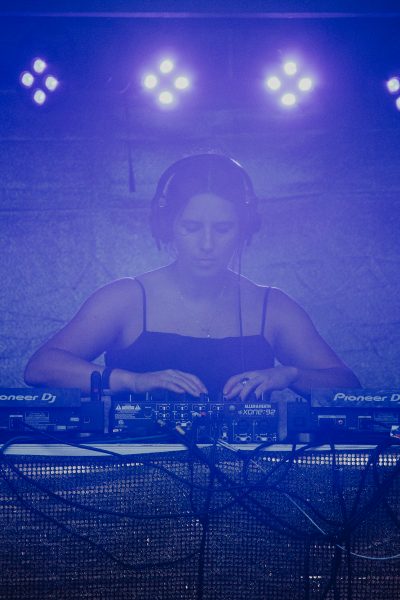 Let's start out with an introduction to this mix.  What do you have in store for us this time around?
This mix is a deep soulful bounce of minimal melodic melodies and vibrating bass lines. It's a reflection of my current spirit and the sounds I am attracted to. Most of the tracks are fresh off the press, released in the past two weeks. It also includes several Classic House tunes. It is one of my favourite Jaeger mixes yet, I enjoyed recording it very much.
Usually there's a future DELLA original in there. Do you have something like that bristling in the mix for this occasion?
It does include a DELLA original, but it's a previous release called 'The Movement.' The mix ends with my vocal accapella, a positive message disclosing the truths of this music. 
I think you're Oslo's only real purveyor of the original US sound of House. Is this still mainly reflected in the old guard, and how's that sound evolved in your opinion in recent years with the expansion of House on an international scale?
Quality House music is timeless and will live forever. The sound both evolves, yet somehow remains the same. It's the circle of life of the sound, it simply keeps on going 'round. I do have a wish for the younger generations and for them to experience real House music. House music is about freedom of expression through vibration and dance. It seems 'the device' and the PR generated DJ is disconnecting the scene more and more, and it's very much felt on dance floors today, especially in Oslo. 
Do you feel you've had to adapt your DJ sets accordingly?
Yes, but not any longer. I consider myself a people's DJ, but I do not play to please the people. As I grew in this industry, I learned how to remove my ego from the DJ booth and have accepted my job as a DJ, to be the teacher. I hold a tremendous amount of knowledge in the sound, have been taught by the masters of it, and my role as the messenger of LOVE.
And how do you see your sets and your music evolving further in the future in the context of the bigger House music scene?
I have been involved in the dance music community for over 20 years. I have reached success as an electronic music artist and the evolution of DELLA has taken a new positive turn. I made the decision to no longer aspire a career in DJing, and it feels liberating. I will only move forward allowing the music to guide me. This has relieved a lot of pressure from trying to 'make it' in an extremely oversaturated industry. All the joy and fun of music has returned. I will never give up House music and my goals remain the same: keep the quality alive, spread the love. I definitely enjoy my small role in the movement.
What have you lined up in terms of DELLA music for 2020 so far?
Honestly, DELLA has been put on the back-burner for the moment. I am in the process of launching my natural skincare brand, RUE, (www.ruebotanics.com) and this has my full attention. This does not mean DELLA is over, she is simply taking a holiday. 
I am currently working in the studio with Trudee Nite creating a banger for Yam Who's label, Black Riot. That's exciting, And, I do hope to travel to the US to get into the studio with my Moulton Music fam in San Francisco. I have also been asked by several producers to do vocal work on their projects, but I am not in the right headspace for music presently. 
Della's Drivhus is scheduled at Jæger as usual for 2020 and I will keep bringing the dance floor gems when behind the decks. You can also find me DJing weekly at Håndslag from 17-22:00. 
For the most part you've lent your vocals to productions and mainly refrained from taking the  producer position as DELLA. What's the reason behind this and will you go back to producing more of your own originals eventually?
First and foremost, I am a dancer, which led me to become a DJ. I love DJing and being a conductor of the dance floor. As far as producing, this has never sparked an interest. I honestly struggle trying to find melodies in my head and have accepted my talent is being able to hear quality dance music. This gift has given me the ability to be a full-time working DJ for 15 years. As far as vocals, I am trained vocalist and enjoy working solely as one. I do not see myself moving into the production area anytime soon. It simply does not attract me, but only time will tell. Who knows what the future holds? 
You'll be back in the booth again on the 22nd of February for DELLA's Drivhus. How does this Jaeger mix relate to what you'll be doing there?
This mix makes me bounce and this is what I can guarantee when I DJ, you are going to #dancewithdella.
You're flying solo for this one. How does that change how your set might go on the night?
It allows me to be able to play as I wish, to ride the journey that flows from my soul. 
Soundcloud: @djdella_official
Instagram: @djdella_official
Facebook: https://www.facebook.com/djdella/ 
Track list:
Ephemeral Chase – Grant

Curtir – DJ Paulo

Rucula – Willie Graff, Tuccillo

Honest Beauty – Chris Stussy

Forgotten – Alci

Rispa – Chris Stussy

Live In This Box – Ali Berger

Dee Phunk – Ivaylo

Dance For You – Carlo Gambino

Faith (Dominic Martin & Spin Science Tronicsole Dub) – Groove Addix, Annette Taylor, Dominic Martin, Spin Science

Late Night Studio Drive – Fufi.SNC

House Music (Supernova Remix) – Cevin Fisher, Supernova

Love Songs – 46554E

Not Seeing Is A Flower – Lone

The Movement (Accapella) – DELLA, System 5