A woeful slide guitar and an elastic bass synthesiser find some harmonious connection across the firmament of sparkling hi-hats as windswept pads streak across an arrangement like the aurora borealis. A fusion of guitars, harmonica, drum machines and synthesisers, encased in magnificent layers of frosty textures entice, intrigue and charm their way through a progression. It's only the opening bars of "Da Strarga Tora" the first track of Fjordfunk's debut LP and any resistance to the rest of the record is in vain as you're swept into its sonic embrace. 
This is what Funk sounds like beyond the arctic circle, through the ears of a DJ and producer that climbed the ranks of Norwegian Disco in the 1990's and soundtracked the sounds on northern Norway throughout the early 2000's. After an 11-year hiatus Jann Dahle returns to the recorded format to finally make his debut on the longer player format as Fjordfunk. 
Dahle picks up from where he left the Fjordfunk alias with "Infinite Zest," an LP that condenses a vast musical universe, from Dub to Disco, Rock to Jazz, to an indistinguishable thread that defies categorisation. "I just wanted an album that I could play at home and also in the car," explains Dahle over a telephone call from Harstad where he's lived for the last six years. He returned home to Harstad after living in Berlin for eight years during a time he "played all the clubs in Berlin" and "got to know Berlin as a city, not just a tourist," before turning gravely ill and taking a permanent break from music. 
"I got very sick and I had to dedicate my life to that," explains Dahle in a tone that shows no signs of regret. He had spent two years on dialysis waiting for a new kidney, and had fractured his back in six places, rendering no time to make or play music. It took him years to recuperate and although DJing is still inconceivable with six spinal fractures, he has returned to music with with the release of this LP and more releases pegged for the very near future.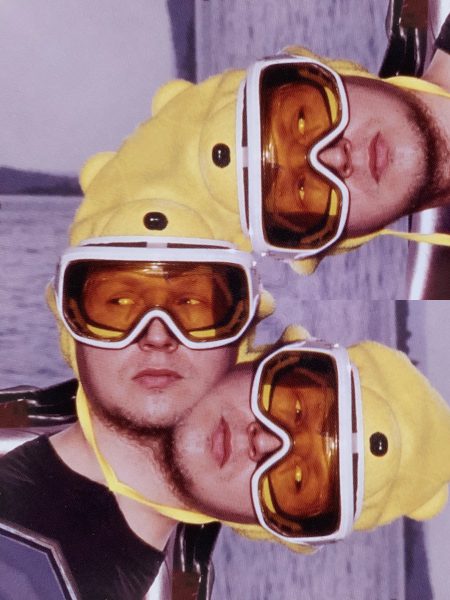 Jann Dahle started making music in 1992  in Tromsø when he moved there to study law. It was a fortuitous time to be making music in Tromsø as the critical point for a burgeoning Disco and House scene that would eventually spread around the globe. "I met Rune (Linbæk), Bjørn (Torske) and Kolbjørn (Lyslo aka Doc L Junior) and I started professionally DJing back then," remembers Dahle. "There was a lot of buzz about Norwegian Disco at that moment, because of Bjørn," but Tromsø being a small city, Dahle "got to know everybody" involved in music and landed a job at Brygge Radio alongside Bjørn, Rune, and Geir Jenssen (aka Biosphere).
Dahle had already found an affinity for American House as a DJ and after a while –  and possibly encouraged by his peers – he bought an sp1200 sampler and started making his own music. "I heard that track Luv Dancing by Underground Solution on Strictly Rhythm and then I just wanted to make electronic music," recalls Dahle. 
He adopted the name Kango's Stein Massiv and started making music. At the same time he was playing "small House parties" around Tromsø in places that could barely fit 30 people, but squeezed in 70, people coming in through the windows, just to hear DJs like Dahle, DJ Dust and Rune play. 
By the early 2000's however everything that could be accomplished in the small university toe of Tromsø was and an exodus followed with the likes of Bjørn Torske moving to Bergen, Rune Lindbæk to Oslo and Dahle to Berlin. 
In 2005 Berlin was a completely different landscape. "My first gig in Berlin was at Panorama Bar" says Dahle and it would've been mere months after the venue had opened. He had met Andy Baumecker when the German DJ played in Norway, and the pair just "hit it off". Dahle would become a regular at Panorama bar at a time when "not too many tourist clubbers" were aware of the emerging institution, playing some part in propelling Dahle's career in the German capital, to that point where he had nearly played every club in the city by 2008.
Kango's Stein Massiv would continue to release records during this time. And his records would always  share some relationship to the proto-house sounds of the early eighties in Chicago. "At the heart of it, it was always Disco," says Dahle "because we sampled Disco." He released a lot of music, edits and remixes under various aliases, including his first and only record as Jackmaster Dahle, a name that was given to him by Prins Thomas for a one-off release on the precursor to Full Pupp, Tamburine.
"I've had a lot of aliases," says Dahle in a kind of musing tone and it stems from Dahle's fleeting relationship with a myriad of musical genres. "I get easily bored when I do the same music – I don't want to do the same thing all the time."
That's how Fjordfunk came into existence. "At that time I just wanted to break away from the Kango's Stein Massiv," says Dahle. He, Pål "Strangefruit" Nyhus and Øyvind Morken started a label called Luna Flicks with the first Fjordfunk 12". He took the name Fjordfunk from a local northern Norway legends, Zoo. "They had a track called Slogfunk," referring to fish offal, which Dahle beautified into Fjordfunk. 
Fjordfunk was always intended to be an album project however, but after releasing two EPs on Luna Flicks that never transpired, before Dahle's health deteriorated. "I made one album under that name that I threw out," says Dahle and today the only surviving copy of that work is with Tore "Jazztobakk"  Gjedrem (Ost & Kjex / Sex Judas). 
Is this next Fjordfunk LP at risk of the same fate I wonder? "No," chuckles Dahle, "it's being pressed as we speak." 
Infinite Zest will be released very shortly on New York's ALO records and it finds Fjordfunk back on the recorded format for the first time since 2008 with "BABOOBAP," the lead single from the upcoming LP. "I've been making music all this time," says Dahle, but he never completed anything while he was still recovering. He did however keep sending some "ideas" to ALO boss and friend Ben Green, who provided the impetus or the LP when he said: "stop sending me all these ideas, just make an album already." 
With his health improving he took up the challenge and "decided that by the end of June I will just master an album." He put together 23 tracks which he and Green whittled down to 8 and the result is Infinite Zest. 
Infinite Zest is a sonic diorama composed from a rich palette of  musical hues informed by Dahle's own tastes. In a track like "BABOOBAP" you might hear the influence of Harstad icons Zoo, while a track like "Exile" echoes the synthetic conjurings of Jean Michel Jarre as he was in the eighties. There's a mysterious charm in the atmosphere Dahle coaxes between synthesisers and organic instruments, punctuated by beguiling Disco grooves in an LP that sounds like the cast of Stranger Things on a night out at Studio 54. 
It's an LP that works on various levels as something that can be appreciated as a self-contained listening experience at home, or when called upon, can slip into a DJ set.  Dahle references Steve Reich's "Music for Eighteen Musicians" especially for the inspiration of his work, not considering the sound, but in terms of the ultimate listening experience. "It's the only album I can listen to in the car or at home" inisists Dahle who refers to Reich's seminal works  as "the pinnacle of music." The "meditative" quality of Reich's music is something that particularly resonates with Dahle and it's something that he manages to recapture in the Fjordfunk sound. It's always there, lingering contemplatively in the background and especially prominent in the dubby arrangements of "Borealis" or the progresisve extemporisation of "Prelude."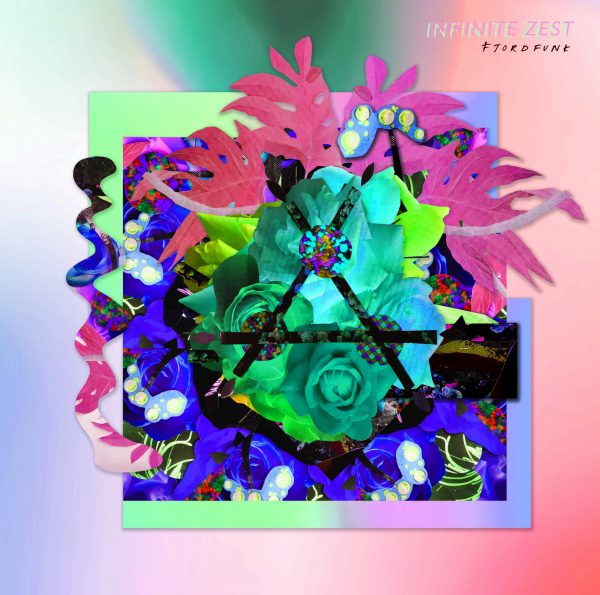 "Infinite Zest" is an immersive piece of work, with a dynamic artistic intent. It was created in less than a year with a group of musicians Dahle often calls on in his work. He uses "musicians from everywhere" and at the core of each track is a sixteen bar loop. He sends it to his extended band with little more than a bassline and a few chords and the unspoken request for the "usual," which in the case of his guitarist in Finland, means "riffs, licks and a solo."
He cuts these into pieces and assembles them like a collage from which they take on their own life as tracks. He never considers the end result before approaching a track, making tracks like BABOOBAP "kind of trippy because you don't really know where the track is going." It borders on psychedelic, but with the grooves of the rhythm section keeping it from veering off into the obscure, "Infinite Zest" remains grounded in the earthly realm. 
It's the LP that Fjordfunk was always destined to create and now that it's finally here, you'd think Jann Dahle would take the time to savour the fruits of his labour. "O, No" he says, laughing  "I'm so bored with that one already." He's made "hundreds of tracks" since and claims he has "enough material" to start work on his next two LPs. "You know you're always most passionate about the latest one," and for Dahle that's looking way beyond the present. 
Besides two more LPs, Dahle is also working on some "new stuff" with Tore Gjedrem "that could really work in a club" and collaborating with DFA affiliate Amy Douglas. He's still not DJing, due to the ongoing issues with his back, but has created a live show around the new LP and one or two new pieces that he will debut in Oslo this weekend for the Boiler Room x Nightflight weekender. 
It's all part of a new empirical phase for the artist formerly known as Kango's Stein Massiv, who is redefining funk with an all-encompassing flair of a Norwegian selector as Fjordfunk today. In the 11 years Dahle has been away from music, he's only gone on to refine the Fjordfunk sound and "Infinite Zest"  sees Dahle confer his music in this new era, an era which will see much more from the Norwegian veteran and stalwart, than ever before.