Do you think you'd ever want to start another label like Mo Wax again? "Sometimes I do" says James Lavelle, and then there's a moment – a very brief moment–  as he considers the question … "in a nostalgic way, but in a sense of where we are right now, I don't think so. I don't really want to do that right now."
In 1992 at a mere 18 years of age a precocious James Lavelle, alongside Tim Goldsworthy started what would become one of the most successful independent record labels of all time in the form of Mo Wax. With James as the driving force behind a group of kindred spirits and proficient artists, the label essentially invented Trip-Hop (although James never liked the term himself); launched the careers of a new generation of producers like DJ Shadow, Kool Keith and DJ Krush; and released seminal albums like Endtroducing (DJ Shadow), Psyence Fiction (UNKLE) and Meiso (DJ Krush) through their formidable and explosive tenure. "Mo Wax felt like a band in which I was the lead singer," James told the independent back in 2014 "But there's a point where you have to go 'OK, we're done'. The whole thing had lost its momentum and I was pretty burnt out."
By 2002 Mo Wax was defunct and most of its catalogue was sold to Universal music while working relationships at Mo Wax strained as rifts deepened between some of the core group of artists. A new documentary, The man from Mo Wax puts this all into perspective with the director Matthew Jones cut and pasting found and recorded footage together – like his subjects would pieces of records. Framing those tumultuous years in the context of an ailing record industry and the fracturing community towards the end of Mo Wax's lifetime, the documentary looks to offer a personal perspective on the life and times of James Lavelle during his time at Mo Wax.
"It is what it is" James told Clash Magazine about the film, "and I think what it's done is it's allowed something to have that feel and that honesty and that truth, even though it's not my film and they do have their agenda."  That agenda is an intense roller coaster ride through the biography of Mo Wax "which at some points maybe focus more on the lows" than James would care for. He reiterated this sentiment in a recent Resident Advisor Exchange, but today he's "glad it is out" because it's been "ten years of a strange journey."
The period directly after Mo'Wax "was all about rebuilding" for James he tells me over a call to his home in the UK. He poured himself completely into his work and his main musical focus, UNKLE.  He started DJing a lot more too and then work on Never Never Land began, the anticipated follow-up to UNKLE's debut LP, Psyence Fiction. In 1998 Psyence Fiction was one of the highest grossing releases of the decade and one of the last of its kind as the record industry faced the unprecedented challenges of selling records in the digital age and the Internet.
Never Never Land, and any record after,  would never again reach physical numbers like Psyence Fiction, but the sophomore record still reached number 24 on the UK album charts and number 6 in Billboard US Dance Charts when it was released. Never Never Land also begat a relationship with Island Records which lead to Surrender all, the label that became James' exclusive platform for UNKLE for over ten years where records like War Stories came to life.
While the documentary paints a vivid picture of a fractured community at the end of Mo Wax James insists that "Surrender all was still based around the community at Mo Wax." UNKLE too still had "a lot of people still involved from Mo Wax" and a lot of the people James worked with "for years continue to be involved" today in the musical project and the latest record label that facilitates all the UNKLE material, Songs for the Def. A hybrid title with references to the classic Hip Hop label Def Jam and the prominent Queens of the Stone age album Songs for the Deaf, it collates the diverse range of influences UNKLE continues to appropriate in its all-encompassing sound.
James made his debut on Songs for the Def with The Road Part I in 2017, with its successor primed for release in March 2019. The records are orchestrated from the very same collaborative principles that established UNKLE with Psyence Fiction as broken beats and cinematic textures converge in radio friendly song formats, produced and recorded at the highest level with a host of talented musicians and artists.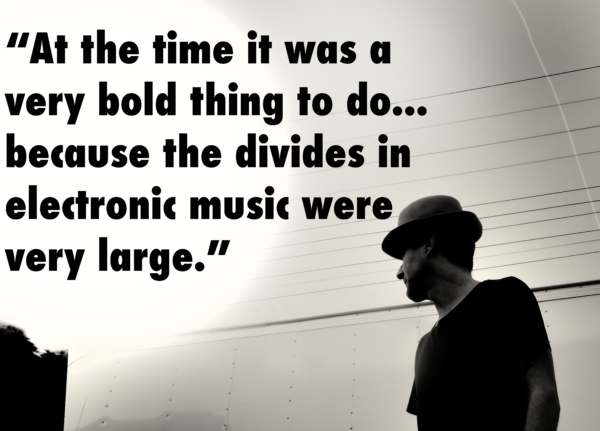 *James Lavelle plays a Mo Wax set at Jaeger this Friday. 
Relationships with the likes of Queens of the Stone Age continue to make impressions on his and their material (James co-wrote "Like Clockwork" from Queens of the Stone Age's LP of the same name), while UNKLE also continues to assimilate new artists like Miink in its work too.
"Luckily, I was young when Mo Wax started and pretty young when it finished so I was able to start a whole other chapter," James told the Independent. Life after Mo Wax was a period of intense creativity for James Lavelle that at an artistic level overshadows his time at Mo Wax. He curated Meltdown festival; released the majority of UNKLE records; made music for films; toured UNKLE live; made music for other artists; and also staked his claim as world renowned DJ during this time – the latter somewhat aided, but not completely dependent on four contributions to the Global Underground series.
The relationship with Global Underground happened much in the same way as all the other musical relationships happen in James' life it seems; the result of coincidence and the circles he moved in. He was a resident at Fabric and very prominent on the "big international DJ circuit" at the time GU approached him.
"At the time it was a very bold thing to do," he remembers "because the divides in electronic music were very large." He jumped at the chance however and took it as a "great opportunity" to present "what the perception of a DJ mix within the context of the style of music, in the context of Global underground" could be. The last mix he did for the label was a mix of pure UNKLE material and while he doesn't "DJ as much anymore" he still demands a great level of respect from the DJ community for his work at the decks.
James started DJing at the prodigious age of 17, playing places like the legendary Fridge in Brixton. "I grew up on people like DJ Harvey and Giles Peterson as well as Hip Hop DJs" he says when I ask him about his early DJ influences. He's always favoured UK DJs because they were always more dexterous in the booth compared to their American counterparts. UK DJs were always "more eclectic and much less divided" according to James. James' own introduction to Djing would come from the traditional  record store roots, and today his skills are the cumulative result of his extensive music career and his early appreciation for record culture.
Growing up in Oxford, he made regular jaunts to London where he began to "discover records in a different way," he explains in a loving vinyl interview. "I was going to London to do kung fu when I was 13 or 14. It was in Chinatown and I realised that area, around Soho, is where all the good record shops are." He soon found a job at the legendary Honest Jon's in Portobello Road, where he could nurture his latent skills as the musical curator that would underpin his work at Mo Wax.
These skills have hardly left him today as he still curates groups of artists around the UNKLE project and his record bag as a DJ. "I'm interested in music in all areas and I'm interested in discovering old records and contemporary records," he says when I ask him about his buying habits today. In the age of the Internet he finds a never-ending source of new and old music. "As the world opens up more people discover these records that they haven't discovered before," and James counts himself as one of these people. From "African funk to turkish psychedelia all these things happen as the world becomes more accessible."
Although James is less likely to find new things from the nineties, the period where he was most active as a DJ, producer and label owner, "there is so many things constantly" coming into his purview, from those ethnocentric records from the past to new Hip Hop from the likes of Marlowe.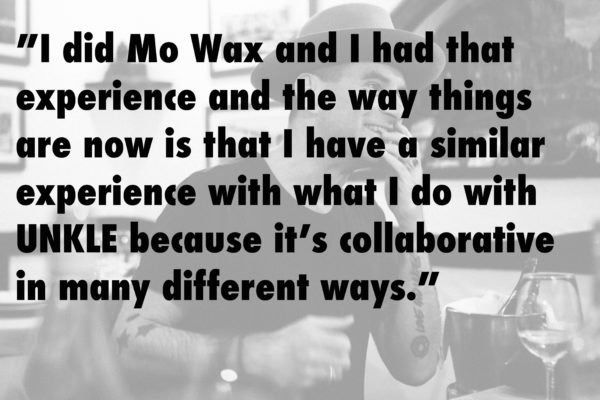 How has his experience of DJing and record culture changed from the time he had been at the height of Mo Wax? "It depends on the context," he says. It's a very "commercialised and Americanised" arena today with a lot of the dynamic shifting from the actual DJ to the "success of the songs" a DJ releases as a producer, but in many other ways it remains unchanged for James. The disparity between various sects of club culture between the margins and the more popularised forms of the same culture "have always existed" according to James. In the "nineties you had Cream and Robert Miles" and today "it's just amplified." James puts it down to the "much bigger scene of club culture" that exists today, but he is optimistic that this "is a positive thing".
Even so, he doesn't see himself ever trying to establish something at the level of Mo Wax today. "It takes a lot of time and investment in other people's lives to make a record," he explains and he doesn't think his head is in the right place to try it again. "I don't want to be responsible for the careers of of other artist," he explains and so he's much happier focussing purely on his own creative endeavours at UNKLE. "I did Mo Wax and I had that experience and the way things are now is that I have a similar experience with what I do with UNKLE because it's collaborative in many different ways."
There's never a hint of any regret or resentment for Mo Wax and on occasion he'll even put together a full set of Mo Wax material. "I'm proud of the records I released at the time," he explains but it's clear that that era of his life is not what defines him as an artist today. He's gone on to pursue his creative endeavour as UNKLE; established a couple of labels; and while working at XL even hired the person that would go on to sign Adelle to that label. And according to an interview in Clash Magazine "there are many more" things that were left unsaid, especially in the documentary. James Lavelle is a multi-faceted artist and DJ, one whose career and life after Mo Wax is enough material for whole other documentary series.