Re-contextualising the dance floor from the purview of Thom Yorke's lazy eye through a pair of Bootsy specs, Den Gyldne Sprekk has never been about conforming. With a shrewd gaze from the DJ's perspective, Raymond T. Hauger (DJ Lekkerman) and his guests dig deep through the absolute spectrum of music every Tuesday at Jaeger for a "club night" that conjures salacious music from terrifying depths of some of the most informed record collections in Oslo.
From their thematic album nights to just a couple of DJs exploring the margins of an extensive record collection, Den Gyldne Sprekk lives in the abstract and thrives in the obscure recesses of record culture.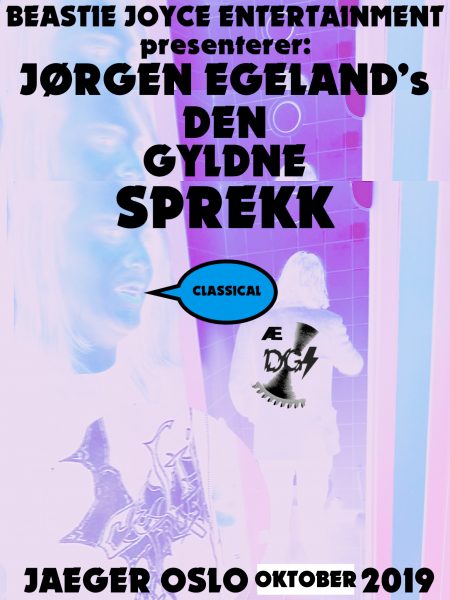 In the month of October, DJ Lekkerman hands over the reigns of his weekly residency to a couple of stalwarts on Den Gyldne Sprekk roster, and two DJs and music enthusiasts that know the concept inside out. Beastie Joyce and Jørgen Egeland host another month of Den Gyldne Sprekk at Jaeger with a series of concepts that go from another KIZZ pøb to the blood-curdling sounds of Memphis Rap for Halloween as the pair resurrect their Funk Boys alias to invite  a host of kindred spirits to the lineup for October. 
Together, Beatie Joyce (aka Eirik Usterud) and Jørgen Engeland have an uncanny report in the booth, both complementing and challenging each other's knowledge and record collection as they play together, but where their tastes converge and how it informs this month's programme is still a mystery.  So we assembled a few questions for the DJ pair in an extensive Q&A that sheds some light on their October takeover of Den Gyldne Sprekk. 
Hey guys. Great that you are doing a takeover again. The programme looks amazing. Is there any kind of theme or subliminal thought tying all these events together in October?
Jørgen: There's no coherent theme really. But we feel the program as a whole, stylistically diverse as it is, encompasses the essence of what DGS is and can be. From me and Luis (Beglomeg, Passe Tjalla) playing our favorite disco and boogie records to a night celebrating Hotter Than Hell, this sort of eclecticism and blatant disregard for genre conventions is what makes it such a unique club concept. 
Eirik: More than anything else, I feel like the DGS' modus operandi is playing music you wouldn't expect to hear at any other club night. We've had some angry and confused patrons unfamiliar with the concept demanding house and techno before (when we did our religious music night in April people were absolutely livid), but part of the fun is trying to get them on our side.
You guys will be kicking it off on the 1st as the FUNK BOYS. I feel like FUNK BOYS hadn't been created yet by the last takeover and it's a fairly new creation. What's the idea behind that project?
E: Funk Boys was an idea I got around the time we were planning our last takeover. It occured to me that a perfect DGS format would be playing "funk rock" in a very broad definition of the term – one that includes Aerosmith, Minutemen, Korn and 70s Miles Davis alike. Then the name "Funk Boys" popped into my head and I couldn't stop laughing about it.
J: It's a ridiculous name and I haven't stopped laughing since the first time I heard it.
And what sort of music can people expect from FUNK BOYS and how does it diverge from what you guys do individually?
E: To me the Funk Boys concept is somehow very broad and extremely specific at the same time. It basically sticks with a lot of the usual DGS mainstays of groovy hard rock and rock/disco crossover, but it has a more specific focus. And more slap bass!
J: The concept is a sort of throwback to Sprekken in its original form. When Raymond started out at Kniven his idea was to play quote unquote «hash rock»; hard rock with synthesizers and heavy drum breaks, poor man's Pink Floyd and the like. We've chosen to focus on the funkier side of things and also include stuff like '70s fusion and the more rock influenced part of the P-Funk universe. Ole Øvstedal (Oslo rock legend and bar manager at Revolver) is joining us this time around which we're both really looking forward to! The regular Jaeger clubgoers can expect to hear a lot of tunes they might not be aware that they know. From the opening drums of Mountain's Long Red to Billy Squier's The Big Beat, many of these records are mainstays in the sample libraries of hip hop producers, so it all ties in nicely with the regular music profile in Grensen 9.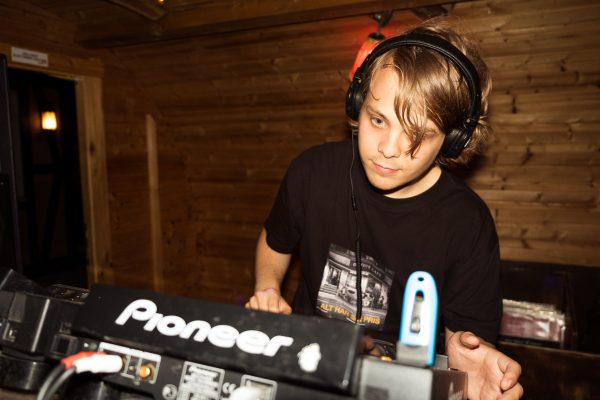 KIZZ PØB returns! What is it about the band in your opinion that continues to draw old and new fans to their music?
E: To me Kiss is sort of the ultimate rock band. The original lineup was just perfect as this cast of characters and team of musicians – both a cartoon universe and a set of four great, distinctive singers of which three were great songwriters too. Great mythology and a bottomless supply of bangers, what more could you want?
J: Unlike Eirik who dressed up as Ace Frehley for carnivals when he was in kindergarten, I didn't really start listening to Kiss until I was in my early teens. I'm not really interested in their makeup or all the staff around them. I consider them another great Michigan rock band, in the same league as the MC5, Alice Cooper and the Stooges. I know they're from NYC, but still. Stylistically and spiritually they're from Detroit rock city.
The Kiss army is huge and they have some very dedicated fans in Norway too, so it's not the type of concept that you can take too lightly. Besides playing Hotter Than Hell in its entirety how do you guys intend to summon the Kiss spirit on the night?
E: Based on previous Kizz Pøbb experiences (the "'Nasty 40 Party" in may and the Tons of Rock afterparty at Revolver in june) nothing is more fun than just listening to Kiss super loud with your friends. For the occasion I've invited a friend of mine who has ridiculously deep knowledge of pretty much the entire catalogue to serve up even deeper cuts than we could do by ourselves.
 J: I hope one of us ends up in a fist fight with a pissed off Kiss Army member because we insist on writing KIZZ with two z's.
Why that album specifically?
E: In addition to the simple fact that october 22 is the album's 45th birthday, Hotter Than Hell is sort of a cult favorite in the Kiss catalogue that both Raymond and I hold in very high regard. I think it's one of their most consistent albums and it has some pretty weird songwriting from Gene and Ace in particular. The production is an important part of it too – it's cheap and muddy in a way that sort of enhances the material for me, kind of similar to Black Sabbath "Vol 4". Really sludgy and heavy, plus it sounds kind of murky and half-melted, like early Ariel Pink or something. If you've wondered why bands like Nirvana and the Melvins were so into Kiss, this album answers a lot of that.
J: It's kind of an underdog in their discography. It doesn't have a stadium rock hit like Rock and Roll All Nite or Shout It Out Loud. I mean, the most well known song from the record is a ballad (Goin' Blind) about the relationship between a 16 year old girl and a 93 year old man. Kiss never got deeper than that!
This is also not the first time that you've done a Deutscher abend. What exactly does that entail? 
J: Have we done a German night before? I can't recall, but there have been plenty of other nights with a country specific theme. Christophe Boulmer has had his soirées françaises and Raymond's lawyer David Myr played an entire evening of Italian prog the year before last. There's something special about a DJ set that's completely void of British and American music, it breaks the mould in a way. When I lived in Trondheim me and my friend JT had a monthly club called Around The World in 33 rpm where we played music with a different geographical theme each time. One of the nights we only played records from countries invaded by Germany during WWII so I feel I've sort of come full circle.
E: Stay tuned for DGS Japan Night, that's really gonna whip ass. Swedish night too!
J: I wanna do a night of brazilian music sometime in the future.
I assume it's going to be more Krautrock than Techno?
 J: Over the years I've developed a bit of a distaste for the term krautrock. It's a pejorative coined by British music journalists that doesn't really say much about the music. But it's gonna be on the kosmische end of the musical spectrum, definitely. My knowledge about techno doesn't really go further than Detroit. 
E: Raymond convinced me to avoid saying krautrock too, and my techno knowledge barely even goes beyond Drexciya. Personally I hope the heavier, dumber side of german rock – Scorpions, Accept and so on – will be represented properly too, and I'll probably play more Can on the Funk Boys night. I might even throw in some eurodance, it shouldn't be too hip or tasteful.
Artist and producer Emil Nikolaisen is on duties that night. Why was he the perfect candidate for a German night?  
J: There's a definite lineage from the German music of the seventies to his work with Serena-Maneesh. He's also a great DJ and an extremely passionate and knowledgeable music lover.
 E: I'm looking forward to meeting him and hearing what he's bringing to the table!
And from Disco to "Memphis Rap," you guys are really covering all the bases on this occasion. I know you both have deep record bags with a broad scope in music, but what usually draws each of you to music or a record?
 E: It can be anything, really. I spend a lot of time reading about music or getting tips from friends and checking out anything that sounds appealing to me. Usually I gravitate toward stuff that's unusual and distinctive in some way, and stuff that's aggressive or hard-hitting. It's a big plus if there's a big catalogue to explore and it offers a bigger aesthetic experience, which both Kiss and Three 6 Mafia do, to name some relevant examples.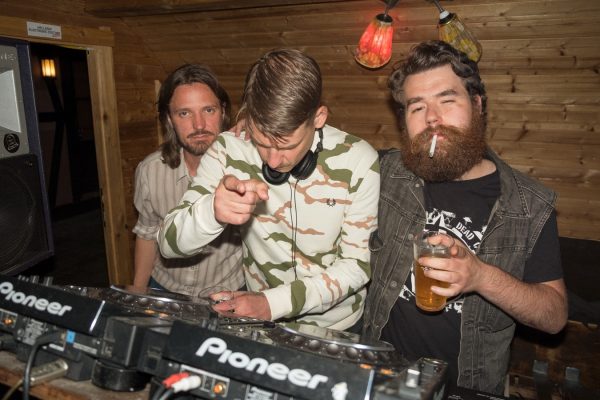 J: I hear different things in all the different types of music I like and can't phantom being interested in just one genre. That must be like, only watching romantic comedies or only reading science fiction novels. Has to get boring after a while, right? When I listen to a Coltrane record I judge it by different musical parameters than a Slayer album or a Lindstrøm twelve inch. They're vastly different forms of expression and you have to treat them as such. But if there is any common thread in my faceted musical taste it must be that I don't really like it when things become too streamlined, for lack of a better term. I need a bit of resistance!
Where do your tastes usually crossover?
E: I feel like our tastes overlap more often than not. Jørgen can't stand tooL and The Doors which I do like, but even there our sensibilities are similar enough that I fully understand why he finds those bands objectionable. When we did Funk Boys in july Jørgen even managed to convince me that the Red Hot Chili Peppers don't 100% suck so that's one less thing to fight about.
 J: Their records up to and including Blood Sugar Sex Magik are great! At least if you can live with the fact that Anthony Kiedes is a bigot with an IQ barely over 80. Anything they've made after 1991 is a waste of everyone's time though. With that said I think the programme we've curated for october covers a lot of our musical common ground, but I know my taste in hip hop is a lot more conservative than Eirik's. I generally don't like anything that wasn't made on an SP1200 or an MPC60.
Were the nights a collaborative effort, or are there any that's specific to either of you?
E: The German night was Jørgen's idea, and while I'm the one who's really obsessed with Memphis rap it was actually Raymond who wanted us to do it for DGS. I feel like the planning has been a closer collaboration than the last time, where we sort of brought two ideas each. This time we've spent more time discussing it and going back and forth.
Memphis Rap is an interesting edition. It was also known as Horrorcore, but was that just because they sampled horror soundtracks or has it some relevance to the lyrics too? 
E: Absolutely. A lot of it is extremely violent and explicitly satanic. In particular I think the earliest Three 6 stuff is just a pure gleeful celebration of evil in a way you rarely find outside of the most murder-obsessed extreme metal and noise music.
J: Those early 36M records is quite possibly the most brutal music I've ever heard. The combination of youthful aggression, heavy drug use and an unhealthy obsession with the occult is a deadly combination!
Besides Three 6 Mafia, I'm pretty unfamiliar with the sub-genre. What would consider the quintessential Memphis Rap track?
E: Honestly you pretty much can't go wrong with anything Three 6 Mafia put out in the 90's, but when it comes to deeper cuts I'm particularly fond of "Watch Yo Back" by Rivaside Clique, featuring production and rapping by the legendary Tommy Wright III. The bassline on that track is absolutely crushing, just one of the most brutal, heavy tracks I've heard in any genre. Another one I like is "Bigga & Betta Thangs" by Playa Posse, produced by Blackout, who specialized in really dark and horrific synthscapes.
J: Eirik's a lot more well versed in the world of Memphis rap than I am, but I think Da Devil's Playground by Koopsta Knicca is a quintessential record regardless of genre. Coincidentally that record turns 25 three days before our Memphis rap night. But to recommend something that's not by Three 6 Mafia: I really like Al Kapone's third album Sinista Funk from '94. It's a stone cold classic. Kocane Wayne's verse on Still Locin' Up is worth the price of that record alone!
Will there be any other aspect of this night to drive that Halloween theme home?
E: I haven't really thought about it, but maybe we'll invest in some decorative cobwebs and skeletons?
J: Can you get cough syrup and Mountain Dew through Vinhuset?
I think that's it… anything either of you would like to add?
E: Come to DGS if you're still looking for that blue jean baby queen… prettiest girl you've ever seen… see her shake on the movie screen, Jimmy Dean. Rock on!
J: Hit me up if you've got an original copy of RBL Posse's Don't Give Me No Bammer twelve you wanna sell. Other than that? No, not really.