"Everybody is surprised that the club stays open" Gigi Jikia (aka HVL) told this blog in 2017. Those words ended up being eerily prophetic when in 2018, Georgian authorities raided Tbilisi's Bassiani and Café Gallery, arresting the prior club's founders, amongst others, and threatening the ultimate closure of the venue. Bassiani and Horoom resident Tornike Kvantchiani (aka Kvanchi) was "at a birthday party" when he received multiple messages from friends asking; "what's happening at Bassiani?" When social media confirmed his fears of a police raid, he headed straight to the club and was faced with a police presence prohibiting entry and Bassiani co-founder Tato Getia being forced into a police wagon in handcuffs. 
"Yeah, a lot has happened since then," says Tornike over a telephone call about the events that transpired since the last time we spoke, almost two years ago. The situation was already tense back then as Bassiani rose to prominence as an international clubbing institution, promoting an alternative lifestyle in what was and remains a fairly right-wing post-soviet state. The fairly recent advent of club-culture in the Georgian capital, which went hand in hand with queer-culture and recreational driug culture turned out to be a bitter pill to swallow for the authoritarian state as they focussed all their efforts on the two actors lending agency to these cultures in the form of Café Gallery and Bassiani.
Before these institutions came along there was almost no club culture to speak of in the country and even the city, according to Tornike. When the nascent DJ started clubbing almost a decade ago "there were only one or two clubs in Tbilisi" and "it was a totally different situation." Tornike's introduction to the music and culture came via the internet in 2007. He had been listening to "rock and alternative music" for the most part of his youth, through what was a healthy cassette scene, but by the time the Internet arrived he had found an entirely new world had opened up to him.
*Tornike plays Frædag x 5 years of Bassiani with Mercurrio this Friday at Jaeger
"I started listening to Aphex Twin and it changed my perception and then I totally moved over to electronic music." He delved deeper into the music, uncovering a history that extended back to New York and Detroit in the eighties and never looked back. He felt particularly "inspired by Detroit," leading him on a path to Tbilisi's very insular clubbing scene where Bassiani co-founders Tato Getia and Zviad Gelbakhiani were busy staking out a prescient claim on the scene. "Tbilisi was a small city," back then for people like Tornike who were discovering electronic music, but it forged a tight-knit community, closing around their ranks, with little notice from the authorities. 
"I knew everyone involved in electronic music back then," says Tornike including the Bassiani heads who started throwing their first parties around the city in unused venues. Tornike got his first gig playing at one of these parties and several parties later he became an integral part of the Bassiani team, first as the social media guru and then as a resident and head of the Bassiani and Horoom labels.
It all happened soon after, Café Gallery became the first venue "with an underground vision" in the city, laying the groundwork for Bassiani to open, which "completely changed the situation" says Tornike. While people might have been aware of electronic music, it was mainly "commercial stuff" and it was only really after Café Gallery and Bassiani opened that "people started listening to electronic music" according to Tornike. It's reached a point today where people refer to Tbilisi as a "Techno City" exclaims Tornike through a wry smile, with new DJs and even a record store arriving on the scene over the last five years since the club's opening. 
But with the rise in popularity came some unwanted attention. It was already "a tough and weird" political situation when I talked to Gigi and Tornike back in 2017, with unwarranted stop and searches happening outside of the club, in what Gigi believed was the police "abusing their authority" for financial gain. Tensions had been bubbling under the surface ever since and in the eve of May 11th it came to a boiling point when jack-booted officers raided the club. What were they looking for?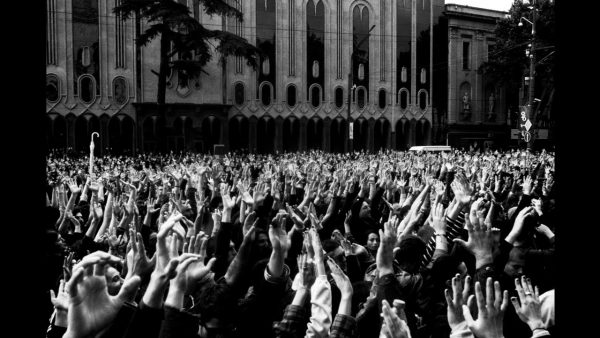 "Drugs, nothing more," says Tornike, but "when they raided the club, no-one was arrested for dealing drugs and they couldn't find any drug dealers inside the club, only finding  2 or 3 grams" on individuals. The club owners were arrested too, without a warrant on some overblown claims of obstruction, which never resulted in any charges brought forward, but what happened directly after the raid, was a force of solidarity in a clubbing community that we haven't seen since the time of the criminal justice and public order act. People like Tornike, who had started gathering outside Bassiani as the police were carting off their friends and colleagues, were protesting the arrests. "We were trying to figure out what was happening," explains Tornike who  "didn't even know which Police station they took them to" at the time.
The group that had gathered outside of Bassiani had started to mobilize and took their protest directly to a national level and the parliament building. It all happened quite naturally according to Tornike, a single collective consciousness in the face of oppression. They made their way to the city centre, elevating the protest  . At this point the group that had gathered outside the club was working together as one body. "It was just people that were left outside the club," remembers Tornike. "They were saying we're not going home, we have to protest this." From there the protest took on a life of its own, as more people started to arrive, bringing sound systems, and waving banners with a unified message of "we dance together, we fight together." It was a scene that resonated throughout the whole region and the clubbing community around the world as images of the impromptu rave-protest flooded social media channels.  
But is also brought an unwanted presence. While a fight ensued with police "who were trying to push us from the road to the sidewalk," according to Tornike a counter protest assembled from an extreme right-wing faction, indicating that this was about much more than a simple drug bust. It's part of a "big game for sure" intones Tornike today in a message that echoes former Café Gallery booker's comment in Resident Advisor at the time: "It's a fight between the Soviet past of this country and the dictatorship we used to live in, the police country we used to live in and the future we want for our country."
"The whole country is looking at the alternative side," explains Tornike and Bassiani, which is open to everybody from all denominations and sexual identities, has become a symbol for an alternative culture that directly threatens an incredibly conservative status quo that is currently running the country. "They are actually scared," suggests Tornike because they don't understand the culture and perceive it to threaten theirs. "So they stigmatise us,"with unsubstantiated claims of den of inequities and drug havens, when really their fear lies in the alternative lifestyle they promote, which includes homosexulaity and a more liberal political ideologies.
After a month long "investigation" by the authorities, which nearly closed the venue for good, and some hefty fines, Bassiani was allowed to open again. And while it seems on the surface that the issues between the factions have been quelled, Tornike insists that "it continues" and that "it's not over." It's very likely the authorities weren't expecting the resistance from the community or falling under the international media's scope like it did, but it seems in lieu of being able to close down the scene, they are only applying more pressure. 
Those stop and searches are "harsher than before" says Tornike, with a constant police presence surveilling the club at the moment. "It's tough" for someone like Tornike who is also trying the develop the scene, running the two first ever record labels under the Bassiani and Horroom banners. "We have big barriers," he says in a breathy laugh, "but somehow we've managed to have two labels."
Those "barriers' whether they are the authoritarian forces, or simply the logistics of running a label from Georgia, have not diminished the presence of the club in the city, the country or the continent. As they celebrate five years of Bassiani this year, they celebrate it against all odds with the determination and zeal of the community behind them. Their fight might not yet be over, but as awareness keeps growing and more people find themselves dancing on Bassiani and Horoom's dance floors over weekends, with music selected by DJs like Kvanchi, their force in numbers only grows. And perhaps in the future those numbers will affect real change in a country dogged by the conservative views of an older generation.