Ost & Kjex were still riding high on the success of their critically acclaimed and celebrated 2010 album, Cajun Lunch when they delivered their next LP to the people at the Diynamic label around 2014. "With Cajun Lunch we established a sound for ourselves" remembers Petter Haavik, the Kjex in Ost & Kjex, sitting on the edge of his seat at Gamla bar in Oslo during our interview. They had just won the Spellemann award (Norway's equivalent of the grammys) for Cajun Lunch and had started exporting their distinctive brand of music beyond Norway's borders as they entered into making Freedom Wig. Popular records for the likes of Crosstown Rebels, an equally successful debut LP, and enjoying the esteemed company of artists like Solomun while playing places like Panorama Bar, had delivered Ost & Kjex into some of the most prominent musical circles in Europe and they felt comfortable and confident in their music when they sat down with the label to hand in their last full-length creation to the label.
"We were very happy," says Petter through a smile behind a growing 5 o'clock shadow, "and we made a finished album, but then the label said it's too much the same of your old style." The label told Ost & Kjex to go back to the drawing board and re-approach the sound of the LP. "We had to kill your babies a little bit," says Tore Gjedrem (aka Ost) picking up on the sentence that Petter left hanging in mid-air. It was "a rough meeting" remembers Petter with Tore simulating the figurative slap across the face they received from Stimming and co at Diynamic, but as they had to "re-think" the sound of the LP, they not only revitalised the sound of Ost & Kjex with the new record, but also came to something of a new chapter in their career and music. Stripping the record back to little more than a vocal and some key melodic hooks, they made "it rougher and harder," with Stimming lending a "structured" hand in the final arrangement as Freedom Wig came to be.  
Armed with some new beats, while retaining that signature blend of blues and R&B in their electronic production processes, Freedom Wig favoured a more organic palette, with analogue synths, live instruments and voices contrasting neoprene House rhythms. Fusing disparate elements from the club dance floor while retaining their unique blend of black american music traditions, Ost & Kjex had all but completely severed ties with Cajun Lunch, with Freedom Wig ushering in yet another new era for the duo. "Afterwards I was a lot more relaxed about my own material and letting things go," admits Tore as he reclines in his chair, his voice, and his ageless face retreating into the shadows of a dark corner at Gamla bar.
With Freedom Wig done and after a much-needed rest, they turned their attention to the shorter format again and after releasing a few EPs around the LP they returned to Crosstown Rebelsin 2019 with a churning dance floor interpretation of Tina Turner's Private Dancer with WHALESHARKATTACKS on vocals.
That track marked yet another shift for the sound of duo, focussing on the more "tracky" aspects of House music . "After the breakdown with album," explains Petter they reconciled they need to "just listen to the Germans," and  "keep it simpler and more tracky" and to that end they've got a few EPs lined up in 2020, including enough material for a whole EP with WHALESHARKATTACKS. They "knew how to rebuild" however because, it's not the first time in the history of Petter and Tore's creative relationship that they've felt the need to evolve.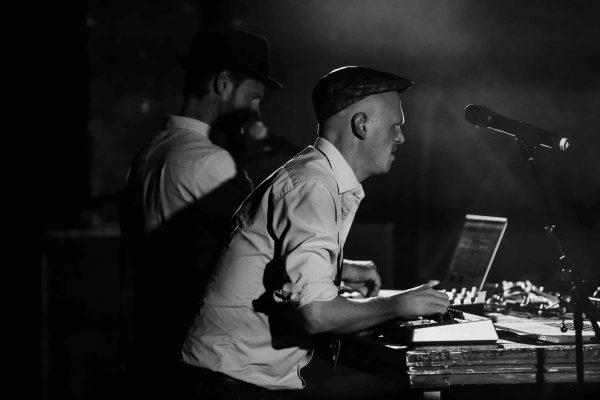 *Ost & Kjex play live our annual Frædag x DJ marathon 
Forged in metal
Petter and Tore grew up in Kolbotn, where they met at high school. Petter played guitar and Tore played bass and sung and the pair found they immediately "had something going" as they started making music together. What they were making in the beginning however was a far cry from the stuff they would be making later on as Ost & Kjex. Closer to a piercing scream than a cry, Death Metal was their calling card initially and bands like Napalm Death inspired a very fertile scene in the region with artists like Darkthrone and Petter and Tore's Beyond Dawn rising to prominence through the emerging sound of Death Metal at the time.  
Beyond Dawn started out as a harsh, bare bones Metal band in the early nineties, but by the time of their grand finale, Frysh their sound had dramatically shifted, completely devoid of the washy guitars and punishing drums of their earliest releases as synthesisers, drum machines and sequencers had fully infiltrated their work. That last album, was almost "running parallel to the Ost & Kjex project" recalls Tore, but it wasn't a mere sudden shift from one extreme to the other, but rather a gradual evolution as electronic music rose in popularity.
Tore and Petter had been following the development of electronic music closely through the Warp label and acts like Orbital, but a true epiphany moment came when they saw Surgeon in Liverpool on an impromptu whim. "That was a legendary evening" recalls Petter with a knowing smile. Petter was living in Liverpool at the time "going to school so we went there to record an album with Beyond Dawn," continues Tore. They had a few nights out and one particular night stayed with them long after, even though the heady effects had long dissipated. Ever since, "Surgeon was also a big influence" on Tore and Petter.
Metal had also been necromancing with the electronic dark arts with key figures like Mick Harris (Napalm Death and Scorn) revolutionising the stilted sounds through electronic means. Beyond Dawn adapted with the era, but as the drummer's role became infinitesimal, overshadowed by the rhythm machines and guitars constituted little more than "one note"  sampled to infinity "the other guys fell off a bit" according to Tore and from Beyond the Dawn rose a new dawn with Ost & Kjex.  
Playful  Transmissions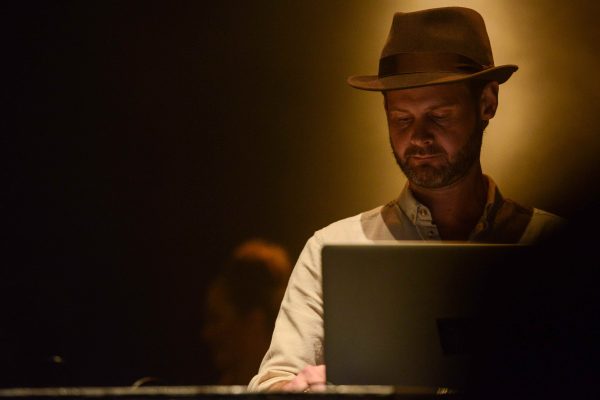 They had known they "had something by the first record" , the rather wordy "some, but not all  Cheese comes from the moon." That record, released on Planet Noise in 2004 had put Ost & Kjex on the map in Norway, but it was when they "sent the first tracks to Crosstown Rebels and they called back" they had something special according to Petter. "When Crosstown Rebels called up, we knew the outside world was listening" reiterates Tore and by the time of Cajun Lunch their sound was truly established. 
They moved back to Kolbotn around that time for what Tore refers to as "family business" and although he believes the return "definitely" affected the sound of the future records they produced, Ost & Kjex have always been an island onto their own. While Oslo was establishing the sound of what would later become space disco through key figures like Lindstrøm and Prins Thomas, Tore and Petter never really felt any allegiances to what those artists were doing in the capital, even though they themselves were living in the capital at that time. "We were certainly not a part of that Oslo new disco scene," impresses Tore. "We were more House than Disco, even though we love that stuff." They felt more inclined to the "sound design" efforts coming out of Europe than the "groove approach" of Disco coming out of America. "We were more fans of Kompakt" adds Petter in a succinct summary.
But it wasn't merely their sonic approach that set Ost & Kjex apart from their "big city" counterparts, but also their approach to songwriting. Where structure usually followed function in dance music, Ost & Kjex have always favoured form in music that has always drawn close parallels to pop music standards. Verse-chorus arrangements have followed their work consistently, with modulating melodic themes and developing harmonies not that uncommon in their work. It's a style that particularly thrives in the album format especially on tracks like "The Baker's Daughter" from Freedom Wig, but where I see something positive and unique, Petter is not so sure.  
"That's our big problem" he says through a breathy laugh. "It must be in our genes." It's something perhaps ingrained in their DNA from the time of working in a more traditional band together, and I'm surprised to find that, for the most part, their goal is to make something more "tracky." "We've tried for twenty years," says Tore sniggering on the pulse of Petter's laughter. It's a perpetual need to develop, where a hook is only as good as the sum of the rest of the track. "You write it as you go," says Tore of their creative process, " producing it and programming it" to a point where the songs "live on their own." "A lot of people don't know this"  says Tore pulling in closer to the table, but "a lot of our songs are five years in the making." 
They always strive for some sort of narrative with Tore's vocals adding some "minimal textural compositions that goes with the music." Lyrics that often contain some "strong liberal value" are presented in short lyrical vignettes as "small stories with a sense of black humour." It exposes an inherent playfulness in the Ost  & Kjex sound that might have been missed if it had not been for the vocals. Playing off the music and informing it at the same time there's a substantial weight behind these tracks, that emphasises the element of fun that's transmitted on the dancing pulses of this machine music.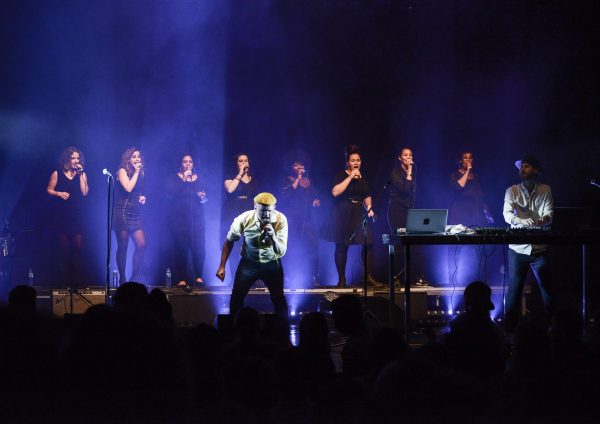 In perpetual motion to the next thing
"There is often a sense of joy to it" says Tore nonchalantly. That sense of Joy is only ever as strong as the sense exploration in their music however. In 2017, Ost & Kjex showed the extent of their imagination, as they delivered a concert while cooking a five-course meal out of Dattera til Hagen's kitchen. Playful, and intriguing, coming together like a sonic happening orchestrated at a National Lampoon christmas dinner. It's the "privilege of doing electronic music" according to Petter, an unbridled enthusiasm to explore the furthest reaches of their creativity, which they've always done in the established context of the Ost & Kjex sound. "You don't want to disappoint the fans," explains Petter and while really experimental groups like Matmos and Matthew Herbert have also influenced their work, they've always managed to hone this in some perpetual pursuit of the next thing, without completely severing the ties to the roots of their sound and staying true to their fans. 
It's why a record like Freedom Wig, although they had re-approach the sound of the record, maintains the essence of Ost & Kjex. Their rude-awakening at Diynamic has only strengthened their resolve as they've started entertaining "some high-flying thoughts about a concept album" for their next big project. In the meantime they are concentrating on a string of EPs coming out in 2020 and they re-launching their Snick Snack label. The label which had a brief stint in 2007, right before the massive record distribution crash of 2008, returned in 2019 with an Ost & Kjex collaborative EP, Olympia. Bugge Wesseltoft, Hanne Kolstø and Anne Lise Frøkedal joined the Norwegian tastemakers for the folksy electronica of the title track accompanied by the charming "Lucky Lips". "She's a motherfucker on Techno synth" exclaims Tore about Kolstø who often  joins them on stage in the past as part of the Ost & Kjex live band alongside WHALESHARKATTACKS. 
While they talk enthusiastically about their live show, Tore is quite excited about the next release from Snick Snack. It's an EP of  "really nice party tunes" from close friends Trulz & Robin in an effort that Tore hopes will bring "some more recognition" to these musical "pioneers". Snick & Snack will also reissue Trulz & Robin's two LPs, Mechanized World and Kaosmatisk in this spirit of a label that the pair have established as an "opportunity to shed some light on the Norwegian scene." At the same time it's "a means to take control of your own music" for Tore. 
Whether that's a result of their experiences with Freedom Wig or just the next phase of a perpetual evolution that has followed them through  their work, remains unclear, but whatever it is, it looks like 2020 is going to be an intriguing year for Ost & Kjex.