Throughout my life, the decisions I make are based on what is enjoyable and I only follow the path towards what's fun. That's how I ended up here, today, talking to you…
We meet Rune Linbæk on an unusually warm summer's day in Lillestrøm. The unassuming Oslo suburb is raptured in a new vigour of development and progress, preparing for an incipient exodus from the city, as new apartment complexes rise to the occasion amongst the established wooden houses that once made this town an idyllic little slice of Scandinavian living. Today the new population is noticeably absent, and the high street is desperately empty of life, a quiet before the storm perhaps, or just the usual holiday lull.
Beyond the high street we find the Fagerborg Hotel. A simple rectangular building, unimposing, but rather awkward in its suburban surroundings and modern apartment blocks. You wouldn't think there was anything interesting history to the building. There's no blue plaque or anything really intriguing about the architecture, but Rune Lindbæk knows of some great significance concealed in the subterranean depths of the hotel where a bar and dance floor lies dormant at the moment, and a wooden pulpit for DJ booth looks suspiciously out of place.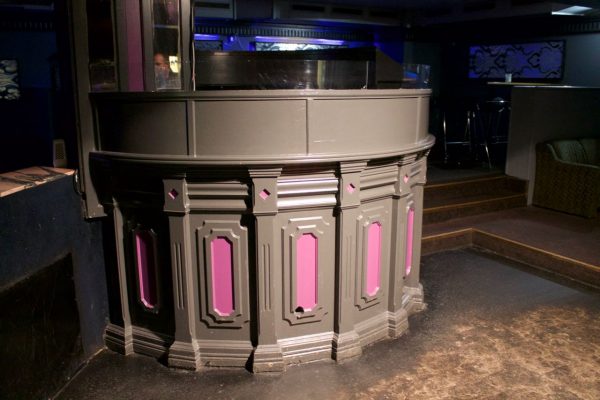 Not too many people know that this little hotel was the first four-four club in Norway. It used to be called Project and it was the first House club in Norway. It was a time in the eighties and the early nineties when there was absolutely nothing happening in Oslo, where roots music, a semi kind of country music, was really big and for most of us from Tromsø, Oslo was just a stopover on the way to London. Børre, the guy who owns and runs the place today, used to play at Café Del Mar in Ibiza in the eighties, at a time the DJs on the island were mixing Front 242, Chris Rea, Sade and Chicago House, but Børre brought the sound of Ibiza to this place along with the DJ booth (see pic above); and for a while people went from Oslo to Lillestrøm to party. Bjørn Torske, Per Martinsen and I even played with the idea of renting a bus from Tromsø to come to this very address, just to visit this place.
It was after they had liberated the airwaves in the eighties when Norway had just one radio and one TV station.. You could hardly ever listen to good music before then, the long ruling Arbeiderpartiet (Labour Party) had monopolised it with mostly Oslo dialect voices – but then suddenly bang, you had the communists, the seven day evangelists, the students, and most importantly the Ungdommens Hus all on our local airwaves. The radio station happened when me, Bjørn Torske and just about every person you heard about from the Tromsø techno scene got together, all staunch music enthusiasts and DJs. Bjørn was an old friend by that time. He was a year behind in school even though he is only born 7 weeks after me, but we didn't socialise much until in our teens. He was into Heavy Rock music early on and wore these ridiculously tight stretch jeans labeled Levis 666, before coming to dance music via EBM (Electronic Body Music).
We were barely a radio station. It looked like a shithole. There were walls there, just about, and a wire and two decks and a mixer. There was a skip on top, so there was all this shit just lying over our heads, but when we started the radio station you could finally hear music that wasn't controlled by the state, and electronic music was a big part of that. We played Detroit Techno at drive time and the big reason it spread was because we had some great music enthusiasts in the city.
Tromsø had turned into quite the party town, and until the end of 1987 English DJs would come to play in Norway, because they didn't have to pay tax as long as they just stayed in the country for 3 months. One such DJ was Andy Swatland who had met a Tromsø girl and relocated to the city, and we owe him a lot. He established Rocky Platebar, a record shop that was very pivotal to all of us, everybody used to live out of that shop. Andy imported records to Norway and Tromsø that would land in London at the same time, and sold it to DJs all over Norway. So we had sources of getting music in and sources for getting music out.
Per Martinsen (Mental Overdrive), Geir Jenssen (Biosphere), Bjørn Torske, Rune Lindbæk, Ole Johan Mjøs, Svein Berge and Torbjørn Brundtland (and too many more to mention) all came to prominence during this period of electronic music in Tromsø and most through that Radio station. Biosphere's first album, Microgravity many believe to be his radio show captured on record, combining ambient sounds with Techno records while playing on themes of space and science fiction.
Rune had played a significant role as a DJ and later producer throughout all of this, and in many different guises too. Rune was born in Vardø, a small fishing island in close proximation to the iron curtain before moving to Tromsø aged 4. He was born in 1970, a year that saw the birth of the microchip, the first Minimoog synthesizer and Norway strike oil, all significant factors in backdrop that would inform Rune's career. In the 1970's a musical curiosity had taken an early hold on Rune through influences from his disco-enthusiast mother and record-collecting grandfather, who had amassed quite a collection of records that Rune remember distinctly.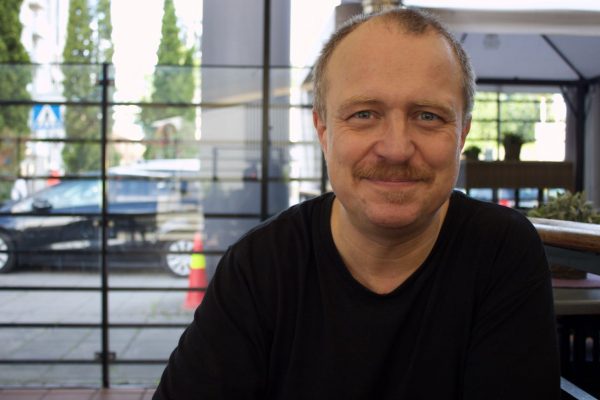 His taste was shit, but those records were always there in my grandparents basement. He didn't have a 78 rpm record player to play them at the later part of his life, but his record collection were not to be touched. He was among the first record collectors in Norway already back in the 1940s in the days of the 78 rpm shellac pressings, before vinyl records came along, and I'm sure he passed some of that collecting gene on to me. A bunch of vinyl is all it takes for me to get me into my own world, but it was breakdancing that got me into electronic music and DJing.
At 14 I got my first set of decks, and then I started going to second hand shops and Rocky. Today I have 3 ½ tons of records, and incidentally I've never had a car and I don't often go on holiday… but then again my life has been a holiday. My musical palette is huge and there's hardly anything I don't listen to. It's been there since the start and I always took chances on the records that was on the floor and other awkward places in second hand shops were few people are looking, based on things like "this cover looks interesting". I pile all these influences into my music too.
At first I wasn't making music, because my first attempts with Bjørn Torske wouldn't yield any results since we had nothing to record with. I remember one night we jammed at his place, trying to recreate Electribe 101's "Talk to myself", the Frankie Knuckles remix. We had managed to recreate the sounds of the record on a Juno 106, but nothing more came of it because we had no way to record it. That was before Ismistik, which Bjørn would start with Ole (Mjøs) when the latter got a sampler. I think they wanted me to be part of it, because on every track I was the one pressing the "record button", so I became the mobile DAT operator for the group. I didn't see myself as a music maker at all back then, I was a DJ and I had no intention of making music.
Eventually Rune would cross that divide and started producing music with Bjørn and Ole as Volcano. Described as a "commercial vocal house/club project", Volcano produced high-energy House with layer upon layer of synthesisers, drums and percussion, a visceral melee of 90's sounds.
I started studying in the UK, when the first record came out from Volcano, after we had released a record on the proto jungle label Reinforced Records as Open Skies. The first Volcano track, "Let Your Body Be Free" became a hit in Hacienda in Manchester, and that was the first time I thought I could make a "career" out of it. It was never an option before, because I come from a family of fishermen. My grandad had bought records as I mentioned before, but nobody had cared or shown any interest. The success was a big thing for Bjørn, Ole and me. We followed it up with "More To Love" and it became an even bigger success, the third only UK hit by a Norwegian artist in music history by then. Pete Tong played it five times on BBC is as many weeks and after the successes of those records, BMG threw some money our way to start a label.
By that time Bjørn Torske had moved to Bergen and Ole and I had started making music as Those Norwegians with Torbjørn Brundtland (later to form Royksopp with Svein Berge who we both had been working together on as Alanïa). Thorbjørn, Ole and I started Flamingo Records. We thought "Flamingo", because underlining everything we do is humour and that's always been very important to us. We were really into kitsch because it was the nineties and flamingos made us think of those plastic statues dotting gardens in Las Vegas.  
I wanted my own label on the side of this, to express a serious deeper side, and I had this idea for a label called Tromsø, or Tromme Ø i.e Drum Island. Today, it's a very inconsistent label and extremely badly organised and everything I do for the label is for the love of the music. Once I even made a mistake with labelling a track because I couldn't find the the last track and messed up the running order, this was before Discogs. It's a label reserved for friends and I must really like a track to put the effort into it.
Drum Island coincided with a time in Rune's life when his own music really began to flourish, both through Those Norwegians and his many aliases he adopted along the way. Labels like Paper Recordings latched on early and in the late 90's it saw a very "Norwegian" sound really explode on to the scene with a fair portion of it being led by Those Norwegians and Rune Lindbæk's aliases. These aliases mark 26 today as he releases Rune Lindbaek & Chris Coco's "Weekend Billionaires", a dance tracks with balearic, acid, disco and dub influences all coalescing around reserved tempos, all informed by Rune's incredibly diverse influences. .
It proves Rune's remarkably versatile influences and formative musical experiences with an innate talent for it all. Those Norwegians would eventually disband as Torbjørn formed Röyksopp, while Rune continued to be involved in many different projects and various different sounds, all encouraged by Rune's eclectic musical sounds.
Later Rune would lay claim to two tracks on Melody AM through a very publicised lawsuit, that Rune would lose, but make up for when Rune and Röyksopp settled out of a court later on a libel charge after the duo released a slanderous account of the trial.
None of this ever deterred Rune in his creative outputs however and he continued to tap into those influences and his eccentric personality, making new music all the way throughout and garnering a reputation as a formidable DJ, playing the world over..  
In 97 the name Rune Lindbæk made its first appearance as a solo artist with a track called Ok, Kjør Romskip, a low slung disco beat with various psychedelic elements flitting in and out as layer upon layer piles on and moves away to outer dimensions.That track would later open his debut album, Søndag, cementing Rune's place ahead of the Nu-Disco scene that would spring up later around that time.
With an inherent talent for music and an encyclopedic list of influences Rune's music modulates with its surroundings without falling for obvious trends, and his rich palette has created some of the most timeless pieces out there.
The way I see it is I have long term project, and whenever I see people doing something easy and cutting corners, all for the sake of shameless self promotion, I'm not interested. What's relevant now will not be relevant two years from now so I never do the same thing. For Ok, Kjør Romskip for instance I had this idea of slow druggy disco as there were hardly anyone in the world who made that style then. But then again I've done music for many short films, ballet, theatre, TV and a myriad of music styles. The thing that keeps me relevant is that I do different things and that extends to DJing too.
I like to play the best clubs in town, and not the biggest. Most people have one name and one sound and I think that's boring. I only make music for myself, and it's fun to have a little variation in life. I like doing different things and working with different people, because you never know what will be the chain reaction of two parties collide and I approach everything differently depending on context.
It's all about a gut feeling of what you want to do, like for the upcoming live show at Grefsenkollen, I'm doing this live Techno thing. I've always dabbled with Techno when I'm at home, but I'm definitely not a Techno artist even though I´ve released music in that genre as Altalab. I like to do it for fun and the first time I had tried to do it live last year, I was searching through Youtube videos, looking for tutorials on how to use Ableton.This was on a Thursday morning in Ibiza and I was playing that same Saturday in Oslo, taking all day Friday to teach myself how to do it.
There's never any plan in what I do and I want people to go: "Fucking hell, we didn't know you could do that!". I'm chaotic, but that chaos is a force and that force and making mistakes are paramount to my creativity.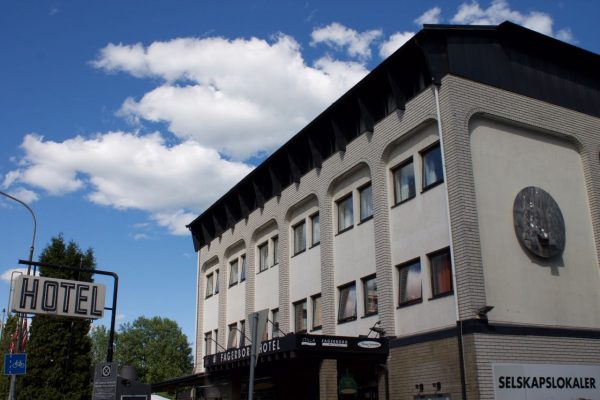 Amidst the chaos an order prevails and that philosophy extends from Rune's music into his everyday. Becoming a Techno artist in a day; the lawsuit with Röyksopp that saw him come out on top somehow as they settled out of court; the urban legends of Rune and his adventures on trains in the Ukraine; it all features Rune on the other end with a beaming smile at the end, unperturbed by the events that lead him to this point.
We leave the soon to be demolished Fagerborg Hotel, making our way down the lonely high street, and Rune continues the entertain with his tomes of money woes, and having to learn the intricacies of internet banking (he started with it last year along with getting a credit card), all the while trying to sell me on the idea of Lillestrøm and the Urban sprawl it is set to become being only 10 minutes away from Oslo S by train.
Incredibly entertaining and very intriguing Rune Linbæk is a chaotic force you definitely do want to get swept up in. There's never any posturing or falseness about his eccentricities and idiosyncrasies and whether kismet, divine intervention or luck, his methods in following the most enjoyable path possible has certainly paid its dividends.
His music however is no sheer luck and is the combination of influences talent and ideology coming together for Rune in the studio. And when he's not making music, he's living life to its fullest with a most enigmatic fervour. There's no telling what or how Rune will proceed to the next chapter. But whether it's the working on his next projects, a remix for Roxy Music or achieving a ten year pursuit of writing a book, it's sure to be interesting.
I've  been here a long time and I'm going to be here a long time…. and hopefully relevant.
Rune Linedbæk plays

Grefsenkollen

this Saturday alongside Vinny Villbass, Øyvind Morken, and Det Gode Selskab.

Catch the official afterparty for Grefsenkollen at Jæger on Sunday with Det Gode Selskab.