*Photos by Martine Stenberg
It's hard to get away from the four to the floor music that dominates Jaeger's dance floor week in and week out. House and Techno et al have made indelible impressions that have subverted most other dance floor styles from making an imprint and while rarely homogenous it can often be a little stifling for more adventurous and eclectic tastes. 
Wednesdays at Jaeger have long been the welcomed break from this status quo with nights that feign the conformity of the dance floor for something a little different and since 2019 KOSO CLUB have been an integral part of this weekly sojourn to the fringes of club culture and its music. 
KOSO CLUB has been carrying the banner for a more diverse club life for the past eight years. They've been highlighting those integral, but often overlooked voices in club culture through an expanding cast of members that are SOLDAL, SVANI, PIIKSIGRAM and HANNEKS today. With an alumni that extends abroad with names like Mike Q and Zora Jones, they've established an international connection to Oslo and Norway's own club culture.  
In 2017 they were awarded NATT og DAG's esteemed club of the year for their efforts at Blå, which have seen the collective tour abroad, and start new franchises like the one at Jaeger on select Wednesdays. It was one such Wednesday in June 2021, when they made their return to the Jaeger's booth for the first time in 2021, bringing their idiosyncratic blend of "deconstructed club music" and ideologies to what was still a dormant dance floor.
Even under the ongoing corona measures, they continued their unwavering efforts to bring a femme touch to the backyard and assisted by magnus ah ok, they brought an ecelctic selection of scatter-brain rhythms and growling bass-lines in their unique interpretation of what a club night could entail. Hip Hop re-constructed in UK bass flavours and House music emerging through wavy indie soundscapes provided the soundtrack for a night under clear skies for the largely seated audience. 
With the memories of the music and the mood lingering, we caught up with them shortly after via email to get the lowdown on KOSO CLUB, their ideology and their musical tastes. With a radio show in the works and more nights to follow we unpack what the past and the future hold for the collective.
How did you all meet and what encouraged you to start KOSO CLUB together?
 KOSO CLUB is a branch that grew from the KOSO family. KOSO started out with a wish to see a more varied and balanced music scene that later included artists, designers, dancers and other creative people. Marit, who had been DJing for some time, started the club concept in 2013 with Juno Jensen. Svani joined in 2015, and Piiksi and hanneks in 2019.
 How long has the collective been around and are there any activities beyond hosting club nights that you're involved in?
 KOSO CLUB is a brand and a group of DJs, we book nationally and internationally, and are always on the lookout for new impulses and ways to make each night stand out. We have been doing some fun gigs in Norway and abroad besides hosting our own club nights at Blå. We've done dj workshops with kids, made merch and hosted live events.
 You all DJ, but do you have set roles within the collective outside of the booth?
Piiksi is our own little in-house graphic designer, hanneks is holding on to our monthly picks-playlist, and soon to come a collab with a radio station. Svani is constantly on the lookout for artists and DJs to book to our club nights, and Soldal is holding it all together kind of like a CEO of KOSO CLUB.
 PIIKSIGRAM and HANNEKS joined after establishing the concept. What did they bring to KOSO CLUB, and will the collective continue to expand into the future?
Bringing hannkes and Piiksi in was a natural process of sharing the same passion for the music and club. KOSO CLUB is a dynamic hub and by bringing in guests we hope to give more people a space for their creative outlet and that our audience can discover new artists and styles.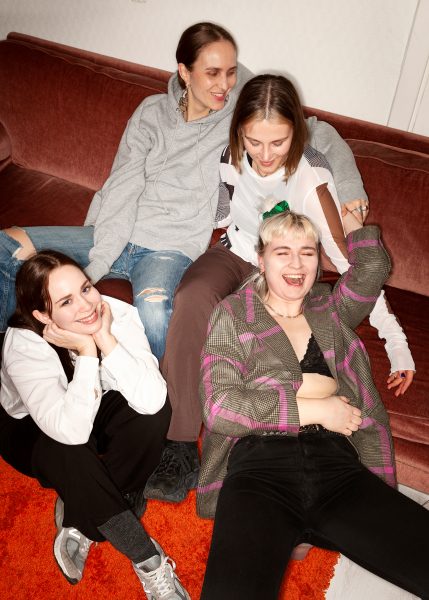 You describe the concept as "highlighting more femme people" in the club space. How would you define femme people in this context?
When we started out in our perspective the scene was lacking women behind decks, the word femme was used to include not only cis women. In later years we see that the representation should also include others, our main goal is to see a more varied scene and the creativity that follows it.
 How do you set out to achieve that objective?
We always try to be aware of representation when we book DJs/artists to our club nights within our musical universe. We want KOSO CLUB to be an inclusive and fun place and a space that can challenge the idea of what a club night can be. It is important for us that it's a safe space for anyone who would want to join them.
 Considering club culture has been appropriated by a straight male culture, what are some of the obstacles you face in putting on KOSO CLUB?
In the beginning there were few role models to look up to but we think this has changed a lot since we started. 
 Does it look like the landscape is still changing?
Yes, we see a lot of different styles and DJs appearing in the club scene, not only in Norway, but also in Europe in general. That is great to witness, and we hope it continues.
How do you relay that objective into the music you play or the guests that you bring to the concept?
 We try to be conscious about our bookings, our track collection and what we are bringing to the scene in terms of representation and inclusiveness. 
 Is it something that extends beyond the musical component too?
 In general we like everyone to feel at home at our club nights whoever they are. So it is also a social perspective to it. 
 When you play at Jaeger it's nice to get a break from the four to the floor that dominates Jaeger's weekly lineup. Is there a style or mood to the music you play that underpins what KOSO CLUB is about?
 We play a lot of deconstructed club music, and mix different genres, but we try to divide it into a chill mode and a club mode so the concept can work both sitting down as what we've done after the rona situation or in a dark club as we hopefully can do soon!
 Do you ever feel that you have to adapt the concept or what you play to Jaeger's audience, current circumstances notwithstanding?
 No, actually we stick to the style we usually like to play. But, of course, we have to adapt to "sittedans" nowadays – we save our hardest tunes until the club is completely open again.
 How has the music evolved since the start of KOSO CLUB?
We think we have been in the same musical vibe since we started. But we are always checking out new artists and when they evolve our sound evolves also. 
 As we get back into it in 2021, what and who are you looking forward to bringing to KOSO CLUB in the near future?
Right now we're dreaming of a packed club full of sweaty people, and we are hoping to do a radio show. We have a lot of people on our international booking-wishlist so hopefully we can proceed with actually getting them here in the future!