Jæger resident DELLA and newcomer Tonchius grace our booth for DELLA's Drivhus this weekend and had an opportunity to share some questions and insights with each other before the gig. Talking about their beginnings, the role of a DJ and gender inequality in the booth, DELLA and Tonchius talk DJ to DJ, but first a word from our resident….
Hello everyone, DELLA here. I am super excited that Saturday is just around the corner and another edition of DELLA's Drivhus will commence.Who is ready to dance? I know am!
For this next episode of Della's Drivhus, I will be inviting a new DJ on the Oslo scene, Tonchius to join me in the booth. Two truly devoted House-heads coming together under the stars, filling Jæger's backyard with nothing but delight. Make sure to have your dancing shoes on, because we are going to be bringing the beats for your dancing feet.
Today on the Jæger blog, we are have created a narrative between myself  (DELLA) and Tonchius, the headliner and the opener, the established and the up-and-coming, the experienced and the curious.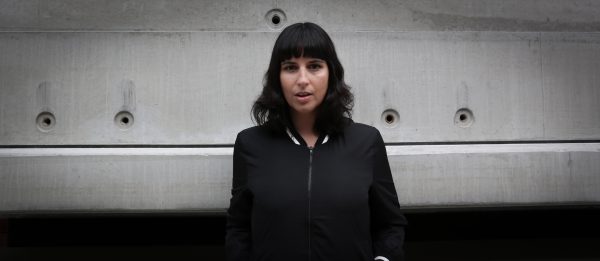 DELLA: Hey Tonje (Tonchius), how exciting that we are going to be playing together this weekend. I am really looking forward to it. It also makes me happy that I am able to help open the door wider for you, and your talent, by bringing you in on your first gig at Jaeger with me.
Tonchius: Hey DELLA, to say I am thrilled and excited to be playing my first gig at Jæger is an understatement. I cannot wait to join you in the booth, but before we join forces I'm curious about who you are as an artist. When did you start DJing and how long after did you play in public for the first time?
D: I first started djing when I was living in Los Angeles. I bought my first turntables around 2002. The story behind the purchased is quite sweet. I was a fashion design student at the time and working at The Standard Hotel. I was blabbering on about my favorite DJ, Mark Farina, to one of my best friends. In the midst of the conversation she cut me off, grabbed me by the shoulders, looked me in the eye and said, "I am so tired of you talking about all these DJs. It is time for you to DJ. Take your credit card and go out and buy some turntables, TOMORROW!" I took her advice and did that exact thing the very next day. The rest is history. My first public gig came several months on. It was in a small and happening restaurant called, North. I remember being super-nervous, but loads of friends showed up and supported, which eased my nerves. Apparently, I did a good job because they offered me a weekly gig and it all started from there.
T: Yes you're from the States originally, why did you move to Norway? Is it easier to be an established DJ here than in the States?
D:I fell in love with a Norwegian in Los Angeles and moved to Norway in 2005 to follow the love. I think it is a struggle everywhere to establish yourself as a DJ. I have been very lucky that I have a strong group of friends who have helped nourish my talent along the way, and still am today. There is a huge difference between family and those who are just in it for their own ego. Stick with family always, that is my advice.  
I'm also curious about you. Tonchius is a relatively new name that I've encountered frequently around Oslo at venues like The Villa, Elefant, Sommerøya, and now at Jaeger. So tell me, who is Tonchius, what does Tonchius mean and how did you get into DJing?
T: My real name is Tonje, something non-Norwegians often have difficulties pronouncing and instead called me Tonch. When someone later added 'ius' to it, it became a nickname that stuck. I have always been interested in music. I played the trombone for many years, and have a classical and jazz musical background, before I entered the clubbing scene. Now I have found a way to express myself through music, and it is fun to do so in the scene that really is blooming in Oslo these days.   
I have only been DJing for about two years. I had been hanging around in the club scene for a while and have spent a lot of time with other DJs. A friend asked me why I wasn't djing, so I guess that was what made me start. Also, it helped that my boyfriend already was a DJ, so I got easy access to turntables and a mixer.
D: Tell us who Tonchius is outside of the club. What are some of your interests and passions other than music?
T:I love traveling, to see new places, meet people and experience other cultures. I have a Masters degree in Development Management, so I have done a fair amount of traveling around the world because of my studies. Clubbing can be really intense, so I also really enjoy disconnecting from society for a while and go for a hike in the nature.   
D: My first encounter with you behind the decks was this summer at the Subjekt boat party. Your sound is a wonderful blend of House, both new and old, and is mixed with ease. I am curious, how do you find and select music?
T: I have always been very open to different music styles, trying to find elements I like in every track I listen to. I think this openness is the clue to be able to select both old and new tracks and not just follow trends. I spend many hours online on pages like Discogs – a database for vinyl – where I always search for the cheapest records and stuff that goes under the radar. But, my favorite way to find music is in secondhand record stores. I just go through the piles of records and pick things to listen to based on the feeling I get there and then; either if it is because I know the artist or label or if it is an interesting artwork on the cover that catches my eye.
D: Yeah, I have only seen you play vinyl. Is there are reason you choose this medium over digital, and do you feel it is important for DJs to promote mixes or to promote nights as vinyl only sets? If so, why?
T: For me, it is about the feeling. It is something you can physically touch, so you feel you actually touch the grooves. Also, I think it is easier to get a personal attachment to a vinyl record over a digital release because of that. I also really enjoy this organic and imperfect sound the vinyl makes. I think the reason that many DJs promote their nights as vinyl only sets nowadays is because there are so many DJs out there. So it might be a way to stand out in a crowd. But, in the end I think promoting mixes is the most important, because it gives people an idea of what you might sound like in the booth.
D: Della's Drivhus will be your first gig at Jaeger. Are you feeling nervous about the gig? How do you prepare yourself mentally with your nerves before a show?
T: Yes, I'm indeed feeling nervous. But I think it is good to be nervous, it makes you more focused and the performance will be better. I listen to the records and pack the bag as far ahead as possible so that I know I'm well prepared. It is very important to know your tracks. And I tell myself 'ok, you are nervous. Appreciate that feeling for a short moment then eventually overcome it'.
How about you Della, did Djing in public make you nervous or did it come naturally?
D: I get nervous before every single gig. It is probably confusion between excitement and nerves, but these nerves are a strong reminder that music is my true passion. Knowing that I am going to be putting my heart out there, vulnerable for all to feed on, can make my knees quiver. But it is all part of the game. Also, when I am booked to play with my idols such as Miss Kitten or Ellen Allien, my nerves are beyond. For these types of gigs I try to do some yoga beforehand to keep me calm and focused.
T: While we're on the subject of idols, what is your biggest influence, or who has inspired you musically?
D: I find inspiration in many things. I am very sensitive and am intensely connected to my environment. I find inspiration for creating my music from nature, long walks in the forest, fellow artists I admire, or the aesthetics of space that surrounds me. Even the scent of flower can trigger a lyric for a song. But, I gain most of my inspiration through dance. The trance I go into under music and into dance opens many visions for me. It is the main reason I continue to move forward with what I do. When I dance, I am free.  
There are SO many artists that have inspired over my years in dance music and that continue to inspire me. If they have touched my heart through their DJ sets or productions, each and every single one of them is taken along with me being reflected in my sets and in my own music. It can be everything from Jazz artists to raging Acid House tracks. I find inspiration everywhere and channel it through music.
T: Does that include emotions? Many great DJs say you have to be very sensitive/emotional to be a good DJ, would you say you're an extra sensitive person?
D: I am an incredibly sensitive person. I am the type of person who sheds tears for the pain of the world. Sometimes it can be really overwhelming feeling so strongly, and here is where music comes in. It is my mechanism of shedding this pain and can turn it into love, the love that this music is built from. Music = love, period. I think this is what makes a good DJ a good DJ, having a full understanding of what this music about.
T: So what does it take for you to be happy about a set?
D: It can be everything from seeing the dance floor going bananas, mixing well, or just healing my own soul through the vibrations.
T: How do you get to that point where a set just flows? Is it just experience?
D:I think it comes down to talent of selection, either you have it or not. Also, knowing your tunes. I have read some DJs prepare set playlists for days before a gig and some just wing it, riding the vibe. I use both these tactics. I am still personally trying to find a method that works best for me though. But, I think it is most importantly about riding the energy of the room. A good DJ knows how to connect to the energy of the room and takes it from there, a good DJ needs to touch the crowd.
But as an up & coming DJ in a very saturated and competitive arena today, I imagine before you can even get to that moment you have to get heard. How did you break through from your living room to the club?
T: I am a really shy person myself, so to actually break-through from the living room to the club was really hard for me. I did have to get out of my comfort zone to both put some mixes out there and to actually tell people that I'm a DJ. I still find this challenging, but this shameless self-promotion is a part of the game. You can't just sit around and wait for someone to ring on your doorbell, right? No one would hear you otherwise. What advice would you give to someone who wants to be a DJ or other up & coming Djs?
D: I say, go for it. Follow whatever your heart is telling you. Remember to always be humble and lose the ego. I have learned the hard way in the past when my own younger ego took over. The industry can be very tough on the soul and really frustrating at times. It is incredibly competitive, so you will need to grow a thick skin and learn not to take things personally. By approaching situations in a humble manner, it will get you much further than thinking you are the best or that you deserve it more than others. Also, never lose track of what this movement is all about, music & dance.
I'm curious, how do you feel about women in dance music, do you feel that we have to work harder and push ourselves more to be respected for what we do more than men, and what do you think about the current on-going discussion in dance music about line-ups needing to be 50% male / 50% female? Have you been booked solely because the promoter was looking for a "female" DJ?
T: This is an interesting question and debate. The scene is definitely male dominated and it wouldn't hurt with more females in it. But, if a 50/50 line-up is the way to deal with it, I'm not sure. As an up and coming DJ, it might even be an advantage to be female. I feel that people are ready for change and I guess the feminine subtleness we bring into the music is part of that change.
Other than the "all female DJs" stage at Musikkfest, I have not been booked solely because the promoter was looking for "female" DJs, at least not to my knowledge. However I would prefer to be booked because of my music and not because of my gender.  
D: How about the production arena, is this something you want to tackle?  Have you released your own productions?
T: Yes, this is something I want to tackle and I am already on it. I have released on the Amsterdam/Berlin label Low Money Music Love, and I'm still producing. So, there is definitely something more coming up soon.  
D: We look forward to it, but I think it's time to end this conversation and since you're our guest of honour Tonchius why don't you play us out. Sadly, summer is coming to an end and it has been an enjoyable 3 months of sunshine here in Norway, so what about playing us out with your top 3 tracks for summer 2017?
Markus Sommer – "Mystic Blues": A Great producer from Frankfurt.
TAR 1337 – "Lovers Fight": This is really summer 2016, but I still think it is relevant for summer 2017. Also, this is my track that I made together with Rub800
Gemini – How can I: An old one. But I do get a real summer vibe from this one.
Follow Tonchius on Facebook.
I am really excited about this pairing of DELLA & Tonchius this Saturday in the box at Della's Drivhus. See you all soon on the dancefloor!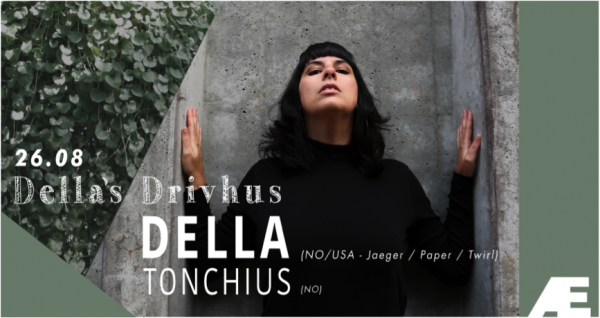 Join the Facebook Event
Sayonara for now!
Love,
DELLA