We caught up with Tarjei Nygård to talk about Drive, his latest collaboration with Egyptian Lover and more.
*photos by John Derek Bishop
There's no mistaking Egyptian Lover's sound. That west coast sound, imbued with the spirit of pre-hop-hop electro has been cemented in club music's collective psyche and none dare, nor can replicate it. It lends itself to a time, but a time in a parallel dimension traveling perpendicular to ours. It's a universe where electrified Deloreans power through aerial freeways and TuPac never left the Digital Underground. It's where Egyptian Lover thrives, and it's here Tarjei Nygård and Stockhaus turned to when they went searching for the vocals on their one-off collaboration "Drive. "
Drive sounds like nothing Tarjei Nygård has done in the past. A unique interaction between two Norwegian producers and a serendipitous exchange with an electronic music legend has led to one of the most endearing tracks and subsequent releases of 2021. It's not something we expected coming off the back of Tarjei Nygård's equally brilliant, but decidedly different 2019 EP "Lost in Lindos" and despite or more likely in spite of that, it's turned heads as large as Solomun's. "That's so strange," chuckles Tarjei over a telephone call from Stavanger, "because it's not the type of thing he is known for… That's the thing with a one-off like this, it doesn't fit into anything."  
"Drive" skirts that impossible divide between club track and radio banger, featuring a punishing electro beat, massaged into submission with an accessible melodic theme and Balardian sci-fi lyrics from a vocoder operated by a man that has refined that style of music to a precision craft, Egyptian Lover. The larger than life figure has made an indelible impact with this particular style of music and he remains a constant presence that never disappoints. It's a rare occasion that he features on any music other than his own, but when Nygård and Stockhaus cooked up the foundation for "Drive," there was always only going to be one voice that could adorn their creation.
Waxing lyrical on desires of mechanophilia, "Drive" cruises on an undulating beat, flowing through synthesisers and vocoders like a 16 bit car as it weaves through LA traffic. Watching the canvas loop in Spotify, the music transports you back to the arcade in 1990 as blocky palm trees float through your periphery on your way to nowhere in particular. Stockhaus, Tarjei Nygård and Egyptian Lover capture the mood perfectly.
 It encouraged us to get in touch with Nygård to find out more about the track and what else he's been up to since we last spoke. He's just recovered from the re-opening party in Stavanger and after a "very enjoyable experience," where he had the opportunity "to play for the heads" again after a long hiatus, he's in good spirits and eager to talk about "Drive;" a new musical project; and a label in the works…
What have you been up to since we last spoke?
When covid hit, I was just in the studio making music. So now I have a bunch of music and I need to put that out. The first was Drive with Egyptian Lover. 
Yes, let's talk about Drive. 
It took time to land that project, because first we had the song and then we realised quite quickly Egyptian Lover would be perfect to do the vocals on it. 
Did you know Egyptian Lover from before?
I knew him because I had booked him to a festival in town. I also met him in Miami one time. It helped because I met him before I booked him. I asked him and he was up for doing the vocals.  It took some time, because I wanted to be in the studio when he was doing it. 
This was before the pandemic.
Yes, I was in LA in 2018. I was lucky to go to California for some work in my old job and I combined it. 
Was it  only his vocal you were after, or did he add anything to the music?
I guess he added something to the music, by using the vocoder, which is his signature thing. It was very cool to be there and see the way he records.
Did you go to his studio?
He doesn't have his own studio. I think he just rents a studio for a week when he's working on something. I guess it's easier in LA because it's a little bit cheaper. But he is very adamant on doing it on an SSL desk and this kind of approach. Everything he does is old school, like mastering tapes to the pressing plant on vinyl. He's doing it like he did it in the eighties.
What was Stockhaus' involvement?
It started because Stockhaus was here in Stavanger, doing a writing course in music. He had some free time, and I invited him up to my studio and we made the track together. There was a little bit back and forth after we got the vocals from Egyptian Lover, and then I did the final mix. I also made the club version and the dub version. 
Tell me a bit about the club version, because it seems to me that it's basically an extended version of the original.
That's totally correct. It's very similar to the original. The idea of the whole project was to keep it in this eighties vibe, when they had this extended version on every record. And that's also why the dub is also quite simple, like those versions you would find on an eighties record. 
Where did the track start? Was it a melody, a beat, or simply a jam session?
We started with a drum beat, from what I can remember. I programmed some drums and Kristian Stockhaus just started playing stuff. It was just a collaboration in the studio and it was this kind of jam session, where we got a lot of tracks down. I made a demo version, which I played out and people seemed to enjoy, and then I sent it to Egyptian Lover and it continued into this song. 
Did it originally have that west coast feel, even before he put his vocals on it?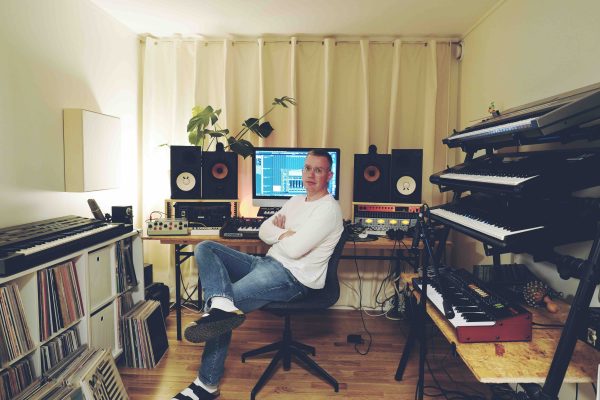 It was there from the beginning, and when we did it, we didn't have Egyptian Lover in mind. It's a one-off song for me, because it doesn't sound anything like the stuff I've done before. 
I think that's why it jumped at me when I first listened to it. 
I do a lot of different stuff and I'm interested in a lot of different music styles. We ended up just doing it, we didn't have control either. The strange thing is that it could have been lost on a hard-drive somewhere.
Did the track already have a name at the point when you got Egyptian Lover on board, or did that happen after he wrote the lyrics?
I think I actually had the concept in mind, and he wrote the lyrics. It had that retro video game feel to it. He is such a professional. A couple of days before I arrived, I had sent him a little blurb about the track and when I came into the studio, he had everything written down and was ready to go. He's very effective and just very good at what he does. 
Will this result in any future projects for the three of you?
I think this is a one-off. (laughs) It is nice to see this kind of one-off thing to the end, because a lot of these one-off things don't really make it out in the end. It's almost more difficult to finish this kind of project, than a project that's similar to what you are doing.
How much more do you have coming out?
I'm working on a big project with Are Foss. We've released a few songs together on Full Pupp and Eskimo and are now beginning to see the end of a big project.
This is the project where you guys were going to your hytte and recording music?
Yes, we've been up there a bunch of times, driving snowmobiles and A.T.Vs, carrying a lot of equipment and having some friends over. That project is 85% finished, but it's really nothing I can talk too much about…
Is it very much like the track you worked on together on Lost in Lindos, Øylie?
Some of it, but it goes in all directions. It's quite an ambitious project. Some of the songs are pop; some are ambient and downbeat; and some are experimental. We even use a banjo in one of the songs. (laughs) 
The other thing is that I'm reviving my old festival Perkapella as a record label, that's something I want to talk about more. 
Is the new music going solely for your own music?
I've signed The Glue. They are going to release their back catalogue and maybe some new stuff. 
Is The Glue's music what planted the seed for the record label?
Yeah, they make Disco edits and during covid I got the rights to some of the songs that they've edited. That's going to be quite fun. There is this one song that's quite popular called, "penger" which was an underground hit on soundcloud. 
What about your releases, will you continue to release on other labels like Eskimo and ESP, or will you eventually release your music on Perkapella too?
I will see. First we have to start getting those releases from Da Glue in order. And then I'm going to get that other project with Are on the way… and then I'll get that music I've been working on during covid under way.