Funk for Forest do everything for the groove. Born from the lineage of Funk that transcends their collective years at times they channel a music legacy directly to the dance floor today.  The fleeting lineup, which can grow to ten people, comes from a long line of Norwegian live acts who fuse Funk, Soul, Disco and more obscure genres into accessible dance floor cuts. From the upbeat Frank Znort to the futuristic fusion of Flammer Dance Band, Funk for Forest joins an impressive lineage of live dance bands in Oslo's history.  
Cultivating a sound that skirts the fringes of black American music, but updated and honed to accommodate a dance floor where the DJ reigns supreme, Funk for Forest brings a new dimension to timeless- and future classics. Their references are eclectic and engaging as they create live edits from familiar pieces, channeled through their distinctive musical proclivities. 
Funk for Forest are unique today as they've approached their craft solely from the stage. At a time when  bands arrive fully formed with at least one record and a label deal, Funk for Forest have opted for the more traditional route as a live band first. Rumors are abound of some recorded material on its way, and Funk For Forest will undoubtedly soon hit their stride in the recorded format too, but for now they are a live band in every sense of the word. 
We caught up with the band via email to talk about this upcoming performance at LYD this Saturday, some influences and we got to know a little more about the emerging band. 
Hey guys. Can we start with a roll-call; Who's in the band and what do they play?
The ensemble changes slightly from gig to gig, but for the upcoming show at jaeger the band consists of Elias Løstegaard on bass, Elias Tafjord on drums, Jesper Fosdahl on guitar, Viktor Ognøy on percussion, Thomas Antonio Debelian on percussion as well, William Foreman on keys, Eira Elise Øverås on trumpet, Mikkel Brekke on trombone and Jeanette Offerdal on saxophone. 
What brought you all together and what was the music that you initially all bonded over?
The band was started by Jesper and Elias with a wish to have an arena where we could play the music we loved the most, that being funk, afro-funk, disco, club music and all other iterations of the funk-genre. We just reached out to the best people around, and people we knew got a kick out of the same music as us. Turns out crowds also love groovy music, who would have known. 
The Funk element in your name is pretty self-explanatory, but how does the forest factor into it?
The name is a slightly corny pun playing on the environmental activist group Fuck for Forest who most memorably, in lack of a better term, fucked on stage at Quartfestivalen 2004. Initially the name was just for fun, but we also try to be a band with a focus on sustainability. Not flying to gigs, putting some of our payments from gigs in environmental funds, buying second-hand stage outfits and other things like that. A good example is that we are making some merch for our Halloween gig at Jaeger, the t-shirts are made here in Oslo and the profit from the merch-sale goes to Regnskodsfondet.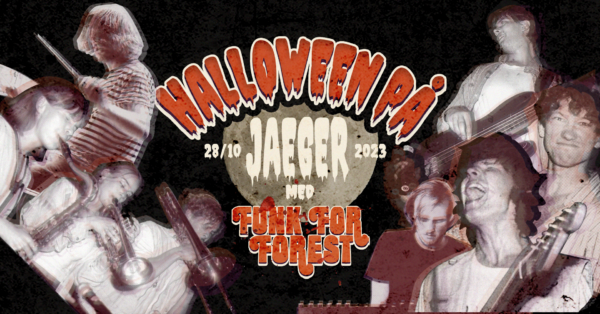 It's unusual lately to find a live band that is not already fully formed with records and a label behind them. Why have you opted for the alternative route?
Funk for Forest was always designed to be a live experience, so it made sense to just start playing and having fun with the project. Our hope is that crowds recognize how fun the show is, so we opted for a sort of word-of-mouth approach. It just felt the most natural to us, and it takes away the pressure so we can have full creative control. 
I hear a lot of familiar pieces, reworked, but you're not exactly a cover-band either. How would you describe your live show for the uninitiated?
We take a lot of inspiration from DJs and the club culture, so that's what we try to be; a live, 8-piece band that acts as a DJ playing you the grooviest edits of the music we love. Some of the tracks we play are truer to the originals, while others are more complete rearrangements. We always try to create the "Funk For Forest"-edit, it's more fun for everyone that way. A big focus has been on making the set flow together, with seamless transitions between the tracks so that the party never stops. We also try to command less attention than your usual band would, so that the crowd can focus on each other and enjoy the grooves. We want to see you dance.  
What do you look for in the songs or the elements that you incorporate in your live show?
If we think people would dance to it, That's always the main priority. We also look for material we can make our own, or we think would work well with the ensemble we're rocking at the time. And it always has to be groovy.
You guys play a lot of music that's older than most of you. What is your relationship with this music and how is it generally passed down to you all?
Everyone in the band has some level of music-education, so a lot of it has been introduced to us from fellow musicians and the environments we were taught in. We also love the music we play, and there has been a lot of digging through catalogs trying to find the perfect tracks. Our love for funk has been expanded a lot through working with Funk For Forest. 
Besides the obvious Funk influences like George Clinton, what are some of the less obvious touchstones for Funk for Forest?
As mentioned earlier, we take a lot of inspiration from house and disco. Todd Terje and Dimitri From Paris are huge inspiration to us in that area. We also love older funk ensembles like Average White Band and disco acts such as Roberta Kelly, as well as more modern funk-and-disco-harbingers like Orgeone, Cory Wong, Nu Gunea and so on. Also the Norwegian funk scene is super cool, we love artists such as Flammer Dance Band, Hubbabubbaklubb and Sex Judas. Many mentioned, many forgotten, but there you have some obvious touchstones!
With 8 people in the band, I assume many of not all of you are also engaged in other projects. What does Funk for Forest represent in terms of music that you don't necessarily get to do anywhere else?
It's not that often you get to play music written by somebody else, in your own creative package. It's an arena where we can play fun music, the music we love the most, where we can really let go. We love to dance, and to be able to play music for people with the sole intention of making them move is something we don't get to do often!
Who are some of the live bands that have inspired your own performances?
All of the bands and artists named above are brilliant, but a new discovery for us is the French artist/producer Dabuell, the live concert with his band from Paris that is up on Youtube is a gem and has been a source of inspiration and joy ever since we discovered it. Stuzzi from Sweden is a great live-act as well and I think an honorable mention is the Sunday-staple Frank Znort at Blå; always good vibes and great energy.
There's talk of some original music coming. What can the listener expect that would be a bit different from the stuff you're doing now?
We don't know how much we want to give away, but yeah we are making some music and when the time comes we are looking forward to sharing it with everyone. It has to be groovy, that is the most important thing for us, and I know it is for our crowd as well. 
Will any of it be making an appearance during the show at Jaeger?
Probably not. We want to make sure it's done right by the high Funk For Forest standards of excellence before we premier anything. There is still some time before the gig so we will see, it is going to be a great party anyway, and we can't wait to dance with you all!
Lastly, please play us out with a song.
In the spirit of the funk and the disco, it has to be: Parribean Disco – Cotonete / Dimitri From Paris.