Eirik Usterud aka Beastie Joyce and one half of Trist Pike is by his own account "probably one of the only DJs in Oslo that doesn't own any House records." Instead his musical purview extends beyond and includes everything else. He's found a kindred spirit in Jørgen Egeland in that regard and the two have been regular fixtures at Raymond T. Hauger's Den Gyldne Sprekk since its inauguration in 2016. Jorgen Egeland is something of an honorary resident today and Beastie Joyce either in the booth or performing as one half of Trist Pike, is a regular fixture at Raymond's weekly Tuesdaynight.
Eirik has modulated from the stage to the booth consistently in Den Gyldne Sprekk's history at Jaeger, often sharing the booth with his musical counterpart and music quiz partner Jørgen Egeland. Like Eirik, Jørgen's musical knowledge spans far and wide with a very acute and knowledgeable dedication to all things Jazz. Unlike Eirik, he'll often have a few House cuts floating around in his bag, which leaves very little left to uncover through music between their combined record library.
So, when Raymond needed to take a short break from his concept to pursue whatever wild, fantastical leisure activity he pursues, there was only ever going to be one option when it came to a worthy substitute for his weekly residency. Beastie Joyce and Jørgen Egeland take over Den Gyldne Sprekk in April, with four unique concepts during the month. From Progwave to Cyberpunks, together with Raymond, Eirik and Jorgen have lined up a musical month of Tuesdays at Jaeger that dig through the obscure and often bizarre corners of their combined musical scope.
We sat down with Eirik as Beastie Joyce to discuss these concepts and his and Jørgen's vision for Den Gyldne Sprekk in the month of April.
Where does the name Beastie Joyce comes from?
It's my Twitter name. In other occasions I've been phasing it out in favour of a new alias, but my Twitter account is quite popular so I don't think I'm ever going to get rid of that name. It's Just an amalgamation of Beastie Boys and James Joyce, of course.
So you'll be filling the crack?
Yes, me and Jørgen (Egeland).
You have both been involved with Den Gyldne Sprekk and Raymond T Hauger in one way or another.
Yes. I think we have both appeared here as guests occasionally almost since the very beginning.
Yes for a while there we were calling your band Trist Pike, Jaeger's first and only in house band.
Yeah we've played there a lot including our first gig ever.
Why are you and Jorgen taking over the concept in April?
Raymond needed some time off, and it was natural to ask someone who has always been involved, and someone that has a very solid grasp on the concept and the type of music that is in focus here.
So it will just be a continuation of the concept, or will you bring something different to the table?
We are bringing in our own ideas, which Raymond has been involved with as well and I think we came up with some really great concepts for what we're going to do those four weeks.
It does seem that Raymond has a very clear vision of what he wants to achieve each week for DGS.
Exactly and the guests are quite often involved in how it ends up. It is kind of cohesive even though there is quite a lot of different music involved.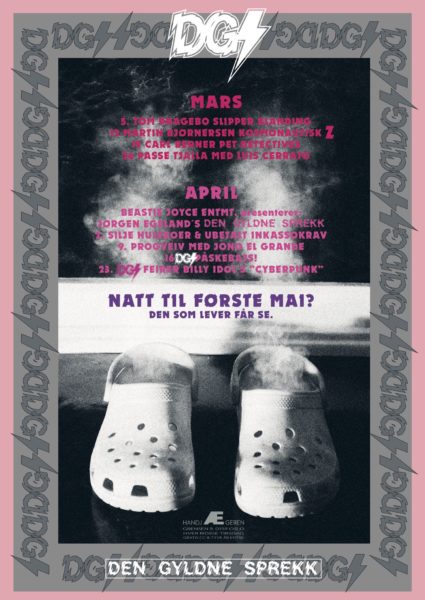 I always love the titles for the events, and one that stuck out in April is called Progeveiv. What is that all about?
It's all about this progrock and new wave crossover, which was this very short-lived trend that every single Prog Rock band jumped on in the early eighties. I thought that was really interesting and got talking with Jono El Grande, who is obsessively knowledgeable about Prog Rock in general, so obviously he knew a lot about this stuff and I realised it would be really fun to make that a theme night here.
It seems like a very niche thing. Is there enough records out there to make it a night?
I have a lot of those records, and there are a lot of single songs you can find, and a couple of complicated cuts from some new wave records. We'll probably not be able to fill a whole night with just that, so we're gonna broaden the definition a little bit.
I suppose you can also go into either standard Progressive Rock or New Wave from there too which opens up the landscape a little.
Exactly.
What sort of records were you thinking of bringing?
Eighties King Crimson, that's the big one, and also the Talking Heads albums that the King Crimson guys were involved in. Also the more complex Devo stuff. Yes dabbled in that kind of stuff and Rush also when they started using synthesisers.
And tell me a bit about the other concepts?
In the Easter week, we're going to do religious music and we got in Raymond's good friend, Louis from Beglomeg, because he knows a lot about christian Rock and Funk, and that kind of stuff. We're not going to be doing strictly christian music, it's going to be religious or religious sounding music in general and of course music about the devil; so I'm going to bring some Dark Throne and Morbid Angel. When it comes to religiously themed music I have a better grasp on stuff when it comes to the devil.
And there's the night with Silje Hulleboer?
Yes it's just her and Jørgen. They were talking one day and they found they had a lot of interesting overlaps in their musical tastes.
Then there's one more event…
The last one will be a celebration of Billy Idol's cyberpunk album. That is going to be an interesting one. We were talking about it behind the scenes and there is no particular occasion we're celebrating, we're just celebrating that the album exists. The idea is that we are going to play that album in its entirety on CD, but I mean it's seventy minutes long and very stupid, so I'm not sure how commited we are to that, we are going to be playing dated nineties electronic and synth based music that sounded very futuristic when it was new and very dated now.
Something like that David Bowie album he made with Nine Inch Nails?
O yeah, damn I haven't really thought about that. I have at least one of his nineties albums so I'll have to investigate further.
Those are spectacularly dated now.
The one "Outside," that's kind of cool but it couldn't have been made at any other time.
Are Babylon Zoo always relevant in that context.
Absolutely, it's that aesthetic from the Levi's commercial with that song, that we're nodding to; early nineties CGI and that kind of stuff.
Tell me a bit about your relationship with Jørgen.
I don't remember how we first met, but we really started to get to know each other when we started going to a music pub quiz at O'Reilly's on Fridays. He has an insanely wide taste and a deep knowledge of music.
Where do you think your tastes converge or crossover?
Lots of places, because we're both into Metal, Punk Rock, Jazz, Rock n Roll and Indie. We have a lot in common, but he's way more into electronic stuff than I am, and I like Jazz, but he really likes Jazz.
And there's not going to be a Trist Pike concert during this takeover?
No, I think it would be too much of a hassle to put on a concert at this particular time, but maybe sometime in the future. Also Trist Pike have played here so many times, I can't even remember how many shows we played here.
So if you were to sum up the takeover in three words for us what would it be?
I guess the easy answer is Rock and Roll. I think we're going to deliver what we usually get here with our own twist on it.