Around the time I moved to Oslo, I had become very disillusioned by the electronic music landscape and the industry around it. Bombarded by email promos, social media and the music media there had been enough music passing my way to fill a week's worth of listening in a single day, and most of it made no impression on me at all. It had become a cluttered vacuum of prescribed formulas and media hype that had sucked all the soul and ingenuity out of this music that sparked something in me as a teenager. It had become and irreverent noise, an unbearable homogeneity of consumer music, vacuous and empty at its core.
Record stores pandering to the physical manifestation of the hype, offered little in the way of solace perpetuating the labels and artists that have staked the large majority claim on the independent record industry and its hype machine with albums from mainstream leftfield electronic artists and functional 12 inches from big independent labels clogging up vinyl presses all over the world.
Impersonal exchanges with record store staff using the job as a stepping stone to a career as a "superstar DJ" made for an uninspiring, intimidating atmosphere that didn't encourage any discovery beyond the superficial, but that all changed when I moved to Oslo and met Roland Lifjell, stepping into Filter Musikk for the first time. 
The proprietor of Filter Musikk,  a DJ, producer and facilitator Lifjell is a renowned figure in Oslo's electronic music hemisphere. He had his start in 80's synth electronica, moving to DJing through the Oslo's Goa trance scene, before becoming one of the leading DJs and producers of Techno in the city, both as a solo act, Audibelle and with longtime production partner Kristian Sinkerud.
Meeting Roland for the first time that intimidation of going into a new record store carried over to this experience, but after a few brief conversations with the soft-spoken, pragmatic and quite funny Norwegian, I've felt a welcome I haven't felt ever before or since. As our relationship grew beyond the customer and shopkeeper dynamic into a friendship, Filter Musikk has become more than just a record store to me.
Very rarely before have I found a record store that spoke so intricately to my own tastes. Although Roland might draw strong associations with the Techno genre in the city through his personal interests, at Filter you can find everything from Afro Beat to Trance in the shelves, always encouraging an expedition in to new, untapped musical worlds. For the first time I wasn't really finding the records I was looking for and the records made popular by their hype, but I was also finding the records and music from labels and artists unknown to me, that succeeded to make a huge impression in my record collection and my personal tastes.
Falling Etchics, Studio 89 and Delft records were some of the endearing labels I had come across at Filter for the first time, while artists like LNS, Skymax and Volruptus made impressions that continue to intrigue today. At Filter Musikk, I knew I wouldn't miss out on the best of L.I.E.S, Semantica or Mathematics releases and could always find the latest in new Norwegian music from DJ's and artists passing through Jæger's booth. 
But my story isn't unique and many DJs in the Oslo community share similar stories.
Orjan Sletner (Kompressorkanonen), Ole Martin Magnussen and Jan-Fredrik Bjerk (Jan Mayan) all share similar experiences as three DJs from disparate musical backgrounds. Orjan is an old friend of Roland's today, coming up into the Oslo DJ world at the same time through the Goa scene. He helped build the shop as it stands today – well demolish the previous interior at least – and continues to frequent the shop for new records on a weekly basis.
Ole Martin Mangunssen is a DJ and collector with his nose in House and Disco. There have been few Fridays I haven't seen him in the shop in conversation with Roland about anything from music to the daily news.
Jan Fredrik Bjerk is the DJ behind Hjemme Med Dama, a mix series and tape label that offers a platform for Oslo's unsung DJ heroes, which in the past year has become a prominent feature in the shop, thanks to initiatives like Cassette Store Day.
The four of us gather at Hell's Kitchen to talk about Filter Musikk, unbeknownst to Roland Lifjell, as he prepares for a summer season at Jæger with a series of Filter Musikk showcases with Jokke Houmb. As Lifjell's oldest friend and longest customer, we pick up the origins of the Filter Musikk story with Orjan…
Orjan, You probably know the origins of Filter Musikk better than anyone here.  
Orjan: I haven't gone back to my diary to check the details. I think (Roland) started selling records in Music Mæstro. I've known Roland since '95, that's a long time and he's been selling records for a long time. (In)  the early 2000's, maybe late nineties, he started selling records at a music shop called Filter, which was run by somebody else at that time. Because they were selling synths and stuff to make electronic music, and Roland sold electronic music on vinyl, they thought it would have a synergy effect, and Roland moved in. Then gradually, he became more involved, and eventually took over the whole business.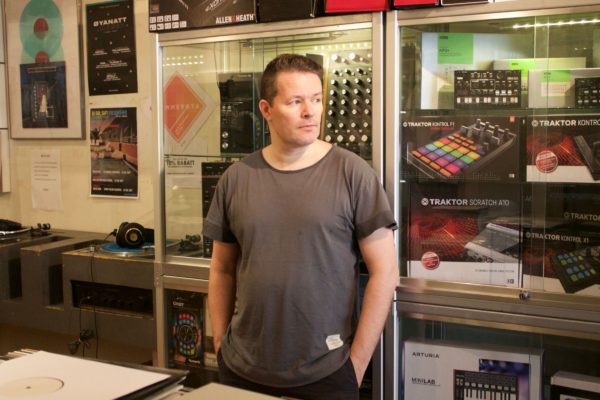 Was he selling records before he started DJing.
O: No he was a DJ first and he only started selling records later.
Jan-Frederik: He started DJing with DAT.
Orjan: He started DJing with DAT, because he was playing Psy-Trance back in the day.
Why DAT tapes?
O: I don't known, but maybe it's because there was a lot of unreleased music doing the rounds in that scene and DAT was the format.
Ole-Martin: It was possibly a mailing list thing.
Orjan: Could be, but that wasn't something that sold commercially. I've heard stories that they couldn't play vinyl in Goa, because it was so hot and that's the reason, but maybe that's bullshit.
…But for Roland selling records came out of DJIng. I got to know him just before he started working at Mind Travels. He's been selling records more or less continuously for the last 22 years.
Ole-Martin do you remember the first time you went to Filter.
O-M: Yes, I don't remember exactly when it was, but it was just after he moved from Opera Stasjon to his current location. If he doesn't know the person coming into the shop, he's kind of reserved, and only when you leave the shop will he ask, "do you need some help". It was one of those moments. That's classic Roland.
JF: Yeah I was terrified when I came into that shop for the first time.
It can be a bit intimidating. I went in there for the first time, looking for a job, the summer before I moved here.
O-M: Yeah, how did that go?
It was interesting, but I would go back there to buy records and as we started talking more about music, you realise that Roland is very open and easy to speak to.
O-M: Yeah, he probably won't just give you the benefit of the doubt, and will try you out first.
How about you Jan-Fredrik, what was your first experience like?
JF: It's kind of the same as when you go to Hardwax or something like that; you don't particularly get a welcome, but Roland is a surprisingly vwarm, and generous guy. I've actually become his neighbour so we've become good friends in the last few years.
Something I would like to add: Roland works everyday, Monday to Saturday from 11-ish to 6 or 9-ish and there's no holiday involved. It's unbelievable that he's able to focus on equipment as well as the import thing.
We'll obviously buy stuff online as well, but why do we keep going back to the record store?
O-M: The service, the conversation.
O: It's just a nice thing. Going to a record store is where the real knowledge is passed, not to mention the gossip. Sitting at home and buying records from your computer is not a nice experience. Going down there browsing is just better.
One thing I'd like to stress is that a shop can be as legendary as anything but if people don't go there and support it, it's not going to survive. That happens all the time. If the local grocery closes because the rent increases and nobody goes shopping there anymore, then everybody goes: "oh it's a shame!". Why weren't you going there before it closed – support your local dealer.
I always find something at Filter that I don't know about, but then immediately obsess over. I will go in every Friday or Saturday and there would be at least one, more likely three records that I didn't know about, but I would instantly connect with.
O: That's the thing, sometimes when you go to a record store like Filter where the selection is not so big, and it's more curated it's actually more rewarding than going to a shop that has everything.
JF: What do you think about the selections at Filter?
O: He used Next Stop distribution for ages, and they used to be really really good. In the nineties they had everything and they kept going into the naughties, but then they phased out the vinyl bit, because there's no real money in vinyl anymore; it kind of survives on enthusiasm. At the end all they could offer was Prodigy and Roland had to change the supplier.
He started using wordandsound, Hardwax and Triple vision, and then in the last six seven eight years the shop went from being good to extraordinary. It's the best shop this city has had bar none.
The good thing about it is that I've gone back to an old school way of record shopping. I just go down there and Roland will ask: "should I pick something out for you". He usually brings me a huge pile, and I've never heard of the label, never heard of the producer, but I'll end up buying it. So I don't pay as much attention to what's going on.
JF: Everytime I get there on a Friday, I have to find the pile that is new, because it's usually on the floor…
O-M: …under his desk or something.
JF: It's like he doesn't want to sell them.
O-M: But if you know Roland, you'll just ask, "where are the new records", and he'll tell you.
JF: It has a kind of High Fidelity (the movie) vibe to it.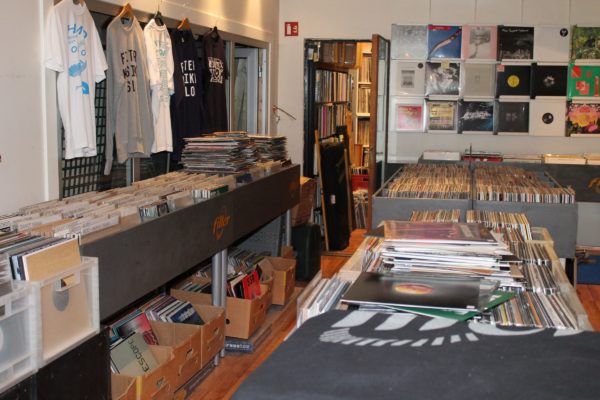 Most people think of Roland as this Techno guy, but you can go to Filter and find everything, from UK breakbeat to House music.
OM: Yeah I'm a House and Disco guy, and Roland has something for everyone I guess.
Do you always find something?
O-M: It depends what I'm looking for, but usually I'll find something. I think his newsletter is great and he has a great selection, and there's something for everyone, and it will vary from month to month, but I'm quite satisfied. I don't need to order something online.
JF: And you can order from him. When I see something from Decks or Hardwax that's nearly sold out, he'll order it for me.
He's done that for me many times.
JF: It costs so much with the shipping these days, that I'd rather get it from him.
Jan Frederik as you're the only one here that is also a supplier as Hjemme Med Dama, maybe you can tell us a bit of that side too. How did you get your tapes into the store?
JF: I guess I was a bit intimidated in the beginning, because here I come the newcomer with the rubbish name; but he was like: "oh tapes, back in the days…" And then he also wanted to sell his own tapes. Suddenly we had a connection and that's surprising, because you tend to think of Roland as this main man, DJ and how can a newcomer just come in and sell his stuff. But he likes distributing these other things close to home, like from Stavanger and Sex Tags.
O-M: It's your fault he has cassettes at all. (Laughs)
JF: I also thought; 'you should have more stuff going on the shop,' so I started doing that type of thing since it's the only shop here that's into electronic music. But the shop is not the best designed store…
O-M: It's a tight space.
JF: … Then I just pitched the idea of doing these events and release parties for HMD and then there's been releases from other labels.
OM: There was a Mental Overdrive show there too, and that was really good.
Why do you think vinyl still appealsin this digital world?
O: It's the only format that's good for digging.
O-M: And the details of the artwork. It's easy to drown in a library of digital files.
O: It's a bit awkward for me talking about the resurgence of vinyl.
O-M: It's never gone away.
O: For me it's never gone away and for me it's the opposite. When vinyl was dead in other genres, It was very much alive and kicking in hip hop and dance music. In the nineties even if it was relatively unsuccessful album or EP it would still sell 1500 copies easy.
O-M: I actually have a compilation at home, that says limited edition, 5000. That's crazy by today's standards.
O: Now today you won't even dare to 500. No, let's do 300 and if it's successful the price goes through the roof.
JF: Like that recent Traumprinz release as DJ Healer. Stuff like that, that they know is gonna sell well, they'll just do it for the publicity.
I've heard of labels pressing 50 copies of a record recently.
O: Yeah it's getting ridiculous. For me, there's not really been a resurgence of vinyl in dance music. There might be more good stuff coming out on vinyl now than say ten years ago, but it is nothing compared to the nineties.
Roland Lifjell's ears must have been burning, because he walks in on us talking about him. His reluctant smile beams as he approaches: "So this is where you all are?" It's a another blistering afternoon in the city, and the conversation unravels as the thirsts are quenched. Thinking back on it, all these people sitting around the table, I've all come to know through Roland and Filter Musikk, and they like the store have become an extension of my professional life into my personal life. Filter Musikk is a hang-out, it's work, it's a leisurely pursuit and it's a community. It reinvigorated my musical passions at a time of feeling disillusioned and today it's become an integral part of my life. Filter Musikk is more than just a record-store.
* The first Filter Musikk Showcase sees Boris join Jokke in our basement next Friday.