Steffi has been there at every stage of club music. From playing the dark bunkers in her native Netherland to that 5am slot at Berghain where she holds a residency, and then back to some obscure hole-in-the-wall in a  2nd city, Steffi's range as a DJ extends far beyond the scope of whatever style-du-jour-box people try to place her in. There's an instinctive quality that tugs at the core of the body and a sensibility that goes way beyond the immediacy of the beat. 
It's something that extends to her work in the studio too, where she can deliver the enthusiasm of peak time at one end of the spectrum, or delve deep into the inner workings of her machine with scientific-like precision at the other end. At the core of her work is a innate understanding of the legacy of this machine music, hewed to a pristine perfection that has covered a fair few albums and Eps, most of which for Berghain's Ostgut Ton imprint if not for her own labels, like Klakson, Dolly or the newly established Candy Mountain imprint. 
Candy Mountain marks a new chapter in Steffi's career, coming at the same time as a permanent move for her and her partner Virginia to Portugal from Berlin and providing a platform for her latest LP and the first album outside of the Ostgut franchise, The Red Hunter. A label, studio, retreat and much more, Candy Mountain sits alongside Klakson and Dolly in Steffi's extensive scope on club music. As an artist, Red Hunter took Steffi's sounds on the borders of the dance floor with broken beats, and brooding synthesisers floating through the arrangements. Dedicated to her late mother, the record finds Steffi in a reflective and serene mood, without completely disengaging with the sound of her club sets. 
There's a lot that's in flux with the sound of Steffi's sets at the moment and a lot in congruence with the sound of her Klakson label. Where Dolly took up most of her time during her tenure in Berlin it seems Klakson has focussed Steffi's attention towards the sounds of Electro, EBM and the dance floor's outlier genres. It's taken up a clarion call for these genres and styles with artists like 214, Fastgraph and The Hacker contributing to the label alongside Steffi's own contributions and her collaborative projects like Negroni Nails. 
Does this mark a new phase for Steffi, and how has her move to Portugal affected her music and her pursuits as a DJ? With these questions and more burning, we sent off an email to Steffi ahead of her appearance at Jaeger tonight. 
Let's start with Candy Mountain, and your  move to Portugal. It seems like you are establishing an electronic music community down there with studios, a label, a retreat. What is the history behind Candy Mountain and what does it all entail?
We bought a house in Portugal in 2017 to spend our time between Berlin and the Portuguese countryside. In 2020 we wrapped up our lives in Berlin, ended up moving everything to Portugal permanently and we set up Candy Mountain. Candy Mountain is a label, studio space and creative hub. It is an artist-driven platform based here in the countryside of Portugal but operates on a global level. The studio sits in the middle of nature. artists can live and work under the same roof with zero distractions in a tranquil environment. The perfect space to work and also connect with the local scene in Portugal. we both feel that it's important to give something back to the place we moved to and welcomed us so we hope to do so with this new concept
.I know you and Virginia had already been living between Portugal and Berlin in the past, but what inspired the permanent move?
We wanted to move eventually but covid 2019 came and we were in lock down in our house in Portugal and realized it was not going to be a small one so we decided to pack up Berlin as traveling up and down became impossible.
And from what I understand, it's a little outside Lisbon, and somewhat remote. Why there?
Nature!
I know this might be a bit of an abstract thing, but do you think it's had an effect on your music and anything in terms of DJing since the move?
It had a massive effect on my mindset in the positive sense. It's much easier to unwind here than in a city and I am focussed on different things here. 
So far Candy Mountain is an exclusive vehicle for Steffi, but I assume that will change as the results of these musical residencies come to fruition. What's going to be the first release from a guest artist and what's going to be the process for selecting music for this label in particular; does it have to come out of that studio specifically?
CaMo002 will be a 12 inch by Tracing Xircles with an amazing D-Bridge remix! Nothing needs to come out of the studio in the end but it's there if people want to come over and use it for a possible release. Locals or artists abroad. It's all about options and making things happen in the end. The idea is all about collaborations with people we appreciate in our inner circle and opening the door to the scene here in Portugal.
Tell me a bit about the studio, because your Berlin studio was well documented in the past. Has it basically been transplanted from Berlin to Portugal and what if any fundamental changes have affected your workflow?
It's basically a mirror from what I had as a set up in Berlin merged with Virginia's studio. The workflow is pretty similar actually. On top of that, we have a great outdoor space for small parties and get-togethers and the ground floor is a super cosy studio apartment to stay in with a dj set up.
I am aware of the thematic concept behind Red Hunter in terms of a record dedicated to your mother, but was there a specific musical concept or goal behind it?
I have been writing this album over the last 3/4 years and the foundation of these songs were done in so many different settings and places rather than writing it in one go what I normally would do. Looking at it from a more conceptual aspect I really wanted to dive deeper into my rhythm sections and take that to a next level. More definition and detail was my main goal. Small melodies on top of complex and heavy beats. Rhythm becoming an melodic element. The red hunter, it's the first track I have written in this particular vain/mood and also defines the sound of the whole album perfectly for me. When I finished this track I knew I wanted to write a whole album in around this song and it was clear where the sound needed to go. It gave me the kickstart of the whole creative process for this album basically.
Candy Mountain finds itself in what is already a busy label franchise from you, alongside Klakson and the Dolly suite of labels. Where does Candy Mountain fit into that spectrum in terms of sound and concept?
It has no stylistic boundaries so we can just jump and take a free fall :-)
How do you decide what gets the attention and what goes where, especially in terms of our own music?
Well klakson and dolly have shaped themselves up quite well during the last 20 plus years. Dolly is more house and techno related and klakson has always had a focus on electro so that line is quite clear. I don't feature myself too much on those labels because I always wanted to release other people's music and build up artists for those platforms. I have worked with ostgut ton for my solo stuff mostly and when it was time to spread my wings it was the perfect time to found a new imprint for my album with Candy Mountain.
It seems in recent years Klakson has also taken over a bit from Dolly in terms of your focus. I know you've said in the past Klakson is a label you'll pick up when the time and the music is right for it. What is it about this period and the music you're bringing out on the label that has encouraged this flurry of activity recently?
The beauty is that I can play around so much and one does not exclude the other. Important for me is though when there is nothing to tell on one label, it just takes a pause so it never loses quality but just takes a nap. klakson woke up because the time was right and had a lot to tell. It's a great dynamic to juggle between brother and sister. Stay tuned because there will be some interesting new stuff coming on Dolly. She has new stories to tell.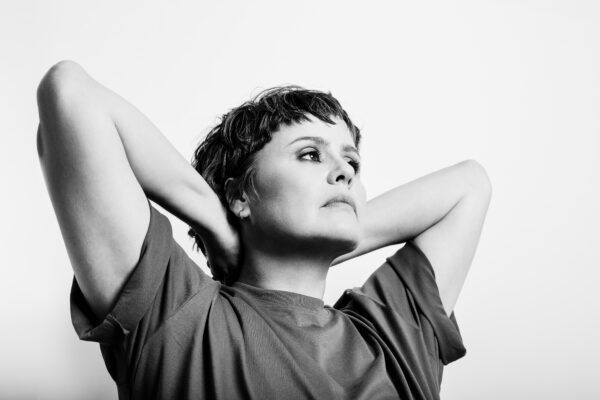 Personally, I feel that it is the perfect time for a label like Klakson to exist, with something a little more cognitive for the dance floor. And I feel from listening to your last LP and some of your recent mixes online, that you might feel the same. Where do your musical allegiances lie at the moment when it comes to what you're listening to, playing and making?
My pallet is so wide when it comes to playing and making music. I find it very unattractive to focus on just one thing as my taste is simply too diverse. I am a music freak and I buy whatever I like to hear and play whatever I feel like. I love being able to have a side of me that produces and plays abstract electro, IDM and broken stuff and the other side that loves dance floor stuff like house and techno. It's always been like this. It resonates on my labels, dj sets and through my productions and remixes. 
If we listen to an early track like Yours, and then most of Red Hunter there's a clear distinction there, but then if you throw in a track like All living things from 2017 there's an evolution too. As an artist how do you reflect on these different periods in relationship to where you are now musically?
Evolution. For me it's a journey and I have dreams and goals and ideas on the horizon I wanna reach. All of what I have done so far are logical steps in my creative development. Like I said I love being able to go abstract and push the boundaries there but I also love to write straight up dance floor stuff. Over the years as a producer I became more and more skilled to be able to do that and this is amazing for my creative expression.
Is there any relationship to the music you're making today compared to what you were listening to and playing back when you started in the Netherlands as a DJ and promoter?
Yes, I knew all along that one day I wanted to make an album like the red hunter one day and of course the musical influences shape you as a producer big time.
What was your focus back then in terms of music and how did it inform what would become a  career? 
The passion of music has been the main drive. Always. I never had any plans to be making money from dj-ing or producing music. This all went gradually to be honest. I do have to say when I moved to Berlin in 2007 I was aware that this could be a possibility for me to drop my work as a free-lance graphic designer and live off of my dj gigs but even then I wasn't focussed on dj-ing being a career. Is it a career or am I just doing what I love most, making music, throwing parties, dj-ing and releasing other people's music? When it all gets serious, yes it becomes a business but the main focus is and will always be music, music and music. 
Going from somewhere like the south of the Netherlands to Berlin and then to somewhere remote like Candy Mountain, is there a sense of coming full circle for you and what's the biggest fundamental change for you as an artist and DJ between those early days and now?
I am from a small town in the south of Holland and I could not wait to move to the city when I was 19 because it was suffocating me big time. I lived in Australia in 1996-1997, then Amsterdam for 10 years and then Berlin for 13 years and at some point I closed a certain city life chapter for me and really wanted to be in nature and moved to a village with 200 people. How ironic hahahahah!. That's quite the full circle journey I'd say. like technology, the biggest game changer in the scene. For example virtual reality and the global impact it has. Quantity over quality, visibility over anonymity, virtual reality over living in the moment. So on so on so on ;-)
Ok Steffi, that's all the questions I have. Thank you for indulging me and I only have one more request. Can you play us out with a song?
Last Days Of Innocence by Driven By Attraction
I can't pick just one song, because I love the whole EP!! :