It's been about a year since Kristian Møller Johansen released his last track as Melkeveien. "Homecoming" came out in the summer of  2018, about a year on from the single before that "Sove På Det". So it only makes sense that his next release, "Hockey Pizza" should come out a year on from the last to perpetuate the sequence.
Kristian breaks in to a hearty chuckle over the phone as I ask him about his annual release schedule; as if it's not the first time the annual onsistency has occurred to him."Hockey Pizza" is still at the mastering studio when I call him up for this interview, and Kristian won't let me hear a single note until these final touches are applied to the record and it is finished to the degree he expects.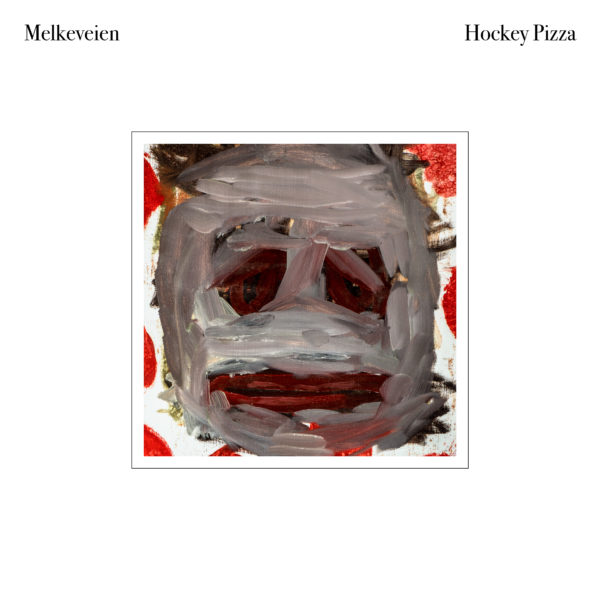 The focus for "Hockey Pizza" was on a more "organic, live sound"  than the previous records like "Homecoming," which was composed from "more programmed and sample based stuff" according to Kristian. "Homecoming" took strains of Disco and Acid and brought them together in the realm of DIY electronica. Rumbling bass lines, syncopated beats and swathes of synthetic textures streaking across the popular song structure, established the sound Melkeveien had been cultivating since "Sove på Det."
Kristian tells me this is due to evolve on "Hockey Pizza" with a "drummer playing drums rather than a drum machine" lending a different "energy" to these new songs. Guitarist Fredrik Ryberg and keyboard virtuoso Ole Anders Røberg also feature heavily on the forthcoming "mini-EP", which with Knut Sævik (Mungolian Jet Set) at the mixing controls, gives it more of a live band sound than the solo pursuits of Kristian in the Melkeveien records before it.
It's a structure that's more suited for the live show that accompanies this release and will be making its way to Jaeger for the official Oslo release of the new record. "We're focussing on the band stuff" Kristian tells me in light of the forthcoming release party. The band consisting of Kristian and Embert Johnsen on samplers/keys and John Birkeland Hansen on drums is a fusion of "live and sequenced" material that can easily mutate from a concert venue to a club.
Together they've come in to their own as a band, which will result in more recorded material says Kristian, but will also ultimately return to the "more club focussed" sound of "Peter Pan Death Wish" in future releases.
It was "Peter Pan Death Wish", released in 2014 that first brought the Melkeveien project to the fore. The track found its way on the trailer for the Lynne Ramsay film "You were never really here" starring Joaquin Phoenix and gained a lot of exposure for Melkeveien abroad with  the London Times calling it "essential listening" at the time. That would ultimately reverberate back home too, giving some favourable reception to the single and the EPs that followed.
"People seemed to like that record" says Kristian in a very self-effacing way as "Peter Pan Death Wish" continues to rack up streams over half a million on Spotify. With its plucking sequenced synth and its elastic rhythm and bass, the single would live on beyond the trailer soundtrack to the club floor and bring the label Dødpop to the fore.
Dødpop is a label Kristian runs with Bård Farbu and Robert Jomisko, born out of the brief but significant Skweee wave at the turn of the decade. A "pan-Scandinavian" musical phenomenon out of the era of Myspace, Skweee was a kind of DIY, cut-n-paste Electro that shares a very similar ideology to what lo-fi House does today.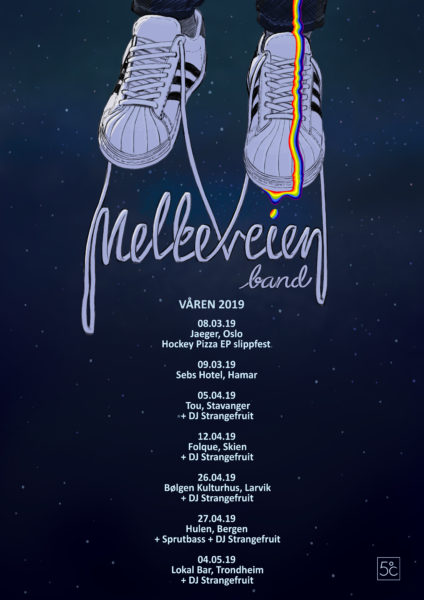 "I don't consider myself making Skweee anymore," says Kristian. "The Melkeveien thing is a free thing", avoiding strict formats for something that can flow effortlessly between his musical influences. If urged to describe his music, he calls it "funk with a sinister edge" and the results find themselves somewhere between Ratatat and Lindstrøm, but really defies categorisation beyond the electronica reference.
Growing up in Hamar, Kristian had a varied musical upbringing. His first foray into music was in a Hip Hop group in the late nineties, although he never considered the group a success, at least not outside the Hamar area.
"That didn't evolve into anything," but it did lay a foundation into production, bolstered by an early interest in computer music. "'I've been into producing music on computers since 1998, starting with FastTracker and music floppy discs," says Kristian. He started making music with Niels Thiessen (Mandagsklubben & Brokesteady) in Hamar and released his first record as Mr. Nguyen in 2004, a track called "Hiroshima Hookers" on Sekur Beats. He describes it as a "dancy and quirky" record with references to Warp records and today you can still hear the grassroots of what would become Melkeveien in that record.  
Kristian, Bård and Robert then eventually established Dødpop after trading some tracks online, and noticing some very sonic similarities, similarities that were contemporary with the musical epoch and would eventually lead to the creation of the Skweee genre.
Kristian adopted the name Melkeveien from his street in Hamar which went beyond Skweee to an all-encompassing electronic sound with elements of Disco, Electro and Synthwave coursing through its foundations.
Today Melkeveien switches between being a solo project and a fully fledged band and Kristian reiterates that it brings "a different energy" to the project  "when the band plays together." With John Birkeland Hansen in situ there's that tactile and visual interpretation of the rhythm, which when experienced in the live context, is a very vivifying expression of the beat.
Beyond this live show, there will be a tour in Norway promoting "Hockey Pizza", and a new track will be released on Prins Thomas' Full Pupp label evry soon. Kristian is certain there will "absolutely be an ep and album" in the future and if there's any merit in the consistency of releases thus far, then 2020 looks like an exciting year for Melkeveien.