There's a picture of an empty Jaeger basement that encounter on my computer every so often. It was taken late 2019, and the empty void lingers indefinitely in a reality today where the pandemic has taken an immense toll. Had I known it would be one of the last pictures I took of the basement, I would've waited for the crowd to flood in through the doors at least. The empty void is a stark reminder of the reality we find ourselves in, and god knows I hardly need a reminder…
None of us could've predicted the science fictitious reality that is 2020/21, least of all me. I remember listening to Jeff Mills in the basement only a few weeks before, like nothing in the world could touch us. And when Jaeger closed its doors for the first lockdown almost a year ago, I was naive enough to believe this would be nothing but a blip, and by the summer we would be back in business. Ola Smith-Simonsen was more pragmatic, saying "the optimist in me hopes that we're drinking a beer at Øya festival in 2020." Øya never came and summer went and now in the middle of winter, the dance floor is still in the abstract and the basement remains empty with a faint glimmer of hope that we will be back there in a couple of months.
Although if you're inclined to believe the pragmatic Germans we'll be lucky if we're back to business as usual by the summer of 2022. That makes for some grim reading, but Ola is already hard at work towards a tentative start in May 2021 with a host of Jaeger residents and close friends in the booth again… fingers crossed.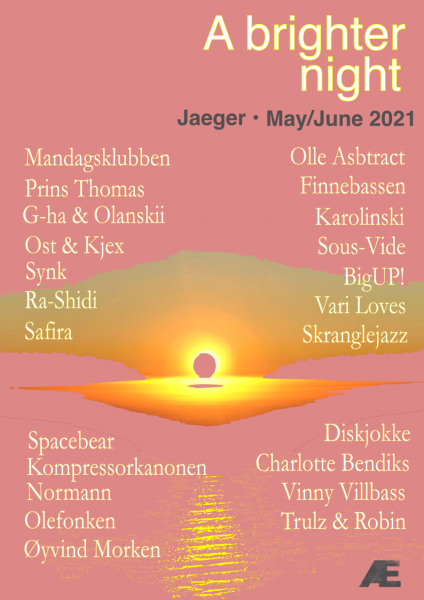 Those first events in 2021 will come almost a year on from the first lockdown and Jaeger's gone through many different phases since. Ola and co. have done their best to accommodate erratic measures subject to volatile infectious rates, to retain some semblance of a dance floor. From the lenient – listening to DJs till 3am in a seated position – to the downright drastic – the revocation of the license – Jaeger has remained steadfast in its pursuit of the dance floor and its music through some of the most extreme circumstances any of us has ever lived through.
Yes, it's official… we're living in the matrix today. We've taken a collective xanax disguised as a red pill and our lives have played out online in some virtual reality of our lives. From the uncomfortably safe confines of our "hjemme kontor" we've done everything from work to socialise and I've personally had enough. Those initial zoom "parties" and streaming sets all seemed so innocent at first, and now we're stuck with them.  Even the bears had enough at some point. We've encountered some inspiring and some questionable actions in pursuit of a dance floor and a sincere focus on local musical talents in lieu of an international industry breathing down our necks. We've seen the human spirit eager to adapt to any circumstance and what became abundantly clear through it all is that no matter in what regard the conservatives of the world might perceive this music and its audience, the salient through is that it is a culture and its a stronger unifier than any "dugnad" could ever be.
We are a culture of people with introverted tendencies, and for many of us this is our only social contact with the rest of the world. As we've gone deeper into the pandemic we've become more reclusive, dreaming of a dance floor and for many our only connection to the outside world. The winter has been some of the most trying times, as we've become ensconced in our personal record collections and fond recollections of a heaving dance floor and an indomitable sound system that are now littering instagram feeds like NFT breadcrumbs back to a time when we had some dignity. Those "insta-memories" just don't do it justice. The visceral sense of freedom that the dance floor instils and the primordial energy that ebbs and flows through a room like Jaeger's basement is unique to the physical aspects. As Charlotte Bendiks quite rightly put it a few months ago on the very blog:"Music is such a physical experience." It requires a physical presence and it in most cases it demands a physical reaction, a corporeal expression.
I wonder what the lasting social significance of the dance floor might be after the pandemic? As DJs and producers get older, have children, they've undoubtedly come to some serious introspective conclusion, which might even lead to a total abandonment of the culture for a career in… god forbid… marketing. What about the next generation in club music, surely this leaves very little incentive to indulge a hobby or a leisurely pursuit? What about the people that have been able to scratch a meager living from this culture? If the powers that be have their way, we'll all be quietly compliant in our induction into the temp workforce.
One positive thing that I hope will make a lasting impression is the re-appreciation for the local DJ; s/he who through it all has remained a steadfast tastemaker for the dance floor in any shape or form, at risk of his/her own health during the time of the pandemic. Ola Smith-Simonsen has ensured Jaeger has done its fair share in providing a semblance of a living and a cultural verification for the local DJ during these trying times, and it's something that he hopes to carry over past the pandemic. Because regardless of what people will have you believe, this is still a culture, and even when it gets corrupted in an industry there are still individuals and institutions pursuing a cultural pastime on a dance floor.
Under these most stringent lockdown measures for the last three months, that's the crucial ingredient we've missed. Jaeger is not a bar, or a café, or a restaurant. The dance floor is where the culture cements itself, and that's where the pandemic has hit the community the hardest. The dance floor was the first thing to go and it will by all accounts be the last thing to open. We've tried to accommodate the lockdown through all its different stages, even go as far to have it open without a license, but the there's always been something missing and that is the dance floor and the people on it.
There might be some tentative plans to re-open in May (even without serving alcohol), but even then the dance floor is still a pipe dream until the vaccination process is completed and it is confirmed to work. We'll try to open as soon as we can however, just to keep the pandemic profiteers from the door and ensure a future for a scene. Until then we're dreaming of a day on the dance floor.
see you there…
Mischa Mathys