*photos by Mats Gangvik
In an interview originally posted from the now defunkt formant page, Third Attempt talks about his debut LP during the midst of the pandemic.
Through shimmering pads, the faintest echoes of white noise, and an oscillating sine wave a woman's voice appears out of the sonic mist that opens Third Attempt's debut LP. "The world is just too loud," she says in a lo-fi murmur, before cutting out and disappearing into the wave of a rolling bassline. The short vignette introduces the album and its title, setting a tone for a record searching for some quietude on the fringes of the dance floor.
"I had to get out of my comfort zone," says Torje Fagertun Spilde (Third Attempt) over a telephone call from his hometown of Tromsø, where the situation with the coronavirus has been exacerbated by excessive snowfall, burying its inhabitants in a moist white blanket of uncertainty every day. "I don't think you would want to be here now," he says through a sigh. "It's very depressing," but the phone call finds in him good spirits at least and when I delay to inform him that I'm recording this conversation, he says; "What would happen if I said no, now(!)" with a jocular guffaw.
In some clairvoyant mistake, World is too loud couldn't come at a better time. With an eerie quiet consuming Europe's dance floors and many people sequestered indoors, Torje's debut LP as Third Attempt has unwittingly found some sympathy with a world that is currently being bombarded with a silent war raging at a microscopic level. It is a remarkable coincidence, but the ideas and the circumstances that shaped the album has found some sympathy with the world as it is now. The idea was to "create a listening record," explains Torje. Using "slower tempos," closer to the music he would be "listening to at home," rather than the kind of music that would usually find its way into his DJ sets, he wanted to get back to the more organic elements in music with a record he prides on being versatile. 
A fresh start
Torje has been refining a sound from the DJ booth as Third Attempt since 2017, after a "fresh start" from the work he'd been doing under two previous aliases. Deep chords, intricate pads and elastic bass lines, converging around predetermined moods and tempos had laid the groundwork for Third Attempt's records, with music that would drift between unraveling House beats with a striking use of melody and harmony. But for World is too loud he wanted to get some distance from this style of music. 
After a successful slew of records for Tromsø's Beatservice Records, the producer has channeled these aspects of his sound into slower tempos, conjuring a very different sound from his previous records, while retaining that distinction of the Third Attempt approach. The record gestated at a time when club music wasn't "cutting it anymore" for the Norwegian producer. "I felt I overdid it," says Torje who "doesn't feel it's intriguing anymore" as an artist and an enthusiast. He has been growing increasingly bored with the cookie-cutter House that he was experiencing on the dance floor each weekend. He calls it "Toro brownie House," referring to the popular Norwegian instant brownie mix, and says his "wake-up call" arrived one weekend on the dance floor when he realised "I heard this track last weekend, and I don't even like it." Torje didn't want to be just another cog in the faceless horde, making music with the singular perfunctory intent of the dance floor. "I don't want to sound like everybody else," he exclaims delightedly, "because who am I then?"
He was looking for a way to get back to the soul of House music and started "listening to stuff outside the electronic spectrum to gain a different perspective." It was late last summer and then "something just clicked" for the producer, but he didn't quite arrive at the sound of the record completely in isolation. Working with the fundamental ideas that would inform the album, Torje only had a "half-assed beat" before collaborating with his "good friend Håkon (Struve)" on the two tracks that would become Shift and Rotor. 
A different flavour
Håkon (Leaf Pile & Sidewalk), a "very talented guitarist" coming from psych rock and garage traditions, had met Torje on the dance floor. The pair found that they had "a lot of things in common" and became fast friends. When Håkon acquiesced to his friend's request and added some live instrumentation on his pedestrian beats, he brought "a totally different flavour" to Torje's tracks. The result was Rotor and Shift, with the rest of the album coalescing around those two tracks, before moving to an ambient atmosphere. 
Shift and Rotor, introduces a new organic element to Torje's sound that we'd not experienced on his previous EPs much. Evolving chord progressions and wispy tails of melodic and harmonic threads flit between funky synthesisers and anxious guitars as Third Attempt wrestles a primordial sound from rigid computer systems. "I just wanted more of a human feel," explains Torje. While his music is still largely coaxed from within the computer, Torke admits "the machine stuff can become very tiring," and for this album he specifically "wanted to pursue the soul aspect of things."
While Håkon's guitar played an important role in bringing this element to the fore in the beginning, sampling too played another important role in applying that "human" touch to this record. Sampling "old soul and funk records" Torje could create a virtual band from his "closet studio," where he could impose that human feeling on the mutable structures and formulas of contemporary electronic music, "It comes from a human," he says referring to the samples "and that's important because that's flavour."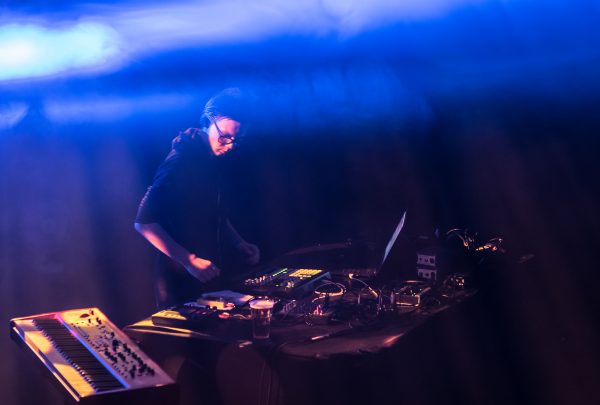 Torje would create his bass lines around these samples, imposing the soul and funk aspects on the relationship between the percussion and the synthesised bass, which has that indefinable tether that ties this LP to the EPs that came before it. The "communication between the rhythm and the bass is probably how I start making a track," according to Torje, which retains that tether to the dance floor and ThirdAttempts  electronic roots during World is too loud. There are two distinct sides that appear through the course of the album. While Shift and Rotor established the organic approach in the realm of soul and funk, it would move into the more abstract electronic hemisphere by the time Longing reaches our ears.
Glimmers of nineties ambient music emerges, calling to mind the likes of orbital with pads floating through an uneven path of bass drums and snares. Melodies converge and dissipate into the distance as textures evolve through arrangements in reflecting pools of sound that languish in a serene disposition. Displacing the funk with atmosphere, but keeping that organic touch, World is too loud is a record of two very distinct sides, but very much of the same coin. "If the whole album was like that," says Torje referencing the two tracks he recorded with Håkon "it wouldn't be the same."
Feeling over movement
It's at this point a narrative begins to emerge with the title of the album exposing some hidden thread with the world around it. "The end of the album is more for the feelers than the movers." It creates a bridge between the dance floor and the morning after. "Atmosphere is probably the number one thing for me," says Torje. "It's important to get right, because you can create so much movement and so much feeling, just by a pad laying there." While atmosphere has been a consistent presence in his music, since establishing the Third Attempt moniker, in the slower tempos and mood he conjures on World is too loud it's emphasised. In the context of the record, a theme emerges with Torje shutting out any outside influence and retreating into the music. 
It's "almost therapeutic," transporting the artist "somewhere else" on the echos of a sample he had stored away in his library. The sample, taken from the movie makes another appearance in Prelude after the introduction, and while it's not "important what movie it's from" the line resonated with Torje and on a subconscious level it was the "perfect" platitude to frame the circumstances behind the creation of the LP. 
"Thinking outside the box was really helpful to me," says Torje, who found himself not only disengaging with the superfluous noise of the outside world, but also the Third Attempt sound. "Just thinking of how others perceive what you are doing," he explains "I'm limiting myself subconsciously" and that's something he "never" wants to do again…  "never again" he stresses. "Rebelling against himself," and against the primal urges of the dance floor, Torje has succeeded in making an album that has matured his sound as an artist and is unique in the contemporary landscape for its versatility. Torje hasn't succeeded in completely severing all ties with the dance floor as measured rhythm sections play to corporeal delights and retain that elusive mystique behind the Third Attempt sound. 
It's a sound he is "definitely going to keep pursuing" from his closet studio, and he says he already has the bulk of a new EP ready. Being one of the many people on furlough in Norway, Torje has remained busy, making music. "I was in denial… so I just  ended up creating a lot of music in a short amount of time." It's given him the time to "develop something that's been there for a long time" and while he's still coming to terms with the "strange times" we find ourselves in, he is positive and upbeat about the possibilities that lay just beyond the horizon. "Maybe it's good for humans," he considers. "People are more open, and maybe people's attention span is getting longer," setting the scene for an album like World is too loud to exist.
Torje hopes the album will offer the listener the same kind of escape that it gave its artist last year, because sometimes the world gets awfully loud.