"My main goal when I play… I want everybody to have a good time." Boris Dlugosch speaks from experience. "When you've played music for thirty years" like Boris "and you've played all kinds of styles of music," all sense of ego and hubris falls away and what's left is the music and dance floor. 
Boris Dlugosch has made a notable career for himself built on this foundation. He was there at the start, back in the eighties at the legendary Hamburg club called FRONT. He rode a wave of success as a producer concurrently with House music's rise to fame in the early nineties with people like Masters at Work clambering for his work. He introduced Mousse T. to the world during a time when the track "Horny" propelled that artist to the mainstream. He found notoriety as a remix artist, adapting some of the world's most revered pop songs for the club, and throughout it all he remained a steadfast figure in the booth. He continues to be a touchstone for some of the world's recognised DJs like Gerd Janson and our very own Olle Abstract, and today it his profile as a DJ is encapsulated in something like mythic lore.
Boris Dlugosch plays LYD this Saturday
He started his career during a time when New Beat, House and Synth pop lived in  harmonious synchrony in the mix. He was an earlier adopter of Chicago- then New York  House. He played the latest from the French electro scene when acts like Daft Punk were still in their infancy and continued to adapt and evolve through the ages. Today he can be found playing at places like the Golden Pudel at home and while he still releases original music, most notably through Running Back, he remains a DJ's DJ. His latest record, courtesy of Running Back stands testament to that. Unlike 2017's Traveller on the same label, this is not an original work, but the second instalment of a compilation series, celebrating the music he played at FRONT. It's the place where Boris had made his debut and retained a residency until closing in the mid nineties and probably the first highlight on his illustrious career. It's here where I want to start our conversation when I call him up for an interview. 

The compilation ties a red thread from his beginnings up to the present day, and as reflection of a time and place, it's significant, but coming out in a contemporary backdrop it stands on its own with its raw inhibited energy and indefinable sonic aesthetic, it captures a certain spirit through this timeless music. But before we get there, we have to acknowledge the city from which it was born. 
Boris Dlugosch is in Hamburg when I call him up; a city with a lot of music history especially club music. With artists like Helene Hauff, Boys Noize, Digitalism and Koze also hailing from the German city, there's certainly a legacy there that's hard to pin down. If "the Beatles coming to Hamburg" has anything to do "with the first House club or the record store where Boys Noize and Jens (Digitalism) worked," Boris can't say, but he recognises "certain things bring other things" and there has certainly been a hive of musical activity ever since, and perhaps even before the fab four (then five) set foot on Hamburg soil. 
Unsurprisingly, Boris too "was always into music." He had a keen ear and "picked up a lot of new music from the radio." He played drums in a heavy metal band amongst other things and listened to everything from rock to electronic music. It was, like so many other things in Boris' career, "a coincidence" that led him to the decks initially and eventually on a path to becoming a FRONT resident. 
The story goes that he had been working as a checkout bagger at a local grocery store and the till operator at the time was the mother of the cover guy at FRONT. On one fortuitous afternoon "he invited" Boris "to his house" where Boris found the lure of "two turntables… and a huge record collection" all too appealing. Boris realised immediately, "I want to do this" and as luck would have it (again), his new friend was looking to part with  setups.
Boris inherited a "pair of rubbish turntables and a mixer" and started learning the craft of the DJ. He was still "too young" and looked even younger, to enter FRONT at that point and had to "wait a year." Meanwhile he already "had the tapes from '83 and '84 from the club," and he could hone his craft through what he heard on those tapes. Boris had "always had an ear for music" and seemed to understand the mechanics of DJing intuitively. Apart from being able to distinguish the music being played, he also started to grasp what the DJ was actually doing. At FRONT particularly, "it wasn't about the show or how good you were," he remembers, "but more about the selection of music." Eventually he put a mixtape together with that focus, which landed in the hands of the owners at FRONT. His selections had particularly resonated with the forces behind the club and by 1985 he joined Klaus Stockhausen as one of the club's only two residents. 
"I was about 16 when I first went to the club." Boris remembers a completely "different universe" when he walked through the doors for the first time. It was a largely gay crowd wearing "a lot of leather" with "all kinds of weird people" in the mix. Pictures from the time show a dance floor of men in various stages of undress, and by all accounts it was not about what you wore at FRONT, but by what you didn't wear. The leather, the moustaches, the marble-like physiques, and even the name, all exuded masculinity, but what struck Boris "the most was the music." In a matter of a few visits. He had become "totally hooked." Boris "had been to two or three other clubs before, but nothing like this." 
"The music was 80's, high energy, some disco and pop music." Klaus Stockhausen played 12" versions of familiar tracks "being played on the radio," remixed by the likes of Shep Pettibone and reconstituted for the dance floor. The DJ booth was nothing but a "box," obscured by "dark windows," where the DJ or crowd could only distinguish silhouettes on the other side. It was all "part of the mystery" of the place, but it was also a time when the "DJ wasn't such a big thing." People didn't come to see a DJ, they came to hear the music and at FRONT the selection of music was in a class all on its own.
By the time Boris stepped into the booth at FRONT in '85, the "first House music records from Chicago came in." It "sounded different from anything we heard before" and Boris' musical ear gravitated to it. "I was always into electronic music and weird sounds" considers Boris. "I was also into melodies and vocals and House had all of that. It had soul and Funk, but at the same time it was something completely new, from another planet." These records would be part of a "great mixture" of sounds that would include everything from those early pop records, Belgium New Beat and eventually the sounds of Acid coming via the UK. 
Literally hundreds of mixtapes exist online from FRONT during that time, and skimming through them is a window into a long lost forgotten world, where some things are instantly familiar or at least accessible and every track permeates with an infectious groove. "Maybe listening to the mixtapes today,"  considers Boris, you might feel like the DJ is "only playing the hits," but back then you only "pulled out the best and strongest records." There was "no ego, no showing off" from the DJ according to Boris –  how could there be you could barely see the DJ – and everything the DJ played or did was in order to "keep 'em dancing."  
For ten years this was Boris Dlugosch's only objective as a resident at FRONT. Together with Klaus Stockhausen, they had created their "own little Paradise Garage," but they were still an anomaly. At the time Boris "was probably picking the same records as David Morales or Frankie Knuckles," but without any knowledge of these DJs, it was pure coincidence. He had no reference point, or mixtapes to influence these decisions. "The good thing about back in the day is that you didn't know about anything else," remembers Boris. "Now you think the epicentre of the music is London and New York," explains Boris, "but all over Europe there were little tiny clubs all playing the same music and had the same vibe going." In Hamburg especially, they were their "own little island," isolated even from the rest of Germany who had largely been focussed on the sounds of Trance and Techno at the forefront. House music was still largely unknown, but people like a young Gerd Janson would flock to FRONT to hear this new unusual music. 
As the nineties rolled in and House music's popularity grew in a world that became more connected, Boris too was swept up in the furore around the genre. The music he had been playing for years at FRONT had finally reached an international audience, and where before in Hamburg, they had very little connection beyond the city, suddenly they were part of a global phenomenon, thanks to the Americans.  
By that stage Boris Dlugosch had started remixing and editing his own records. As a DJ "you start thinking this record could sound better," and with more "access to studios and gear" he developed these skills while still working the floor at FRONT. The "big breakthrough" came when he stumbled across a record at his local record store. "It sounded poppy, there was something there," he remembers today. There was a phone number on the record – yes, people put their phone numbers on dance records back then – and he called up the artist. That artist turned out to be a nascent Mousse T. Boris made the journey down to Hanover, to a big studio complex, where he met with the young artist and they "immediately clicked and started producing together." Adopting the pseudonym BOOM! they released "Keep Pushing." in 1996. 
Boris had already started touring as a DJ, mostly in Germany alongside visiting American dignitaries like Todd Terry, which led to invitations to industry events like the Miami music conference. It was in Miami, purely by "coincidence" yet again that the new record found their way into some influential record bags. Stuttering vocals by Inaya Day sit alongside striped percussive work with gritty synthesisers pulsing through the mix. It had that immediate crossover appeal and the industry responded in kind. Faxes from the likes of Tony Humphries started coming through praising the track, and the record was eventually licensed to Louis Vega and Kenny Dope's Master's at Work label. 
It was an "absolutely crazy" time for Boris as "things came together." His ear for a melody, his intuitive sense of rhythm and his experience of the dance floor culminated in a style of House music that was primed for the commercial market, but it never really came to fruition for Boris like it did for Mousse T. While his colleague and production partner found success with his track "Horny," Boris' efforts remained largely relegated to the underground. Even though Boris Dlugosch was on the A-side on the original "Horny" promo release with "Live Your Life Your Way" – a track with as much merit as its B-Side counterpart – it was the Mousse T. original that garnered most of the attention (it's controversial title for the time probably influencing it) leaving at least one Discogs user to ponder: "Quite why this little gem from Boris Dlugosch never saw a commercial outing remains a mystery."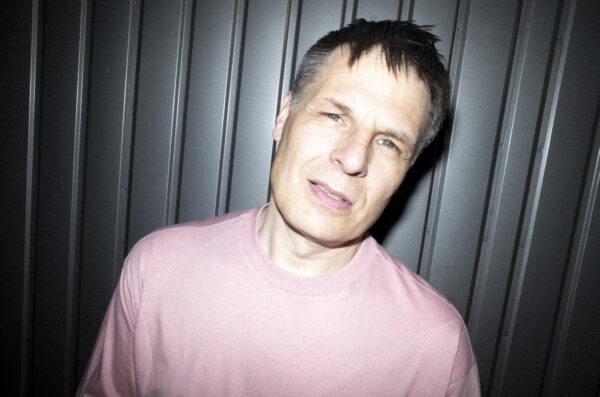 The music industry is a cruel mistress and Boris Dlugosch, whether unlucky or overlooked, never saw the mainstream successes that many of the people he worked with enjoyed. "After a couple of years, you are not getting your royalty statements and you're not getting paid and these guys have Maseratis and Porsches," you can't help but question the nature of the industry. While people like Todd Terry were getting well "40 000" for remixes on the same records that Boris were doing for free, and royalty cheques from the success of "Keep Pushing" never found his pocket, Boris remained seemingly content in his own success. Talking to him today, there is no sense of anger, frustration or regret. "In Germany, we were still the outsider because Techno was big and our music was still in small clubs," he insists. Even while he would often hear his tracks on the radio in places like Ibiza and Italy during the height House music's success, it seems Boris Dlugosch prefers to exist, in the small clubs that thrive in the underground.
He still prefers to be considered more of " a DJ than a producer" and rarely plays out his own music, with one of the few exceptions being his last EP of original music on Running Back. "That's the last track that I really loved that I did." He is more focussed playing at places like the Golden Pudel in Hamburg and as a DJ he's remained a fixture at places like these throughout different phases of club culture and club music, adapting with each new zeitgeist.
During his days at FRONT, at a time "when the music continued to get harder," he changed direction literally overnight. "From one weekend to the other I switched over to playing only New York underground music." The same happened again in 1999 and 2000 when, at a time when House music was on MTV and entrenched on the radio, he decided to focus on the French Electro sound at the forefront of a new scene. "I was just bored," remembers Boris of that time. "Hearing a mixtape by 2 many DJs," he found music that played on nostalgic feelings, and yet remained contemporary. "They (2 Many DJs) were mixing all this music I loved from childhood (rock music) together with club music," and again  Boris found a voice in that sound too. 
Throughout he's remained a relevant figure on the scene, and still plays all over Germany, perhaps only taking a break during the pandemic. Respected by the underground, Boris Dlugosch has remained a significant DJ, and there's few working in the DJ and clubbing scene today that haven't been in awe of his prowess in the booth at one time or another. His days at FRONT is enshrined in club music history, reflected yet again in this Running Back series, and as we as a clubbing industry and community continue to move away from those early underground roots into commercial avenues, those times still echo with the raw and inhibited emotions that is at the core of club music for any given epoch. Few embody that spirit and that attitude to a dance floor quite like Boris Dlugosch.