Phillip Lauer is a musician, DJ and label owner, particularly known for his work as the eponymous moniker, Lauer and as one half of the DJ duo Tuff City Kids with Gerd Janson, but more on that later. Here is a picture of Lauer: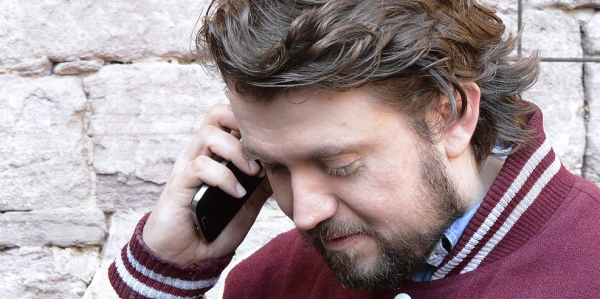 Here is another one:

He likes talking on his phone when he's being photographed. Google Lauer… "Lauer confronts Trump about Tweeting"? No, that can't be right. Lauer's last album on Permanent Vacation was called "Borndom" for its homophonic relationship to boredom, which is indicative of the lack of concept behind the album according to an interview in XLR8R. That hardly suggests he'd engage in a war of words with the president elect of the USA. "Siri, look up Phillip Lauer instead". Resident Advisor says "Phillip Lauer is a long time DJ and music producer based in a small town near Frankfurt, Germany." Frankfurt Germany is an alpha city according to Wikipedia with one of the biggest airports in the world. Here's a picture of the airport.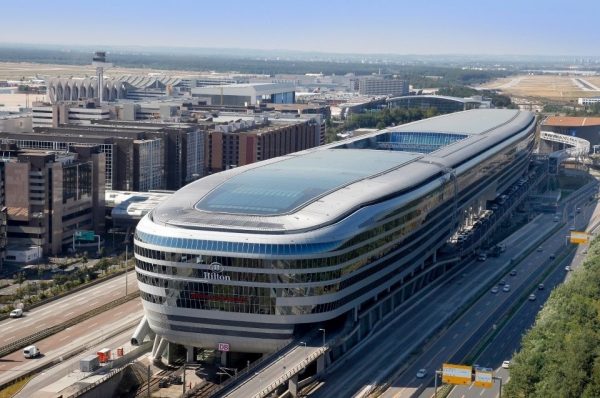 Funny story: I once stayed at that Hilton when I missed a connecting flight, and with 5 hours to spare I thought it pertinent to go clubbing. With live at Robert Johnson still fairly unknown back then and cocoon on the other side of the country, I thought I'd ask the concierge for advice, which naturally led me to a vacuous Hard House club in the city centre, spitting me back into 1997. The lesson there is, never ask a concierge for clubbing tips. But I digress, back to Phillip Lauer and Frankfurt. Yes, Frankfurt is home to the Sven Väth-designed Coccon, and ATA's Robert Johnson, two very significant players in club music today, albeit from very different perspectives.
It's through Robert Johnson where Phillip Lauer got his first break as a skateboarding, punk/hip-hop enthusiast looking for some time at decks. After spending "small fortune about the size of a small family car at the bar" according a Fabric interview, ATA, the founder of Robert Johnson eventually caved and let Phillip Lauer play. Lauer had been was making electronic music since the nineties at that point and it was as Plenty Ammo that would make his recording debut with a track called Kiss my Phillipino Azz according to Discogs. O, I get it – Phillip–ino. Look up Kiss my Filipino a… no, forget that. "The tracks on there were basically the first tracks I made – recorded onto a cassette tape," says Phillip in that Fabric piece. Kiss my Phillipino Ass was released on Inbetween Records, a label run by a friend. "My first release was the label's last one", jokes Phillip in the interview with XLR8R. This is what it sounds like.
Deep House grooves dominate the beatific melodies, Rhodes chords and expressive percussive elements from Latin dissent, but it's no paint by numbers release. There's a quality there that extends much further than a debut and if this is some of the first music a young Lauer created, I wonder what lies beyond it. Journeying through Lauer's discography, we find the same insistence on the groove and it's obvious that is the fundamental basis of his work – something that might allude to his origins as a drummer and bassist in punk bands – but at the same time as the years progress, the tracks become more honed, expounding on harmonic/melodic structures through charming synth works. What were minimalist functional dance tools like "Kiss My Phillipino Ass" and "Dance your ass off" extends beyond the dance floor and into pop-informed waters through the numbered EPs on his Brontosaurus label and his ventures on Permanent Vacation and Live at Robert Johnson which also put out his latest release, "Tearsh".
There's very clearly defined progression in Lauer's discography where he goes from that earlier functional tracks to the sound we know now as Lauer, the synth, proto deep House work that two albums in he has defined as uniquely his. Every discography is not without its peculiarities however and Lauer's is no different, with a release on Punkt Music as P.Lauer being particularly suspect. Discogs calls it Glitch / Electro. Remember Glitch? Not so unusual for its designation, what's peculiar is that there is hardly any trace of this release on the world wide web, and googling Free Entry for Girls did return some results of very ill-repute in deed. But persevered, I did and eventually I found the "Robag Wruhme's Drikki Bass Rixmi Im Partyhuhn Rework" of the track, which asks more questions than it answers…

It was an interesting diversion, but getting back on track, what possibly cemented a Lauer sound, if such a thing even exists between the eclectic elements that make up the sound, was captured on his debut album. Called simply "Phillips" it couldn't be called anything else, the producer's signature is all over that release, replete with its melodic charm and dance floor tracks that don't need the club environment to exist. RA called it "Yacht Rock House" in their review of the album and thank god we were spared that genre name getting a foothold. It was released on Gerd Janson's Running back label and came out shortly after the two German friends started DJing and producing together as Tuff City Kids. (I did tell you we'd be getting back to this.) Tuff City Kids are primarily something of a musical readymade with a Duchampian perspective that repurposes the music of others as a new creative device. Here they are remixing Hotel Lauer – another Lauer project, this time featu
Whether in the form of a DJ sets or their production, where even original tracks start off as remixes, Tuff City Kids are continuously recycling the music of others with the purpose of creating something new. And the driving force behind the production side of this… Lauer. Well at least according to Gerd Janson who "often likes to joke that his role in the arrangement is limited to making coffee and looking at his cell phone" according to Magnet Musik. Unlikely as this might be, it does appear that Lauer is a serious head in the studio, something that comes across when he took RA on a tour of his studio. Ok, for those that have absolutely no interest in the technical aspects of music, look away now, shit's about to get nerdy…
Lauer is a self-proclaimed "preset man" and loves nothing more than dialling in one of his favourite sounds from his Ensoniq mirage as he does here.

In the article, he goes into some depth in his working processes and hints at the influence of his punk roots, whereby his time is mostly spent on finding the right sound and avoiding fastidious technique in favour of getting something out urgently and raw instead. He tinkers around while being interviewed and RA were kind enough to film some of them, which give us rare insight into his creative processes. Here he is playing on a syncussion machine from Pearl, a very unique percussion synth that I know Robin Crafoord from Trulz and Robin-fame likes to indulge in from time to time.
Could that even be a track on the next Lauer album? In all likelihood yes … ok you can look back again, the nerd moment is over… His sophomore album "Borndom" is after all a collection of songs that were all collected from the cutting room floor and reassembled for the album context according to that RA article and the XlR8R interview. This album came via Permanent Vacation rather than Running Back, yet another prolific label, Lauer calls home. It's the first recorded work that features vocals too with "Telefon" and "ESC" featuring Ela and Jasnau respectively on the mic. And yet there's something inherently Lauer about it all. Just have a listen.
Is it something we'll be able to pick up in his mix too? We'll have to be patient until he pays us a visit in our booth. Until then here's a mix he did for mixmag who say "If you've ever left a club night with an unshakeable grin at the absolute abundance of vibes…" No, I can't even finish that quote – Music journalism has really taken a turn for the worst.