Christoffer "Luftwaffel" McWalland is getting ready for summer, just look at that hat… The Skranglejazz mainstay and DJ has been a regular fixture at Jæger since its inception, often sharing the booth with with Petter Celius and Oskar Pask. Like his fellow Skranglers, he brings that quirky Skranglejazz charm and charisma to the booth through mixes and music with an emphasis on a good time. On his last visit, a Sunday night in May where the cloud parted ways to shine a bit light on the occasion, we opted to hit record and catch a little bit of that magic on tape.
Luftwaffel brought a dynamic set, replete with eighties funk and spacey disco, traversing an unconventional path through a selection of records that bound with the energy of a nascent summer. It's House music at its most unencumbered, a music for the purpose of joyous occasion. The tracks very much stand on their own as significant features in the annals of House music  and through his Æmix Luftwaffel takes us over peaks and through troughs of feeling as he brings them together.  It's an enigmatic mix for an enigmatic personality.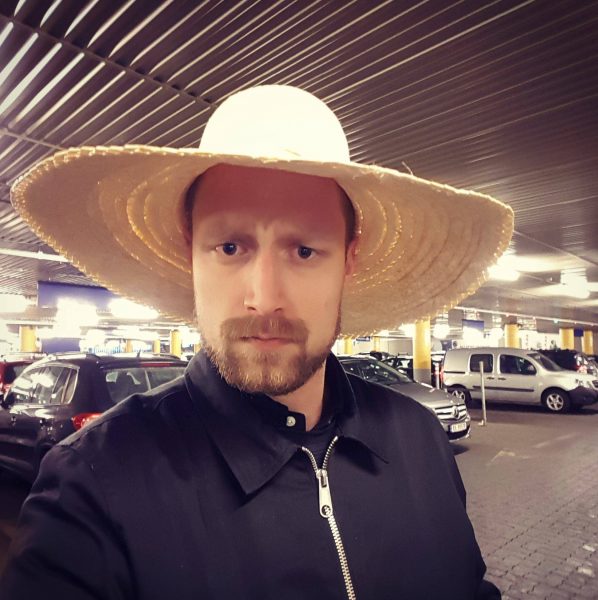 Give us an introduction.
It doesn't even matter. Everybody likes waffels.
What is your earliest memory of a piece of music?
It would have to be of my dad showing me how loud the stereo would go, the whole house blasting Steely Dan and him yelling over the music "Listen to the bass player, Chris!! He is really good!!" or telling me to pay attention to the drummer or something.
What sound or genre do you feel represents what you try to do through your selections?
House Music with a proper vibe. It doesn't have to be, but lately I've been looking for that old-scool vibe. When the tracks your mixing sounds like they could be from a recent release or it could be from 20 years ago, it creates a cool vibe.
What do you consider your role as DJ should be?
I have such an intense love for the music I'm playing, so I guess I want to transfer that feeling to the crowd in some way.
What was the theme of your mix?
House music for cool people.
Which track in your Æmix best represents the theme of your mix and why?
Etat Solide – No Heartbreaks (Dance) just listen to it…
What do you hope your Æmix relays to the listener?
A smile on his/her face.
What's next for you after this mix?
So looking forward to presenting this summer's Skranglejazz på Gaasa with my best friends.. see u there!!