Cruising through the desert of inextricable feeling and ineffable dreams, the dromedary duo Kamelkollektivet, approach this week's Jæger mix with a lucid tentativeness. They travel through a meditative oasis of sound, subtle and pertinent in their   objective to soundtrack the feeling of an imperturbable Sunday.
Never exceeding the cautious sway of a four-four beat in speculative repose, Kamelkollektivet's focus turn to sound design and creating an aura of mystery and reverie in their selections. Dub rhythms and endlessly modulating atmospheres ebb to and fro through the mix as they embark on their hour-long stint through the Jæger mix.
A live act too, they are able to string along a narrative through their set, that is less like a journey and more than a static scene, where the horizon stretches on forever and the music takes on a liquid form, washing over the ears of the listener.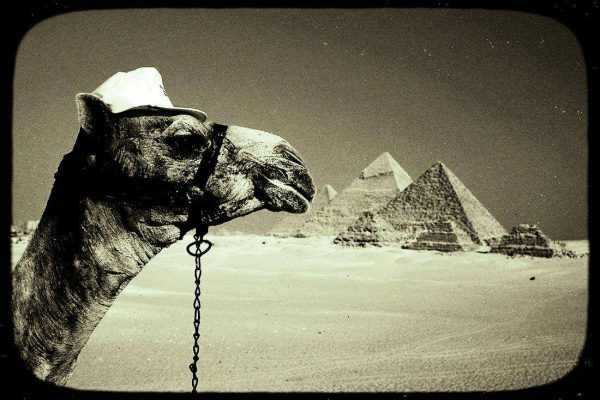 Give us an introduction
Kamelkollektivet, humble men wearing distinctive fat tracks on their backs
What is your earliest memory of a piece of music?
 Death Row Records, Wu beats … you name it. Hiphop was the start for both of us. Plus , Mr Love´s father was an amazing musician who played saxophone in a swedish danceband at its top. He was a great inspiration and rolemodel from early age.
What sound or genre do you feel represents what you try to do through your selections?
Kamelgroove. Stable bassfood for your body and feet.
What do you consider your role as DJ should be?
Provider of great tunes for great people. We had this "dj dialogue" so many times. What is a dj ? Some of us think a dj is someone who can play any kind of music for any type of people at any kind of party, that´s not us. We play music we feel and music we believe in. We can only hope the correct people hear it and that the music we provide creates a better day for everyone touched by it.
What was the theme of your mix?
 Hmm, maybe from darkness to funkyness ? From outer space down to mother earth ? Naaaa, dont know to be honest. Its simply a kamelstory and we need to listen to it before we can set word for a theme. We never plan our sets before we play them. It happens on spot. Maybe thats why we suck in creating our own podcasts =) Not so good planners, but we have alot of great music in our humps. Hope you like it
Which track in your Æmix best represents the theme of your mix and why?
Hmm, maybe the first one, and the last one. And of course the one in the middle ! Not to mention the thrid one. Thats for sure a killer tune.
What do you hope your Æmix relays to the listener?
 I hope you listener thinks its an interesting story that is worth 60 minutes of listening. At least once or twice.
What's next for you after this mix?
We are going to continue our everyday job to make Skippergata great again. Thank you Ivo and jægercrew for inviting us to jægermix !