Henri LeCoq and Le Capitan squeeze into our booth together as Gemini Corpulenti once more to take on the duties of the Æmix this week with a rough-and-tumble selection of Balearic, Disco, breakbeat and House of course. The enigmatic duo have been a larger-than-life presence in Oslo for over the past decade. Regularly taking top-billing at Sunkissed; often guests at Nightflight; and a 17 May institution at Blå, Gemini Corpulenti are today nothing short of a national treasure in Oslo.
Stepping into our basement booth this Sunday, they channelled the sombre mood November, with ghostly textures and brooding rhythms spreading its gloomy disposition through the far-flung corners of club music. From Trentmøller to MCDE's Vermont project, the tracks they select corroborate in a theme of wistful, lonesome longing that this time of the year brings. With our thoughts drifting to the halloween decorations still strung up in the basement, Gemini Corpulenti certainly convey a particular mood through their mix.
They leave very little to explore through the club music lexicon in their edition of the Æmix, taking the listener on "schizophrenic" journey from the edges of the dance floor to that transient sweet-spot in the centre of the floor, where the bass bins flex to a more functional beat and we shake our butts.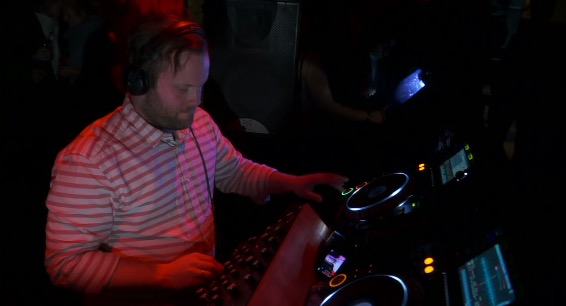 Give us an introduction
We're chunky twins: Gemini Corpulenti. Born & raised in Oslo, legal drinking age for nearly two decades and DJs since mid 00. We've been doing our own nights at several clubs in Oslo, been a part of Sunkissed Allstars, and retained the privilege of playing Blå for 15 hours every 17th of May (Norway's constitution day, and national holiday) for the last ten years.
What is your earliest memory of a piece of music?
Air-guitaring in our livingroom to Money for Nothing by Dire Straits. Still a killer riff
What sound or genre do you feel represents what you try to do through your selections?
To be quite honest, genre is really overrated as a theme for a mix. A good mix should in our humble, but correct opinion always carry many different moods and genres. We like parties with a diverse crowd, so our selections can be quite schizophrenic. We do like a good laugh though. And to shake our butts.
What do you consider your role as DJ should be?
A DJ should bring his best records to the party and play them in a sensible order. It's a bit like waitering a table: You have to try to make sure everyone is happy, stay invisible, and clean up any mess as discretely as possible.
What was the theme of your mix?
As we're in the start of November, melancholy is not surprisingly a recurring theme in this mix, so less disco than usual.
Which track in your Æmix best represents the theme of your mix and why?
Mungolian Jetset's awsome remix of Melankoli by Lulu Rouge. It's just a sad, beautiful piece of music, and as funky as it gets. Props to Knut and Pål
What do you hope your Æmix relays to the listener?
Hopefully Æmix will elicit some sort of emotional response, and open the ears up to new and old music you won't find on streaming services or Youtube.
What's next for you after this mix?
We both have toddlers at home, so diaper-changing, and hopefully sleeping through an entire night.