Ronny Rabalder's position in Oslo is firmly embedded in the firmament of the city's nightlife today. There's rarely a Techno event that passes through the city in which the DJ is not involved in, and as card-carrying member of the Sunkissed crew Ronny Rabalder is a permanent fixture in the expanse of electronic music today. His selections can easily go beyond Techno, but its always the genre he returns to and in this edition of the Jæger mix he stays true to form. Erring on the darker side of the genre, Ronny Rabalder keeps it contemporary with a selection of mostly new material for this week's Jæger mix.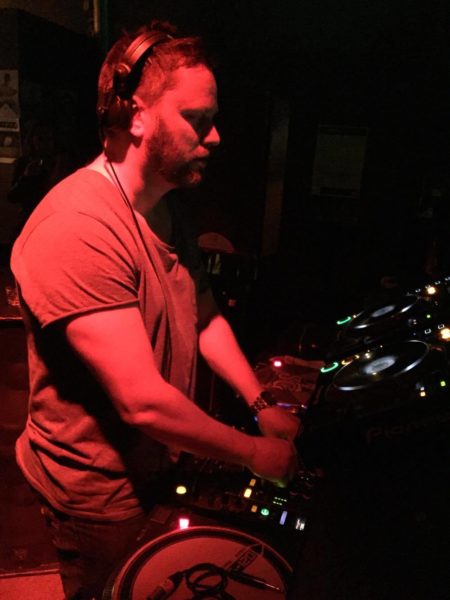 Give us an introduction
 I'm Ronny Tafjord, 39 years of age and from Ålesund, Norway… Started as a dj back in '93 doing a series of dance events with my friends, around our home town, playing mostly dance and hiphop. Had an epiphany in '97 at a school trip to London, hearing Carl Cox at Velvet Underground, leading directly to my first bunch of techno records ordered from HS Records, over the phone, the following week. Since then the records have kept piling up, and the love of techno and dancing took me to Ibiza several times in late nineties and early 2000's, getting inspiration and learning do's and dont's in dj'ing. Moved to Oslo in 2005, and was lucky to become a part of the Sunkissed crew, giving me opportunities to play alongside many of my heroes, such as Ben Klock, Marcel Dettmann, Robert Hood and Kevin Sanderson to mention a few. Are lucky to play dance floors like Jæger, Blå and The Villa in Oslo from time to time, trying to stay tuned on quality house and techno as best as I can.
What is your earliest memory of a piece of music?
I don't know if it is the earliest memory, but definitely the clearest; back in 87, I got my first cassette player for Christmas, and the first tune I recorded from radio was Pet Shop Boys with «Always on my mind».
What sound or genre do you feel represents what you try to do through your selections?
I have always been a sucker for repetitiveness, broken down in to simple sounds and heavy beats, making an effort to do fast mixes, to avoid the risk of being boring. Adding a hint of harmonic sounds to it, and I'm home. My heart definitely lies with techno, and its various sub-genres. A tune easily gets onto my playlist if it expresses an energy that brings me back to some of many if my own experiences on the dance floor, without focusing too much on style, BPM, producer, label, which dj has played the tune before, and so on….
What do you consider your role as DJ should be?
Play quality music, and if that gives some people, or only one person, on the dance floor just a fraction of the good feeling I myself have experienced in the same situation, I feel I have succeeded. This of course is all about location, location, location…. since it may be impossible to achieve at a misplaced gig, playing your tunes for the wrong people.
What was the theme of your mix?
Well the mix is ….dark, without beating around the bush. Had a lot of fresh and unexplored records I wanted to play, and one tune lead to another…. :)
Which track in your Æmix best represents the theme of your mix and why?
 Just bought this record a few days ago at Filter Musikk, and I immediately fell in love with it; 4th last tune in the mix i think; The Plant Worker – Spaceshift (Pfirter Remix); heavy beats, loads of energy, both dark and uplifting at the same time. Gives me the chills.
What do you hope your Æmix relays to the listener?
I really don't know, but hopefully something good. Maybe give the urge to exercise or vacuum?
What's next for you after this mix?
 Being a newbie dad, networking for gigs is unfortunately not on the top of the list these days, so my upcoming gig list is currently not that long, but I'm looking forward to playing some tunes along with my friends in Sunkissed at Blå this Saturday, celebrating 44 years of Yihaa. Otherwise I'm always up for new challenges and venues to play :)