Reunited and it feels so good… Coltsfoot shared the booth with his old Te-Dans comrade last Sunday for his second visit to Jæger Mix in as many years. Coltsfoot begins his mix with some German words on design before a slow beguiling guitar loops into infinity, building up to the moment when drum machines and synthesisers sets its designs on the dance floor and the road ahead.
With a nod to the Frankfurt sound, Coltsfoot draws on a 80's sonic palette for his mix, arranged in a modern House dialect. It's a mix of music to drive to according to the Sunkissed resident and comes two days after an evening with Âme where Coltsfoot opened for the Innervisions superstar. Coltsfoot might have taken something from the German DJ's own eclecticism coming into this Jæger mix, slowing it down and adding just a hint of eroticism to the mix.
Sultry vocals and atmospheres dripping like sweat on the dance floor stay the course of the mix while tracks flicker by like incandescent lights on the highway stretching out into infinity en route to nowhere in particular. With Coltfoot's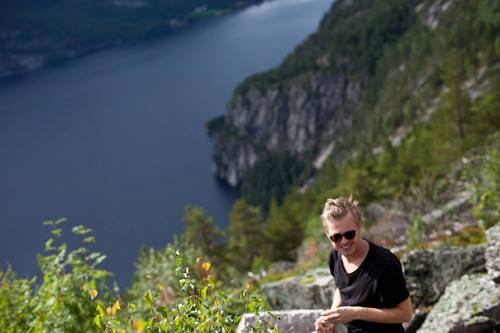 Give us an introduction
 In the beginning there was Jack, and Jack had a groove. And from this groove came the grooves of all grooves. And while one day viciously throwing down on his box, Jack boldly declared: "Let there be house!" And house music was born.
What is your earliest memory of a piece of music?
 My father introduced me to electronic music when I was 5 years old. I still remember I asked him about Jean Michel Jarre's Oxygen 4 and recording The KLF White room album from CD to Tape cassette in 1991. I was huge fan of 3.A.M. Eternal, it sounded so scary.
What sound or genre do you feel represents what you try to do through your selections?
It starts with a design curriculum and flies through house beats with lots of 80's references.
What do you consider your role as DJ should be?
Conducting the dance floor and providing an atmosphere to the people in the club.
What was the theme of your mix?
It should be suitable for driving in Oslo in the evening or on the Autobahn from Bremen to Frankfurt.
Which track in your Æmix best represents the theme of your mix and why?
Black Spuma – Metallo Nero. Fabrizio Mammarella and Phillip Lauer has created something between tropical drinks and an old SEGA console. The atmosphere sounds great to be track middle in this mix.
What do you hope your Æmix relays to the listener?
I hope they drive carefully by night in Oslo or down the Autobahn when they listen to the mix.
What's next for you after this mix?
I have a birthday today and fills 32 years. So we'll see what happens.