FredFades makes a long overdue appearance for the Jæger mix this week. A regular feature in our basement and our courtyard, both as a DJ and an artist, he has played live for various Mutual Intentions showcases; DJ'd a collection of rare boogie records for Boogienetter; and together with Dirty hans provided an evening of Soulful House as Touchdown. An artistic chameleon, he produces dusty Hip Hop records for people in the MI crew as well as a crafting something memorable solo records. His last album, "Warmth" has made an indelible impression on the scene for its idiosyncratic soulful sound and its expert production. He's featured on other notable records across the MI crew and his two-part HMD mixtape from last year has been a firm favourite here for us. Always ready with bag of incredible records that blends nostalgia, groove and dance floor energy, FredFades sets are always a welcome addition to any line-up and in his edition to the Jæger mix he shows exactly why.
FredFades opts for a stylistic House set on his visit to our basement. He keeps it four to the floor with funky bass lines bringing a entrancing groove to the entire mix. Feigning function, there's melodic jazz undertone to upper parts of the mix where they come alive over the rigid drum and bass arrangements. It adds a deepness to the mix, not in a stylistic Deep House way, but rather in an inquisitive listening way that sucks you into the mix. There's an element of fun and excitement to it all that lives beyond its context. The tracklist as always is a mystery with FredFades keeping his prized records pretty close to his chest. We're grateful to hear them now in this mix and while we indulge our senses, FredFades answers some questions for us about the theme of his mix, his debut LP and of course Mutual Intentions.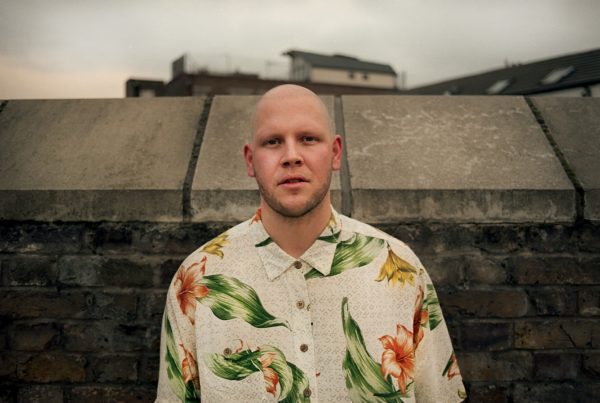 Your last album has been keeping us warm this winter. What's been some of your personal musical highlights recently?
Thanks! Hmmm, I'm just back from playing in Paris again where I saw a theegendary UK jazz funk / disco band: "Atmosfear" live, and it was amazing. Speaking of Highlights, us releasing Jawn Rice's "Highlights" project in December was a Highlight itself. I've always been a big fan of his music, since the first time he sent me some of his SP1200 beats in 2007 while I was on vacation / a record trip in Seattle. Other things: releasing my own solo debut LP "Warmth", releasing stuff I produced for Ivan Ave & Charlotte Dos Santos etc. Releasing & selling out Tøyen Holding and doing packed shows together, doing loads of DJ'ing around Europe was fun too, 2017 was a good year, hopefully this year will be just as fun as 2017.
What's inspiring you outside of music recently?
Friends, my girlfriend, my team I work together with when I do my 9-5 as a UX designer, swimming, wine, food.
You also released a couple of mixtapes on HMD last year under two themes; steppers and dancers. Is your Jæger mix a stepper or a dancer, and is there a track in your mix that can sum up the theme of your mix for us?
Definitely more like the Dancers side of that tape. I wanted to play some really mellow deep house cuts tonight. The song would have to be Orchestra 7 – "Love Is The Message".
While your productions are associated with Hip Hop, your mixes can go anywhere from Boogie to House. What makes a mix or a track a FredFades jam?
I don't know, like I said I just saw Atmosfear playing live in Paris, and it was sort of an reminder for me about groove. The band just nailed the groove (drums/chords/bass) 100% and I think together with a good groove, and a deep message/meaning in your music you will wake something in me. I'm a huge listener of music from the whole world, with big collection in different genres crossing everything from free jazz, to 60's psych rock, 70's/80's prog, bossa-nova, fusion, soundtracks, new age / meditation records, to 60's soul, 70's soul, cross-over soul, modern soul, jazz-funk, disco, boogie & new-wave. People keep telling me that I have a niche sound, which is weird – cause I play records from a huge span of time and different genres, so I assume it has something with me picking records within these genres with a specific the sound to do? I love a soulful jam loaded with string synthesizers, fender rhodes, piano, crisp drums or drum machines, with deep synth basslines & genuine vocals. I love songs with crisp hi-frequencies and detailed low ends. I happen to make hiphop and house music myself, and everything I make is inspired by all these different records I listen to.
I notice you're collection of rare seven inches keeps growing. What are some of your prized finds from the last year?
I managed to find myself a MINT copy of The Full Moon Ensemble LP which has been on my wantlist for years. I also got myself a MINT copy of Harvell Guiton's "My Dream" 7 inch, also found MINT original first pressings of Karin Krog's "Jazz Moments" and "By Myself", two other 7 inch highlights from 2017 must have been: Fate – "I'm In Love Again", Magnum – "Tell Me Why" plus loads of records I don't even wanna mention online, haha.
From Jawn Rice to Ivan Ave, there's been a fair share of new talent coming out of MI over the last year. How does it remain such musically conducive environment, and what's next for you and the Mutual Intentions crew?
I have no clue, I guess we just share a lot of interests and inspire each other. Right now I'm wrapping up my collab project with Jawn Rice which sounds amazing, can't wait to master it. Some other stuff that will get released pretty soon: a beat compilation thing, two new-agey, ambient, electro-jazz projects. We also just booked a super, inspiring & young jazz artist for our Øya Natt show at Ingensteds in August, happy to announce that real soon!