Phillip Hinz is either in the booth or he's on the floor during a Sunday night at Jæger. Det Gode Selskab DJ is always engaging with the crowd on some level, which through his sets he can go anywhere from those early tentative hours on the floor to the to the peak time. One of the more recent editions to Det Gode Selskab crew, Hinz made his mark early on and is an integral part of the DJ collective at Jæger today.
We've witnessed sets from Hinz proffer a modern take on Chicago House before moving into he more functional demands of Tech House. Always in the moment, striving for that dialogue with the dance floor and the records, he offers a singular view from the booth, where the music, the people and the environment meld into one.
Ivaylo brought the DJ in a little bit earlier last Sunday for a Jæger mix session before Det Gode Selskab and Tin Man took the floor. The earlier slot saw Hinz adapt like chameleon, and going from the sensuous deep house of Spuma at the beginning to the energetic claps of Project01's P01_02 in the first half hour, Hinz mimics that moment from the first careful steps on the dance floor to setting the tone for the night ahead.
His Jæger mix follows the release of  DGS-01 this week and the announcement of their SUNSETS series of events this summer.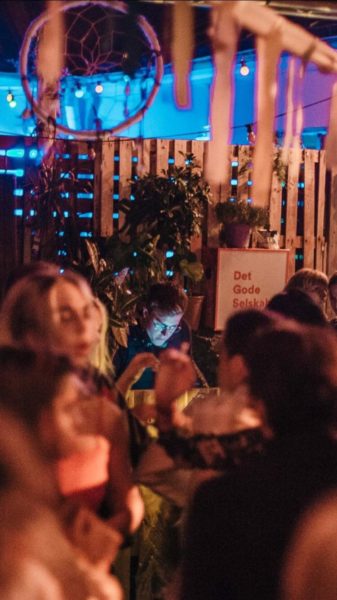 Tell us about your introduction to electronic music Phillip.
I got into Dance music when I was Living in Malmö Sweden. It all started with me going out to clubs and illegal warehouse parties, as I really love dancing. With time I started to play music, as well.
You play every Sunday at Jæger as part of Det Gode Selskab. How did you approach your Jæger mix differently from your usual sets there?
I tried to approach the set in a more sit-down and lounge setting, but I'm very used to play for a crowd, so it went a bit energetic, I guess. Also I never plan my sets.
Was there a particular mood or feeling that you wanted to get across with this mix?
I always try to show my feelings in an impulsive way and in the moment as it should or could be.
Which track in the mix sums this up for you?
Casio Royale – Organa ( Original mix)
DGS just launched a label, and there's some exciting parties coming up in summer this year. How do you fit in there and what makes it such a fertile environment for artists and DJs alike?
Det Gode Selskab is on a great journey these days. Superb studio and music production on the move. The boys and myself are getting older and more aware of what we like and striving for. And Jaeger has given us a lot, both opportunities and inspiration.
What are you looking forward to this season at DGS?
I'm looking forward to the parties, the productions and release of music!
What's inspiring you outside music at the moment?
Not much, besides music actually. I find a lot of inspiration in the DJ-sets and the people on the dance floor these days. It's very personal. I think you can't really explain how strong the energy of Djing can be. Until you have those moments :)
What else is happening in the world of Philip Hinz that we should look out for after this mix?
I think I've said enough for now ;) find me at Jaeger and I can tell you more. Haha