You would have come across the name Marius Circus through the vivid records he releases through In the Garden. An exclusive vehicle for his productions, the label's bright colours communicate something of the cosmic disco and balearic that lurks behind their exterior. Marius Circus' productions incorporate diverse references across electronic music's vast landscape, from acid, to trance all for the sake of the dance floor.
We look forward to hearing it in the live context in a couple of weeks from now when he joins us in our backyard for Oslo Musikkfest, but today we find him in the role of a DJ with an Æmix recorded last Sunday in our courtyard.
The mix finds Marius Circus stepping out of his comfort zone of balearic and disco with a mix that caters to an early evening context, "growing a bit bolder as the evening progressed". The melodic charm that underpins his productions is consistent across his selections with bubbling synths and luscious textures caressing the listener's ear through the introduction before moving into elements of synth pop, R&B, house and nu-disco.
Some disco and balearic invariably find their way into Marius' mix, but through his mix he plays songs rather than tracks, making this week's Æmix a delectable assortment of ear-worms and steppers.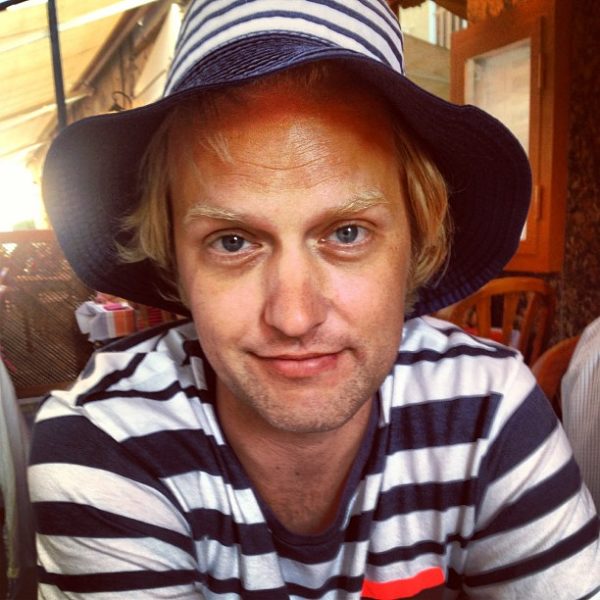 Give us an introduction
Hello there. I'm Marius Circus. I'm born in Oslo, grew up on the outskirts of it and am now residing in the suburbs with my wife, three young kids and a dog. Very happy with that life. I started out as a DJ around year 2000, after my interest in electronic music had grown from the mid 90s and on. I guess I started dabbling with music production 5-6 years later, but it took a while before I started taking it seriously. These days I'm considering myself more of a producer/music maker than a DJ. I also run a small label called In The Garden. So far it has solely been an outlet for my own music. In The Garden's 6th release in coming up in June and I'm happy with how it's currently moving forward. I've been getting some very nice feedback and support lately, something I can definitely get used to.
What is your earliest memory of a piece of music?
If you rule out nursery rhymes and such, I guess I just listened to the usual stuff that most young kids that grew up in the 80s did. Madonna, Wham, Michael Jackson and so on. Nothing particularly fancy. I'm pretty certain that the first piece of music I bought with my own money was the 7 inch of George Michael's «I Want Your Sex». I owned records before that, but that was the first time I went to a record shop on my own and brought something home. I was however never one of those kids that spent all their money on music from a young age. My major interest in music and record collecting developed much later.
What sound or genre do you feel represents what you try to do through your selections?
I've always been a sucker for a good melody. I guess that's why I've always loved the disco and balearic stuff so much. Not that much disco or balearic stuff in this particular mix though. It moves from beatless synth stuff, through some downtempo jams and eventually into house territory, but most of it is quite melodic.
What do you consider your role as DJ should be?
To be honest, I'm not really sure I consider myself to have much of a role as a DJ these days. It takes a lot of time and effort to be a really good one, something that always strikes me whenever I go and listen to someone like Dj Harvey, Gerd Jansson or DJs of that league. I did want to be a really great DJ for a while. At some point I did however have to decide what was important to me and what to spend my time on. Time with three kids is obviously very limited. For me, that decision really wasn't all that hard. Making music has been my main priority for a while now, which means there has been less time for DJing, particularly over the past 3 or 4 years. I have however developed a strong desire to start doing live shows, so it's not like I intend to leave the club behind. It took me a while to figure out how exactly I should approach the task of moving my studio to the stage, but I think I have it figured out now. I've worked on it for the past 6-7 months. The first gig will be in a couple of weeks. I'm aiming for lots more after that.
What was the theme of your mix?
Early evening vibes, growing a bit more bold as the evening progressed. I also strictly forbade myself from playing any disco and balearic stuff. Figured that would be a bit of a challenge and move me out of my comfort zone, as that is what I tend to resort to play and enjoy, particularly when playing outdoors in the summer.
Which track in your Æmix best represents the theme of your mix and why?
From my description above, probably Powerdance – «A Safe And Happy Place», even though that was also the closest I got to crossing my «no disco» rule.
What do you hope your Æmix relays to the listener?
I basically just hope it puts a smile on his or her face. It's nothing too serious. Just a bunch of tunes I really enjoy at the moment, put together in a friendly club on a surprisingly hot and beautiful Oslo evening.
What's next for you after this mix?
Next thing in my calendar is the live gig I mentioned earlier, which will take place at Jaeger. So I'll be back to visit you guys in a few weeks time. I'll be doing my live thing in your backyard in the afternoon on June 2nd, as part of the «Musikkfest Oslo» lineup. I'm simultaneously really looking forward to and really dreading that. There's so much that can go wrong when you bring a modular synth, a drum machine and a bunch of effects pedals on stage. I guess that's why I enjoy it so much! Haha!