Edging the Jæger mix  up to its first centurion is Duncan McDonald. Hailing from the land of Sub Club and Rubabdub Records, the Scottish born DJ has been a regular fixture on the Oslo DJ circuit for the last five years. An enduring presence both in the booth and on various dance floors across Oslo and further afield. Most recently he's contributed to the Feel My Bicep podcast series and he makes regular appearances at the Villa and Jæger, very often alongside Det Gode Selskab collective.
This week's Jæger mix sees McDonald keep it spontaneous after an unforeseen incident and the result is a setlist completely inspired by the moment. What might have started out as a dubby introduction to a chill Sunday evening on the dance floor, plays out quite differently under the circumstances. McDonald keeps the energy high throughout this set with dynamic shifts from four-four to breakbeat, from dub-Techno to House, and from Deep to Acid phases. It's a Jæger mix with very many flavours with an uplifting mood at its core.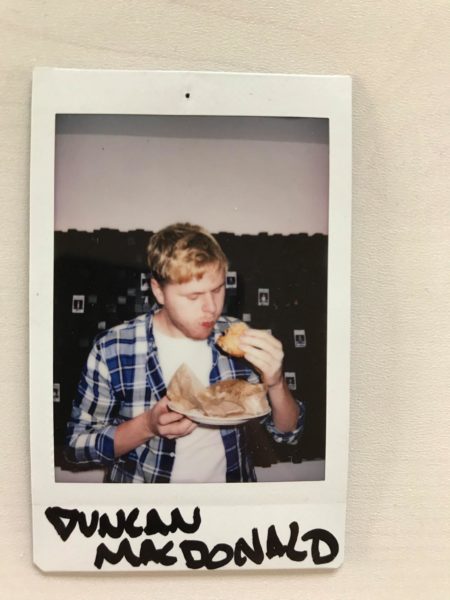 Give us an introduction
I'm from Haddington, just outside Edinburgh in Scotland, and I've been living in Oslo the last 5 years, where I've just been working loads, writing and playing music.
What is your earliest memory of a piece of music?
I recall my first cd was Americana by Offspring, and after getting that in the post I went down the slippery slope of buying cheap cds by the load, became an addiction!
What sound or genre do you feel represents what you try to do through your selections?
It depends on the setting, cinematic techno with a lot of texture is my true love but for this mix I wanted to play something a bit different and show a softer side from what people usually here me play.
What do you consider your role as DJ should be?
I guess reading the crowd has to be first and foremost, and being able to adapt to the situation you're in, but it depends on what the night you're playing at represents.
What was the theme of your mix?
Originally it was going to be a journey from Dub techno and breaks into the Sunday chill bevvy vibe, but my usbs malfunctioned (exactly why I should have chosen my records instead!!) and I just had to dive into the old library and play to what I was feeling at the time, which was nice actually!
Which track in your Æmix best represents the theme of your mix and why?
The original theme I had planned would be Skee Mask – routine, the pads are lush and the broken beats are just infectious. Or it'd be I lost my shoes on acid by red 7, probably one of my most rinsed tracks over the last few years, it's bubbly acid line and fun vocals by Hugh Masekela make it the perfect Sunday party starter.
What do you hope your Æmix relays to the listener?
I hope people just enjoy the journey, it's a completely spontaneous mix whereas usually when I'd do a podcast I'd plan it meticulously and hopefully they don't hear me panicking at the start when none of ny tracks worked!
What's next for you after this mix?
Next up I'm warming up for ostgut tons Fiedel on Friday at the villa, which I'm unbelievably excited about. Then it's off to Germany to play one of my favourite clubs in the world, golden gate, on Friday 13/7 then to Somewhere in the distance festival just outside Berlin! Thanks so much for having me on the mix, it's been an absolute pleasure!