Making his return to the Jæger mix this week, is DJ sin with a new selection bass-heavy synth tunes to suck our teeth into. The last time he was here he played our backyard and kept it eclectic and bright for the summer season, but on this occasion we've set him up in our subterranean liar wand he responded with some deep, soulful cuts with his usual eccentric flair.
Always travelling between the far flung corners of the world, Sinisa Spasojevic (Dj Sin), collects music from his travels and the places he plays like a museum archivist. He preserves and admires them, and often presents them to new audiences in the context of his mixes. When he's not in the booth, he can be found on the dance floor, often at Jæger breakdancing to the skipping beats of others.
He's an invested music enthusiasts and his mixes show it. He carts around vinyl, and allows each track the space and to touch each listener personally. On this edition of the Jæger mix he stretches from the deep bosom of electronic music to the firmament. Deep, rolling bass-lines set the foundation for spacey synths reaching up to the hedonistic heights of heaven.
There had been some questions lingering from his last visit that we never had a chance to ask the DJ from Serbia, and we were happy to get a second chance and ask the enigmatic DJ some burning questions on this occasion.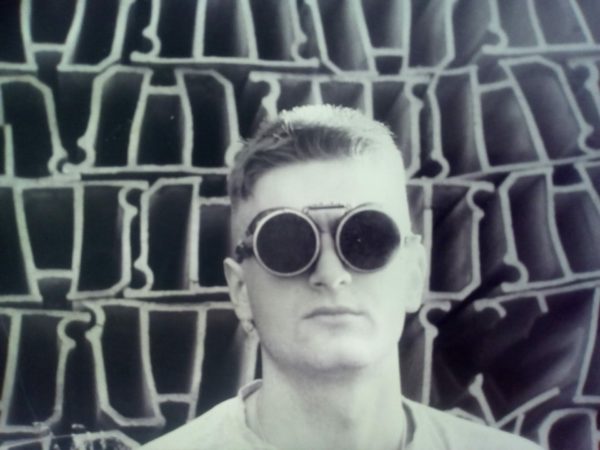 Hello Sin. Welcome back to the Jæger mix. What do you have in store for us this time and how is it different from your last mix?
Hello! Thank you for having me here again. The fact that we're doing a mix in the basement (main stage) at Jæger, on this amazing sound system and dj booth, on a Sunday evening, after two days of djing and parting, and snow outside – makes this mix more deep than the previous one. This mix reflects a more clubby and underground side of what I played lately.
I spoke to you recently and you were just in the Ukraine, playing Kiev. What's it like there at the moment for DJs and did you find any new music, DJ's or clubs we should know about?
It was an interesting experience since I've never been on the east side of the European continent. Kiev is a nice and clean city with an interesting mixture of different influences from East and West, past and present, in terms of food, wine, and architecture. What struck me most was a healthy crowd, with a  positive attitude, having fun and dancing to the music so beautifully and naturally – it was almost innocent. Clubs like 'Closer', 'Bezdelniki', definitely, Mur Mur – rooftop bar, with (not only local heroes) djs Pavel Plastik and Philipp Markovich.
You're form Belgrade. How did you get into this style of music there, and where and how could get you hear this style of music, growing up?
Well, I grew up in former Yugoslavia which was far more progressive and open to the western influence than other socialist countries, due to its liberal society, political rule and geography. Trends in music, design, film, art and fashion all the way from 60's to year 1990 were more or less up to date with the Western Europe.
I grew up in the 80's and had been listening to legendary radio Luxembourg and radio shows from different Yugoslavian radio stations. My aunt had a nice collection of 70's disco, my elder cousin played British electro pop to me, but I was mostly fascinated by old school hip hop in the early 80's. While the other friends were going to a dancing school, I stayed home practicing break dance and electric boogie. I started to play synthesisers and drums and while many of my generation was listening to yugoslav pop and rock, I was in to Depeche Mode, Kraftwerk, Prince,Grandmaster Flash, then italo disco, early house. It must be a personal choice. I was a 'strange one' probably.
When we spoke to your countrywoman Tijana T on this blog, she mentioned that she would go clubbing while there were bombing raids happening in the city. What are your memories and experiences of that time of war and music?
Tijana told you more about it, I guess. I was lucky enough to leave the country night before the bombs started to fall. Next morning I was in Oslo.It was my birthday. Dark period in our and European modern history, but our generation responded ironically with language of electronic music, playing 'Space invaders are smoking grass' or legendary radio b92 playing 'What I wonderful world' after the war news! Throughout the 90's underground clubbing in Serbia was a sort of escape from regime oppression and international sanctions and isolation. There was a hope.
Today, Serbia along with Georgia, Ukraine, Romania and Croatia is like the new frontier for electronic music in Europe. What is it about music made with synthesisers and drum machines that the people have embraced so emphatically in that region?
Living on the edge I think. Being outside of everything. The name Ukraine means 'at the corner' or 'aside' – but in relation to who? Remember that Dracula was placed at Transylvania – the edge – borderline between Austria / Hungary in the West and Turkish Empire in the East. All these countries have strong cultural heritage, especially in the form of traditional folk music. New generations have a need to express themselves in a different and modern way, and that's why electronic music is such a popular way to do so.
That position through generations creates the ability for a more underground approach. That's why you have many music producers from these countries making more edgy ,'dark' or 'deep' music, and the crowd is in favor of tuffer sound. That is more creative I think than commercial deep house or edm.
Some festivals in the regions were used as a tool to initiate political changes (Exit festival in Serbia, Gemm festival in Georgia now, even some festivals in Cuba in the past few years). Music is powerful.Interesting producers in the warm and sunny southern Europe in order to be interesting and cool, prefer to make mystical and cold music. On the other hand, cold Scandinavia gave us so many warm and 'sunny' electronic records.
Your own selections are usually very synth-based tracks with a very disco-groove behind them. What do you look for in a piece of music to make it into your record collection?
Bass line and synth themes make me happy :) Well, music and djing is a creative expression. The language we use to communicate feelings, emotions, memories, state of mind, political views, hopes, happiness, sadness, dance floors, day and night, architecture…
Being into art and culture is a side of being a DJ. I like short form stories, short movies. I am looking for records that 'have a story to tell', micro cosmos, a trip. To put them together is a tough one, but inspiring and challenging.
You still cart vinyl around, I believe. What have been some of your most exciting finds recently and where do you look for new and new-old records?
I do buy vinyl but not as much as I used to. Some special records I like to have on vinyl. Some tunes are 'very vinyl', I don't know.
In the past we had record shops with filtered choices and the creativity was to put them together in a special way. Today, djing is a result of hours and days of hard work of 'looking for  good tunes', since much more music is accessible on the internet. It's a hell of a job.
Recently I found  SJ Tequilla – "Sessions on Shot of T" at Filter Musikk Oslo, but usually I buy old records on internet or when I travel, like a great re-press of brazilian funk at Groovie records in Lisbon lately.
Last question, what are some of your personal musical highlights on this Jæger mix?
I chose some of my producer friends that I like to play. There's a nice next release on Soulprint rec. from Belgrade, and the tune I played a lot this summer, Copenema – Deixa A Música Tocar on Music for Dreams.