Sondre Kveldsvik is Jæger family (he says in a Marlon Brando cotton-ball accent). He was there at the moment of conception  when it all began and he established the Jæger blog and helped to build it to the place it is now. Although he's moved on since, working for Universal music Norway, his presence can still be felt in the very foundation of the place.
Every now and then it manifests in a physical presence and when Sondre isn't playing a set around Oslo, working on an edit or merely working, he can often be found on one of Jæger's dance floors, usually for an Untzdag;  Øyvind Morken's night of eclectic curiosities is something that resonates with Sondre's own musical tastes and selections as a DJ.
In his second appearance for the Jæger mix, Sondre comes back to our booth, this time in the basement to lay down another set of exotic grooves, digging deep through the more obscure corners of his record bag for an early evening dance floor. Pacing along at mid-tempo under the strict guidance of an eighties drum machine's timing, Sondre sets the mood for the the first tentative steps on the dance floor.
The last time he was with us, we didn't have the Q&A session to this feature up and running yet, but those standard questions just wouldn't do, so we sent Sondre an email and he obliged with some pretty in depth answers to his mix, his musical tastes and his time at Jæger.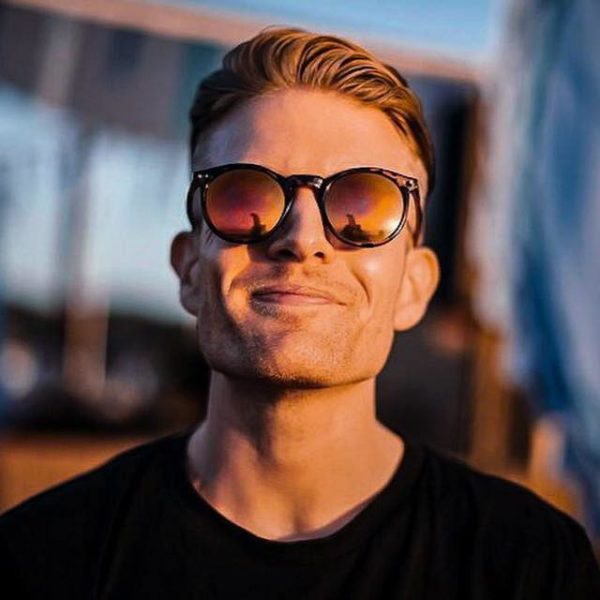 Welcome back to the Jæger mix, Sondre. We didn't have this Q&A session the last time you were with us, so tell us a bit about your introduction to DJing and music and your earliest memory of a piece of music?
I guess both of my parents were always into music and dad ran a record shop briefly. We would listen to all the classic alternative bands. Everything from Nick Cave and Patti Smith to Roxy Music, Pat Metheney, Norwegian punk etc. But the first album I bought with my own money was Bad by MJ. I would skip to the start and play the bassline on the title track over and over again, funny as the start of the track is basically Chicago house, right? At some point during, it just made sense to take up DJing, I must have been around 14 at the time.
You're last mix was full of exotic flavours from an eighties sound palette. What do you have in store for us this time? 
Yep, definitely some of the same, pretty linndrum heavy. It's a collection of records I think sounds cool, a lot of new stuff that I haven't played before so it's gonna be really interesting and see where this is going. Will it blend?!
Your focus seems to be on music from  the past, music that would've been created before your time most likely. What is it about older music that appeals to you?
It's definitely not intentional. I guess to me a lot of it sounds more gritty and cooler somehow. I have a hang up on old school sounding drums, either from classic drum machines or acoustic recordings. I guess I find older records to be a bit more cheeky and more interesting in a way, especially when selecting tracks for a mixtape.
What do you look for in a record or piece of music to make it into your record bag, and what does that say about your personal tastes? 
Arps and LM1-drums are pretty much the one, haha. I prefer not to play music that's too gloomy or dark but I love records with a certain attitude. Funky, a bit strange or tough like classic classic rock can be tough without being dark, you know. I was really into electro clash and the DFA «nu rave» wave when I was 18 and I think I'll always be searching for records that to me sounds a bit more gritty. As a club goer I really like to be surprised and challenged even. Like, I'm more into DJ Harvey than Ricardo Villalobos if you know what I mean.
Some people won't know this, but you were at Jæger right at the beginning, and you used to have this job, the blog. What are your memories of those early years and how have you seen the place evolve? 
This is true! I think just the enthusiasm from Ola and the whole Jaeger crew is what makes the club really special. There's a attention to detail that you rarely get anywhere else and I think that's why it's still going strong. And the volume of top notch bookings is almost absurd.
I often bump into you when we have a booking. Have there been any particular musical highlights for you over the years at Jæger?
I think nights that really resonates the most for me is Untzdag. Øyvinds contagious passion for pushing ideas of what club music can sound like and showcasing talent regardless of genre, live or otherwise is so inspiring! But going back I'd say Andre Bratten's first live gig, Harvey Sutherland's second live gig was incredible, Tony Humphries, Palms Trax b2b Øyvind, DJ Spen, Talaboman, Young Marco (one of the many nights), Boogienetter is always so much fun and so many other resident-nights, there's literally too many to mention. And I'm excited for Hunee next week!
Let's get back to your Jæger Mix… Is there a track in there that makes the crux of the mix?
If I had to pick one, and this is kind of embarrassing because I don't know the original track but it's an edit from Ruf Dug called Ruffys Jungle Sensi. It's got everything I love, loads of percussion a huge and almost tacky bassline and some incredible Huey Lewis sounding synths stabs, it's amazing.
How do you prepare for a recorded mix like this differently from how would a night long club mix?
I choose which track to start with and tempo and mood wise try to have a few records available that will somehow compliment that track. A lot of the tracks I play are quite short so you don't have to much time to look for new ones, so it's really a heat of the moment thing. Sometimes you just have to «jam it in and hope for the best», haha.
Most people will be listening to this mix on Wednesday afternoon, most likely over their headphones or at home. How do you hope this mix translates into this new context?
Well it starts off under around the 90bpm mark so it shouldn't be too crazy for a Wednesday afternoon. I hope people will discover some new music that they haven't heard before and that they like it. Maybe also a syncopated nod or two?