Every week at Jæger our Thursday nights travel back to the origins of club music, back to Detroit and Chicago, and into its future, sustaining the legacy of this cultural movement we call House music. Daniel Gude helms the night called RETRO with a record collection in the tens of thousands like a modern-day musical library that extends to the absolute limits of contemporary music, from Hip Hop to House, Techno to Synth, and Soul to Funk. Throughout his career, from working on the radio to his stint as a producer and his extensive period buying and selling records, Daniel Gude has inadvertently catalogued the history of contemporary music through his collection.
Today, the bulk of his immense record collection, some tens of thousands of records, has been moved into a storage facility, but the records Daniel couldn't part with, they found their way to Jæger. Laying in wait on the shelves behind our DJ booth in the basement, sit a hefty 4000-odd records at hand whenever Daniel feels the urge to revisit a classic cut for his RETRO evening.
Daniel Gude had always been first on our list for the Jæger mix series, but an incredibly busy DJ, it was only now that we were able to pin him down for the mix… and that almost didn't happen either. "I was at home, making dinner for some friends, " he says when he realised a meer few minutes before he "had to go an do the mix." Pivoting on the spikey spur of the moment, he grabbed some music and set out for a "spontaneous" mix. "I just picked records from the last three months' selection of House music," he says and laid down a mix in the spirit of any Thursday night at Jæger.
Daniel Gude doesn't often record mixes, and the last time he put a mix together was for Skranglejazz almost a year ago, but for this Jæger mix Daniel made a rare exception. It's been a long time coming and it gave us another opportunity  to engage Daniel in an extensive and in-depth interview, talking about his music career, DJing and his excessive record collection, while we listen to his mix in the background.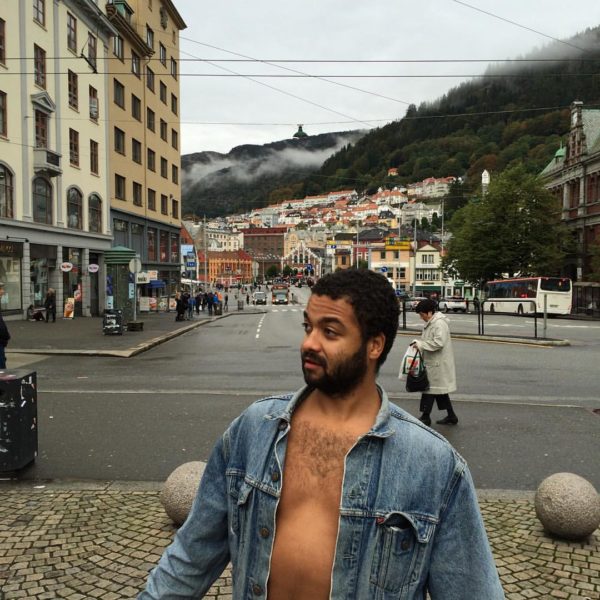 I saw a picture on social media not long ago from your account, with the aftermath after a shelf collapsed with most of your record collection.
That happened like 15 years ago. It was an analogue photo I scanned. I had to move the records out of a studio, and Tore Ost (Gjedrem) helped me move. It probably took like four days to move the records with a little van and get it up to the apartment. I took another three days to categorise it and put it up on shelves, and when I was almost finished I heard this squeaking noise… and then the whole shelf just cracked and slanted to the one side.
I was like; "shit, this means I have to take out every record, and fix the shelf," and while I was contemplating that, the whole thing fell and collapsed. It was all over the living room, but the only record got broken, was B.I.G ten crack commandments. (laughs)
How many records were there then?
15 000 – 20 000.
And now it's closer to 50 000?
I don't know. I stopped counting.
Some of them ended up downstairs, in Jæger basement.
This is what I call my extended record bag. When I moved my records to storage, I just picked out a selection to play. I actually stopped buying records about two or three years ago.
O really, I thought I saw you buy some records from Filter recently.
Yeah, occasionally I might pick up some records, but in terms of what's normal for me, I'm not buying records.
How many were you buying at the height of your buying habit.
DJ Ross and I used to live together, and we used to run different record stores, so we had accounts at wholesale distribution companies. Privately we were the third biggest customer, and every Monday we used to get like two boxes of vinyl. But that was back before the Internet and you had to have it on vinyl if you had to play it. If it was a good record I'd buy like three copies, because I was playing every week and the record eventually gets worn out.
Do you remember the record that started it all?
Not really. I think it started out early nineties, and then I used to have a radio from 1992-1998 and every week I had to have fresh selection of records.
For which radio station?
It was a local radio station at 101.1FM. I started out at a weekly Hip Hop show that ran for two hours on Wednesdays. I was the producer and the DJ and Chris Stallion (Juicy) was the host. And for a couple of years I did a night show which was a couple of days a week, from two at night to six in the morning. That was a strictly mix show, where we played Ambient, liquid Drum n Bass and Jazz fusion; it was just a laid-back, smokers-delight kind of show.
How did you go onto to Kids love Wax and Kids Love Bass from there?
When I started my own record shop –  it was where Fisk & Vilt used to be, but in the late nineties a friend of mine had a vintage clothing store called the mothership connection there. There was a tattoo parlour in the back and I had my record store at the desk. The guys that ran it were all friends, like a crew and they called themselves Kids love Ink. So when we started playing we were what should we call ourselves, and it was like "why not call ourselves kids love wax." Kids love  Bass came from that, when I hooked up with Seth and we started doing parties promoting UK bass, pre-dubstep era.
Did you also follow the familiar Norwegian DJ route, learning to DJ at the youth club?
Yes and no. I would probably say I learned more through the radio. I actually just started playing out without practice. Early on I bought a Technics 1200 because I wanted to learn to scratch, but after a day I was like; "shit I'm not doing this…I'm not going to be inside all day practising."
Me DJing happened by accident, because I used to produce music and after a while of doing that, really geeking out, I felt that I needed to have a break. I started hanging out at some clubs, and because of producing I had a lot of funk and soul records, and because of the radio show I had a lot of Hip Hop, so I had the records, and I didn't really feel that the other DJs were bringing it in terms of their collection.
Do you have a prized possession in your collection today?
Not really. I've never been a collector in that sense where I'm looking for rare records, or pricey records. I'm always just searching for the groove, going through the bargain bins. Because I worked at record stores and I worked for distribution companies,  there was always a hustle to get them for cheap. Buying expensive records really turns me off, I don't like it.
When did you start moving out of Hip Hop and into the more electronic stuff?
It happened gradually through 2007-09. Hip Hop was in kind of a shift and the we lacked  clubs in Oslo. I kind of grew out of it, because I had been doing it for so long. I was getting tired of it, and I wanted to something else.
I was always into different genres. Mainly because Hip Hop changed. And that happened in the late nineties for me too, when it kind of blurred and Bad Boy and Maze broke. I wasn't really into it and for me the best era was the golden era.
Being a former producer I was really into the production, the breaks and that culture of it. So when everybody started doing synths and R&B I wasn't really feeling it. Although from a club perspective I liked what Neptunes and Timbaland did, because that was good craftsmanship, but I hate Trackmasters and a lot of the Bad Boy stuff.
Since you've been involved in so many club nights and your experience as a DJ, what in your opinion makes or breaks a party?
To be honest, I don't really know, because I don't really think about those kind of things, I just  follow my heart, what I want to do and what I want to listen to.
There's RETRO for instance. I wanted to bring something that was lacking in Oslo. It always goes in trends, and when we opened Jæger House, Deep House and Minimal Techno was big in Oslo, and after that came the Berlin Techno sound. I think coming from my background of Hip Hop, soul and Funk, I thought of a more old school sound with garage and the stuff was lacking.
Is there an idea of programming a night when you play an event like RETRO?
Sometimes I do and I want to do it more. I really doing nights like the synth night with O/E.
And with other nights, like when you are doing something with Seth Raknes for instance?
Yeah, that's a whole different playlist from what I do at RETRO. Lately I've been starting to play more at Villa, and when I do it's more House based. I come from that style of DJing where I like to switch up styles. That's not really the European- or Norwegian way. That's what they do when they attach their identity to it, it's different way of thinking. Whereas I feel if you go to Chicago or Detroit and you talk to people there about what they are listening to, they have more of a sense of music, and they'll play Soul and Funk to House and Techno, they really mash it up.
And it's something they'll do through the course of a set, but you don't think it's something you can get away with here?
You can, I do it at places that don't really have that clear concept. If I play at Skaugum or Torgata bar for example, I can play whatever. In a place like Jæger and The Villa which is best clubs with the best systems, where people come to dance, you have to stick with it.