Nordiks is the DJ behind the OsloGround podcast and label. He's been a persistent figure in the Oslo DJ scene for many years and in recent years he has also started making regular appearances as a DJ in Morocco where he looks to motivate the scene into the future through his connection with VOID Sound Systems.
The Oslo/Moroccan DJ returns to the Æmix with some new sounds and a mix that offers a deeper, House perspective on this occasion. Roland drum machines and bass-synths create rolling waves for elongated pads to surf along as they float through the audio spectrum. Nordiks paces his mix at a reserved tempo through tepid melodic waters and crystalline rhythmic shorelines that pulse at an indifferent beat.
The last time Nordiks as here we only got an introduction, but on this occasion we get a chance to dig a little deeper through his Moroccan heritage and get an insight to the current scene in the North African country.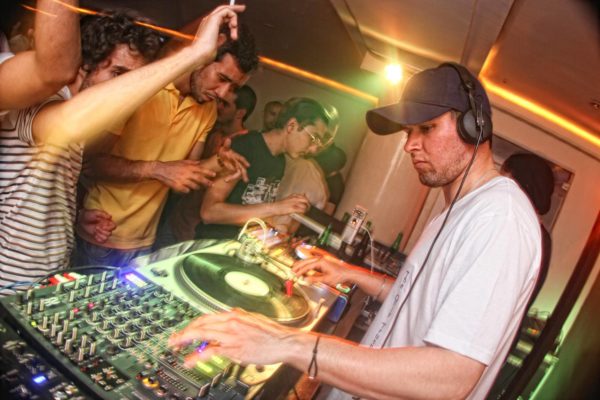 Hello Nordiks and welcome back to the Æmix. What has been some of your musical highlights since the last time you were here?
Hello thanks for having me again. A real pleasure to play back at Jaeger.  Well if I could pick up a couple of musical highlights this year I would choose the Moroccan Desert festival in the desert of Merzouga, where I had an amazing time playing, and Mr G Live at the Oasis Festival in Marrakech.
Tell us what's been happening at/with OsloGround?
Osloground is on hold right now when it comes to podcasts and events, but I'm working on the second vinyl release now and hope to throw some osloground parties again in Oslo and why not export the concept to Morocco.
I believe you're regularly in Morocco now, selling VOID sound systems there. What's the electronic music scene like there at the moment?
Yeah that's correct, I've been to Morocco 4 times already this year. I saw an opportunity to do something that I really love and decided to contact Void Acoustics and show them the opportunities in Morocco and how the market is evolving.
We had also some delay due to papers and this slowed the process quite a lot but we are expecting to start in a couple of weeks. My partner and myself are looking forward to it.
The music scene is growing pretty fast now, especially the last 4 years. I feel lucky that I could see the evolution from the very beginning, early 2000's and it's been a long way for the music scene with all the ups and downs, but pretty proud for what is achieved and I bet the best is yet to come.
What are the artists, labels, clubs and festivals there that we should look out for?
Well that's a nice question, because there is good stuff out there. A lot of my Norwegian friends often ask me how are things in Morocco when it comes to Electronic music.
In short we have 3 big electronic music festivals right now. Moga (Essaouira , around October) , Oasis (Marrakech around mid September), and Atlas Electronic (Marrakech end of August)
As for Moroccan labels I would mention Cosmo Records, Casa Voyager & Astrofever.
When it comes to artists they are so many out there that I'm afraid to forget some so I'm gonna mention a few like Adil Hiani , Polyswitch , Dany Boy,  Mar1, Kali G, Zakaria, Daox … and many many more.
As we don't have clubs that are 100% dedicated to electronic music, all the events are made through notable music collectives that put in a lot of effort to satisfy the demand that is growing every year.
As for the venues I would recommend Le Dhow if you are in Rabat, L'envers in Marrakech, Vanity Club in Casablanca.
For the Collectives, you can check out Alternative, Rhytmics, Apéros electronique, Default Settings, Re:creation, Sqnc. , RAK electronik, Moroko Loko, Tanzen,  Midnight Circus, Tanzimat , Club Patience, Plug-in Souls, Snacks & Tracks, Syndic8, Aerial, …. I am Deeply sorry if I forgot to mention some.
The last time you were here you kicked off with some electro and then went into the deeper end of Tech-House I recall. What have you got in store for us this time?
Well to be honest, I can't even remember everything I played, my vinyl bag was ready but then I woke up Sunday morning with a very painful shoulder, I just bought some tracks the same day on the net mixed with stuff I had. I can recall some deep house and breakbeat at the beginning slowly moving to something more Groovy but Deepy.  
What were some of your musical highlights for this mix?
I really did like the track from 214 – "Fly by night" &  "Haphazard" from Seb Zito which I bought few hours before doing the mix.
And lastly, what's on the horizon for Nordiks and your other musical endeavours?
For the upcomings months, I will focus on my new company in Morocco,  play again at venues which I did miss after the break I had. And why not create an event  for next summer where Norwegian & Moroccan Dj's can play together, that would be amazing.
Thanks for having me.
The only truth is music