Joachim Krüger is one of the most dedicated DJs in Oslo's music scene. He's completely immersed himself into every aspect of the culture since hitting the decks and approaches Techno, House, Electro and beyond with the assiduity of an eternal music student. His record collection is vast and extensive, and is constantly growing with regular trips to Berlin and visits to Filter Musikk. He applies his savant-like knowledge of the contemporary electronic music landscape to travel the road less travelled in his own unique idiom through his selections.
His sets can go anywhere from dissonant, experimental ambience to ephemeral, deep House with a sincere investment in the substance of every track he plays. As one half of K³, Krüger and Kompressorkanonen harness the breadth of their combined experience and knowledge to draw a red thread between the past and the present in electronic club music as their tastes and selections converge on the margins of the dance floor. On his own, Krüger is a regular fixture on Oslo's DJ circuit and plays almost every weekend at places like Jaeger, Mir, Kafé Hærverk and Villa alongside other kindred spirits like Jan Mayan, DJ Hooker and Kompressorkanonen and when he's not playing music, he's either on the dance floor or buying more records.
When he stepped up to the Jæger mix it was just after the Hjemme Med Dama weekender, where he had played at Hærverk the night before alongside some of the DJ luminaries mentioned previously. He stepped into the Sunday slot with a bag of records that he feels "deserves to be heard but that might not be so easy to come across." Digging deep through the somber and the experimental aspects of Techno, breakbeat, Electro and ambient music, Krüger plays in the lush sinewy textures and polyrhythmic percussion from labels like Hypnus, Spazio Disponible and artists like Neel and Luigi Tozzi. 
It's a deep, ornate mix from Krüger with immersive textures that play on elements of melancholy and a pensive sombreness without ever falling into despair. The contrast between deep penetrating percussion and the effervescent melodic parts, keep the mix from disappearing into a deep dark void. It's an intriguing mix that coincidentally makes for the perfect prelude for tonight's event with Filter Musikk and Donato Dozzy.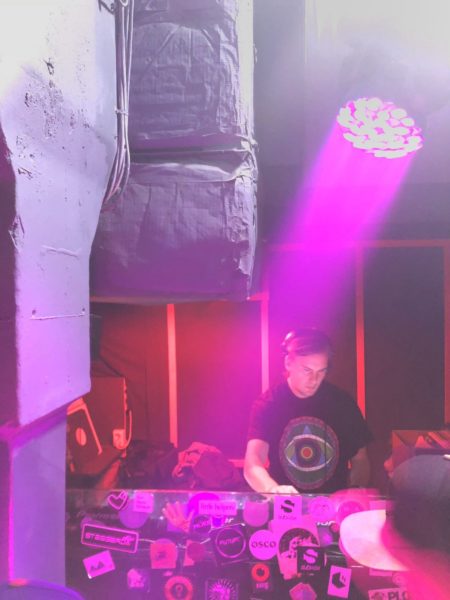 What is your earliest memory of a piece of music?
I think that must be the musical Which Witch starring Benedicte Adrian and Ingrid Bjørnov in Holmenkollen when I was 3-4 years old. My mother sang in the choir, and I remember getting really excited sitting in the crowd when I recognised the songs.
What sparked the interest in electronic music and who were some of the DJs and records that inspired you in the beginning?
In 2008 my best friend and flatmate gave me a proper introduction to jazz. He's a very capable pianist, and we spent a great deal of time listening to records, attending concerts and playing our piano from Oslo Pianofabrikk which we collected on Finn for 0 kr and back injuries.
I dove into experimental electronic jazz – Nils Petter Molvær, Arve Henriksen, Jan Bang, Erik Honoré, Eivind Aarset and musicians of the same ilk. NPM's album Khmer was particularly captivating, and – looking back – techno-y. He also released a remix album with Herbert, Mental Overdrive, and – incidentally – Trulz & Robin (with whom I now share a studio).
However, when I heard Nils Petter Molvær and Moritz von Oswald, I got so captivated I listened through the entire catalog of Basic Channel, and down the rabbit hole I went!
For house music, I have to mention Jan Jelinek – Loop finding jazz records and DJ Sprinkles – Midtown 120 Blues for having left an eternal impression on me.
How have you seen your tastes and sets evolve since?
For sure it has evolved, getting interested in techno and house opened the doors to so many different sounds, vibes, genres and artists.  My musical endeavour has been turbo-charged by people like Ørjan Sletner (Kompressorkanonen), Roland Lifjell and Thomas Fuglesang (DJ Hooker) who have imparted some of their vast knowledge and exquisite taste to me. That has given me a unique opportunity to learn the history, roots and culture of electronic music. I also try to travel abroad as much as possible to get inspiration and listen to new DJs and artists.
You're also one half of K³ with Kompressorkanonen. Where does your musical preferences as DJs intersect and veer from each other in your opinion?
Well, it just so happens that pretty much every piece of music that Komp thinks is good, I too think is good. And I think it goes both ways (I hope!). That gives me an impression of the music being objectively good, which I – as a mathematician – really appreciate (laughs). As K³ we try to mix new (mostly me) with old (mostly Komp) records, in a way that naturally blends. Very fun indeed, check out our cassette mixtape on HMD Records!
Lets get stuck into the Jaeger mix. What were your intentions for this session?
I wanted to share some music that I feel deserves to be heard but that might not be so easy to come across. If at least one person listens and thinks "wow, this sound is great – I have to look into this sound" – then I'm happy.
Did it go as you had hoped and were there any unexpected developments that cropped up in the mix?
The set was pretty much improvised, but I of course spent time selecting the tracks. I should have brought my record brush because the needle skipped on a couple occasions (laughs). Mixing syncopated beats in odd time signatures is challenging and fun, and I hope it turned out OK. Towards the end, the mix takes a different turn which I wanted to follow up, but couldn't because of the time constraint. I prefer long sets!
What were some of your personal highlights in this mix?
I threw in a trippy bastard of a track by Donato Dozzy who plays at Jæger Friday May 3rd. Shout out to him and to Jæger/Filter Musikk for booking him.
What do you hope it relays to the listener in its recorded context?
To me, music can induce emotions that are otherwise hard to experience. One such emotion I call "happy melancholy", another is "solitudinous togetherness". The terms are totally made up and sounds like oxymorons, but if you have experienced it you can probably relate. A lot of my records, and my own tracks, have this quality in some form or another. I play a lot of different stuff, like deep house, electro, techno and jungle, but for this set I wanted to spin some proper deep and hypnotic tracks.
What's next for you after this mix?
I have some projects and collaborations I would like to wrap up and release – so I'm going to spend some time in the studio. May 10th I'm playing at Hærverk with DJ Hooker, which I'm really looking forward to. I hope to see you there!