Coltsfoot and Ivaylo reunite in the booth for this latest edition of the Jaeger mix. Coltsfoot shares a long history with Jaeger as one of the original Retro residents and Ivaylo's Te Dans compatriot. When Te Dans disbanded in 2016, Coltsfoot left Ivaylo to evolve the concept into the Jaeger mix, while he went on to pursue his career as a successful furniture designer.
Although he has cut down on his appearances, Coltsfoot still graces us with his presence in the booth on occasion and has already opened up for Âme and Culoe de Song at Jaegerin 2019. A versatile selector, Coltsfoot can easily go from opening up for the likes of Âme to playing a packed house at Blå for Sunkissed at peak time. He can play to lounging audience on a Saturday afternoon or take us deep into a Friday night through his House-heavy sets.
On his third appearance for the Jaeger mix series he offers yet another side to his extensive versatility at the decks. Going from autumn to summer in this mix Coltsfoot takes us on a journey through the trenches of House music in this toe-tapping House set from the Jaeger original.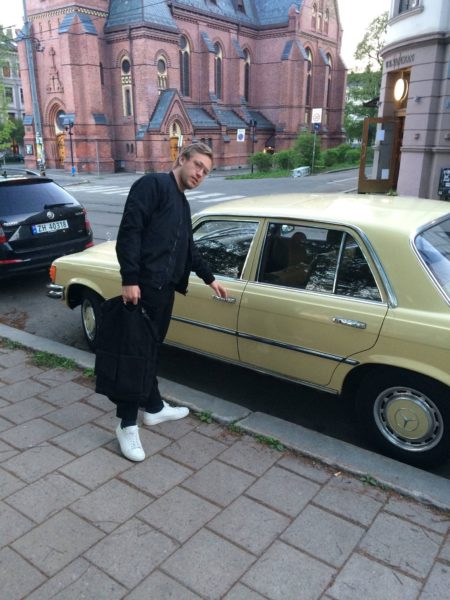 Hello Nico and welcome back to the Jaeger mix, it's been a while. What have been some of your music highlights since the last time?
Thank you!
In the basement at Jaeger with Project Pablo and Cin Cin with Fort Romeau last summer were good and inspiring evenings. Not least Gerd Janson and Prins Thomas' intense and compact DJ set in November. With lots of secret edits and tracks who woke the old trainspotter in me.
There is a moment I have to tell about. It's not often you get a new favorite band, but that happened to me during by:Larm this year. The Danish band Motorique surprised me. I have never heard the same band twice during the by:larm weekend. I saw Motorique on Friday and Saturday. Very talented musicians and they have a fantastic soundscape that I have missed these days. The sound is between Autobahn landscape, smooth tropical drinks and lots of Krautrock references. Individually they have strange features and a cool style, but together they have a clear identity. It's a nice band to dance to during the concerts. Please, get Motorique back to Oslo. Ola! Do you hear me ;)
It seems that you are not playing as much anymore, compared to a few years ago. What's the reason behind that?
I have actually become an entrepreneur. In April 2018 I launched a new Norwegian furniture brand called Objekt together with two other companions. I am originally a product designer and long thought about why no Norwegian producers have launched their own brand. So I simply started up a design brand together with two good colleagues from the furniture industry.
That takes up much of my time, but I still search for new music and look for what will be next, preferably two heads in front. I have actually started playing more evenings again and I have not quite shelved the music just yet. I am still equally concerned with what's happening, nationally and internationally. I have had many gigs in recent months and I'm beginning to play often at Karusell in Strøget. I can tell you all that Karusell is a hidden treasure in Oslo. Karusell is a club I prefer during the day.
By the way! Last week we opened our new showroom at Skøyen. All of you are welcome to see our collections. A little sneak bit of advertising, check out Objekt on Instagram. http://instagram.com/objektstories/
Do you find now that you have distance between your appearances in the booth, that you are approaching your sets any differently?
I never plan a DJ set for an evening, only sort the songs and landscapes I will play that night. For a mix like the Jaeger Mix I only prepare and assemble before Ivaylo pushes rec.
We were talking a while back about your influences as a DJ, and you mentioned a particular experience with John "Jellybean" Benitez. Tell us a bit about how he influenced you as a DJ?
Mr. Benitez came in to my life April 2010 at the Sullivan Room in New Your. I had been a DJ for 10 years and I already had my influences and references. (Yes next year I celebrate 20 years anniversary as DJ.) But that night he blew my mind. The sound was so dark, tribal and deep. He presented a new sound through his  work as an old master on the Urei mixer. In fact, that was the first night I heard songs from Black Coffee. He played Juju and Respect me. That inspired me. There is no Jellybean sound in my DJ set today, but he represents something that was new at that time. Therefore he is a milestone in my music life
How have your tastes evolved since then and what do you look for in music to make it your own in a set today?
The taste of electronic music has been in my life since I was 5 and my dad played Jean Michel Jarre, Kraftwerk, KLF and house music on the soundsystem. Some details in the soundscape have followed me the last 15 years but I am more versatile than people think.
When I was co-resident together with Daniel Gude on the Retro evenings I played the Paradise Garage sound with bit of House classics. The times change and I think it is important to adapt to the time without changing your style completely. I'm inspired by music from Frankfurt to the varying sound from Brooklyn, like music from Scissor and Thread.
Tell us a bit about this Jaeger mix.
Autumn meets summer in this mix. I hope this is a mix people will listen to when they work, walking at night or driving in their car on the highway. I have put together songs I like these days and a soundscape I will bring out to the people.
What were some of your personal musical highlights in this mix?
Superpitcher – In My Head (feat. Fantastic Twins) – Kompakt. This song gives you the feeling of getting into trance. Dream you away.
Jacques Bon – Fractals – Live At Robert Johnson – From my favorite label and I play it often these days.
The Jaeger Mix is the direct descendent from the Te Dans events that you and Ivaylo hosted a few years back. How do you think it's changed, or evolved from Te Dans?
I think Jaeger mix was a good direction to move further from Te Dans. To bring out and present a wide range of DJs from Oslo in an audio format and that's a fine measure. I think it is perfectly correct as a club to have a mixs how like this. All cred to Ivaylo who takes this job so seriously and professionally in curating good djs for this mix series. Te Dans was an easy Saturday spot on Jaeger. Ivaylo and I played soft and slow house music to the people who hung out in the bar on Saturday afternoons. We pitched down every track, sometimes so slow that we suddenly fell asleep. (laughs). I have lots of good memories from that time.
This is your third contribution to the series and the last two times you brought two very different selections. How is this one different again?
It's nice to vary a little on the different mixes. If not, all my mixes would have had the same sound and become boring. My first Jaeger mix, JM 005 was a really dark Autumn mix; maybe one of my best mixes ever.
Anything you'd like to add to sign us off?
Ha en god 17 mai!