Sondre Kveldsvik is something of an honorary Jaeger Mix resident at this stage. His history with Ivaylo's mix series and the preceding Te Dans events go way back, and as a previous resident in the Jaeger offices, he has an instinctive touch when it comes to Jaeger's "sound". With a sonic aesthetic that favours those early proto-house rhythms and pre-trance Ibizian melodies, Sondre always brings a ray of sunshine and unbridled joy to Jaeger's dance floor, both above and below the surface. After playing the basement on his last visit to the Jaeger mix he's back in our backyard with his third appearance in the mix series, and takes his positions as a veteran of the series as one of the first DJs to play it.
Electronic waves lapping against some exotic virtual shore eases us into Kveldsvik's mix as he sets out to find that elusive paradise where electronic sounds indulge both cognitive and corporeal pursuits. Not quite ambient, but focussed on a soothing electronic sound palette, and not quite beat-focussed, but with polyrhythmic percussive arrangements weaving in and out of the tracks, Kveldsvik sets an inimitable Sunday mood on this week's Jaeger Mix. Accentuated with his fondness for arps and old school drum sounds, there's an organic approach underpinning his mix, as synthesisers chirp and hollow synthetic drums flutter off into the horizon.
On his third appearance on the Jaeger Mix, Sondre Kveldsvik reinforces the enigmatic sound that he represents as a DJ, a sound that has found some new popularity of late, harnessing it for the purpose of establishing the dance floor on this Sunday evening. Broken beats and slithering acid lines instil an energetic tempo while effervescent layers of electronic sounds offer a temperate mood that laps up everything in its wake.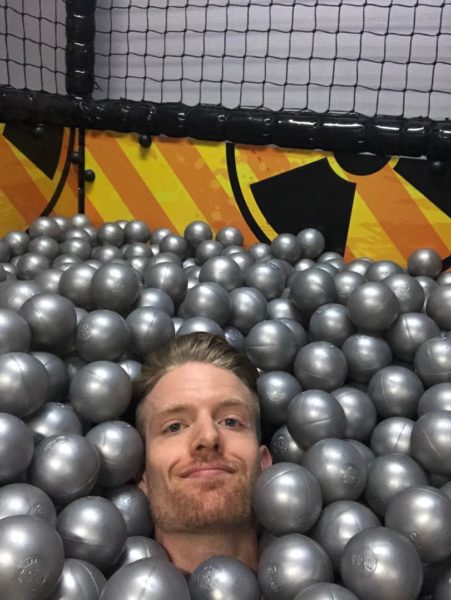 Hello Sondre. It feels like just the other day when your last appearance at the Jaeger mix. Has much happened since the last time you were here?
Loads. Loads of stuff all the time, which is just how I like it!  
For your previous JM, you played the basement, and this time you would've played the backyard. How does context influence your selections on the night?
Some friends came from a morning-going-til-evening-rave and the vibe was just like when you DJ at a afterparty back at someones apartment expect it was in the backyard at Jaeger. And my girlfriend was hanging out and we had some drinks. It was really nice.
What was the idea behind this week's Jaeger mix?
Electronic sounds that might suit hanging out in the summer, like for myself or other friends, or anyone else that might connect to it. For when you want to listen to some electronic sounds and you don't want to like really party hard but not fall asleep either.
This is your third appearance on the mix series. What do you think is the crucial element to making a mix like this work on the night and then later again as a recording?
Not to play stuff that's too pushy, like it's before a club night so you can pretty much play whatever you want but I prefer not to play music that is to pushy early in the evening. I guess it works for some people, but I don't like to take up that kind of space early on. It's like shouting on the middle of the dance floor when it's only three people in the room.
Is there anything you would want to change after listening back to it now?
I try not to get hung up in it to be honest. Maybe the volume could be a bit louder in some places?
What were some of your personal highlights on this mix?
Hanging out with friends at Jaeger who are so dedicated to music and playing whatever you want on a great soundsystem.
We know you like to blend the old with the new, but you still have a distinct sound when it comes to your selections in a mix. What do you look for in a record in the context of Djing?
Well I'm pretty hung up on drums. I don't like really new school sounding drums. Other than that I guess it's just different moods and stories. And also arps. Always arps.
We've noticed that those downtempo early balearic sounds that you seem to like have been having something of a revival of late, with things like Young Marco's Welcome to Paradise and new artists and labels like Studio 89, shining a light on that kind of music again. What kind of effect do you think it's having on the DJ landscape at the moment?
Somehow, even though you were to young to be a part of the whole club or rave scene in the 90s (myself included) everyone knows that, like if you're twenty something now you still know that the sound of the amen break is cool, or rave stabs. M1 Piano or Korg Wavestation sounds or whatever. And also the sense of nostalgia, like take «Lone – Reality testing», all those sounds it feels like you've heard them before (and you probably have) so listening it's like hanging out with someone you've known from back in the day. Because all those sounds were used in a lot of music production in the 90s. So I think people connect to the sounds and also recognizing it as credible or even more important in a way. Maybe they had older siblings that they looked up to that were listening to rave stuff back in the day even. There's a lot of new music that sounds like it really came out in the 90s now. I think it's great, but I'm definitely in the core target audience, so I would say that.
Would you proffer a prediction into what direction it might be heading next, based on your experiences, especially in Oslo?
I really like that more Detroit rooted atmospheric techno and electro is being showcased over at Hærværk. Maybe we'll see even more electro upwards from 135BPM, it seems to be gaining popularity which I really like. Techno is definitely gonna continue to grow, and also European (was it ever anything else) sounding 90s trance is apparently back. Like Project Pablos latest EP. I didn't really get it but then again, not everyone can be into Trance. All in all, more smaller scenes I think. Something for everyone, which is really cool!
Ok Sondre. I think all that's left is to dive into the mix. Until next time…