The Burrell Connection touched down at the Jaeger mix last week for an impromptu visit. The Scottish DJ and producer was in town to perform a live show at Revolver on the Saturday and stayed an extra day to for an early set at the the Jaeger Mix session.
The Burrell Connection is Alexander Hay, a resident at Glasgow club La Cheetah and  a producer with credits under West End Records and Craigie Knowes. It was his Hyper/Orbit record on the latter that caught our attention when we reviewed it for the cut with Filter Musikk, and a few emails later through some serendipitous colluding, we got him over for the Jaeger Mix on a chance visit to Oslo.
Bringing  that distinctive UK sound to our booth on Sunday night, The Burrell Connection laid down a delectable blend of bone-rattling breaks, razor sharp sonic excursions and a hefty sub bass drawl penetrating our late night courtyard, where a crowd had already amassed for a stellar Sunday night on the tiles.
It reflects only a small aspect of Hay's extensive musical purview, and although it's not the kind of sound he'll stick to throughout an all night session at La Cheetah, it channels the sound and attitude that he captures over his records. Expect some brooding ratcheting cuts from the DJ, you also informs us that there are few hidden unreleased exclusives in this mix. Due to time constraints we weren't able to get an exclusive interview with the artist at this time, so here's a re-blog from The Formant.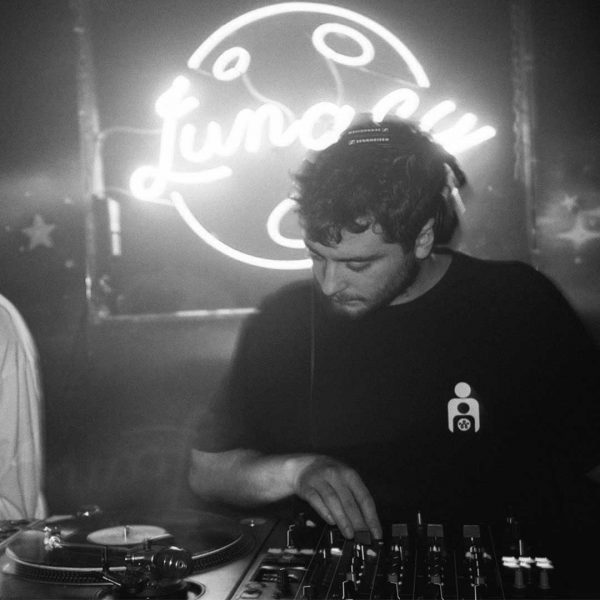 Where are you at the moment and what are you listening to?
I'm currently at work, listening to Global Chillage by The Irresistible Force (a Mixmaster Morris project) that a friend recently recommended. I'm a bit behind and hoping this mix can hone in my concentration, because it's Friday and working on this on the party bus later won't be ideal.
There's an interesting story behind your name. You mentioned it in the Facebook message, but you can just reiterate it here for the sake of the interview?  
Well the name came from a few places I guess… I'm originally from Perth, an hour north of Glasgow, I began to frequent the city to meet up with Esa (Highlife / Dekmantel / Ata Kak) where he showed me some basics on Ableton around the time I was 15. My mum is a massive history geek and she would demand we visit a nearby art museum called 'The Burrell Collection' after most sessions. It's a really beautiful space and the more I read into it I learned that in 1995, the year I was born, people came from all over the UK to protest against its demolition by the Glasgow City Council. I guess the idea of preservation and paying homage to your roots is always something i've tried to convey through music, as bait as that might sound.
No association to the Burrell brothers then?
Sadly not, but I guess you could say they're part of the 'connection'. My mate Asher gave me one of my first records when I moved to Glasgow, a Burrell Brothers alias on Strictly Rhythm which certainly resonated with me. I went through a real 'Nu-Groove' phase when I was 16-17 so the sounds of the Burrell Brothers definitely influenced my early productions.
What was your life like before making music and what lead you on the path as a recording artist, DJ, life performer et al?
I've been making music since I was around 13. I can't really remember much before then, probably where I was when I heard that 9/11 had happened, a few holidays, my first gammy. Life was a lot simpler then. With regards to the path, I guess growing up around and looking up to like minded people, many of which have always encouraged and inspired me to make and play music has been the greatest influence – it's unlikely i'd be doing it if it wasn't for them.
What instrument, musical or otherwise was instrumental in establishing your sound / ideology / creativity as an artist?
I bought a beat-up Juno 6 from a '1 hit wonder' trance producer (who I won't name) back in 2015, it's the very first Juno that Roland ever made – it's quite basic but after some tlc the sound is incredible, you can't save patches or presets and it has no MIDI. Constantly having to switch up and program my own sounds, not getting lazy using presets etc (not that they can't be a good starting point at times) definitely helped me to learn a lot about synthesis, knowledge I've been able to transfer to other pieces of equipment I've acquired after. Ableton is very important to my process for post editing, and let's not forget that a lot of us wouldn't be here if it wasn't for a cracked copy of Fruity Loops once upon a time.
If you weren't doing music what other outlet would've indulged your creativity, do you think?
Despite being shite at it I've always enjoyed drawing, i've also been familiar with photoshop and illustrator since I was younger (probably because my inept drawing abilities drove me to the digital realms, much like my attempts at guitar). Developing my own graphics for use in music projects is something i've been trying to spend more time.
The Craigie Knowes record is the one that got us talking. How did the record come together and on that label?
I've only ever released music via friends, starting off with long time friend from school, Kyle (West End Communications) back in 2015. I've known the CK crew since long before it's inception and was living with Max when he started the label back then, it's always been something we'd talked about happening from the beginning. Max really knows his shit when it comes to getting a record out there and he gave me a lot of scope when it came to the final touches, apart from anything, the music was there and the timing felt right – collaborating with mates on this stuff is a dunt and i'm lucky to be around some that are pouring their all into running excellent labels.
How was that record different from the previous records you made from your point of view?
I guess it's evolved with my sound as i've gotten older and began 'digging deeper', the last few records were predominately '128 house' if you were to pigeon-hole them in any way. Now I play anywhere from 100 -170 when the vibe allows it so I think the music I'm writing now better reflects the broader spectrum of music i'm consuming and playing out. I wanted to put something together with a great deal of variety – not to try and please everyone but to exemplify the diversity that i'm (trying) to convey in my sets. Some of my favourite records are records that I bought years back and recently rediscovered their B side's which are of a totally different tip and I now love more than than the track I originally bought it for – hopefully someone will say this about that record one day.
That UK legacy is very prominent in your music, with breakbeats and that heavy bass anchoring your tracks, especially on this last record. Is that an active pursuit on your part do you think or am I merely projecting because I know you're from Scotland?
I wouldn't say that the bass heavy / breakbeat sound is synonymous with Glasgow, in fact i'm sure there would've been points in time where if you tried to play anything like that you'd be kicked off, and possibly glassed. To me Glasgow has always had closer ties with the sounds of Chicago and Detroit, and those influences still resonate strongest with me.
Where do you play, listen to music around Glasgow?
La Cheetah Club is (in my perhaps slightly biased view) the best venue in the city right now and then the Lunar Module for the after hours, as everything shuts at 3am due to licensing laws the after party spots are really important. Digging wise Rubadub, Palais de Danse and Mixed Up are all great spots for buying and finding records.
You told me you play live and you DJ. Which came first and what different functions do they fill for you as an artist?
I played live for the first time in 2018, almost ever since I began writing music it's been something I wanted to do. The setup consisted of an Analog Rytm, a 303, TR8 and some effects pedals. The setup meant that I couldn't make any drastic tempo changes in the same way as a DJ, I guess you could say the restrictions presented a lot of new challenges as I had to be able to adapt something quite rigid to suit different spaces, but I also think working within these restrictions helped the initial process in some ways.
Fortunately, all of the promoters delivered a vibe that worked just right, following in the footsteps of Aphex Twin and Carl Craig to play for the legendary Pussypower mob in celebration of their 27th birthday was a real highlight of the live show 'tour' and one of the most exciting shows I've played to date – it was held in the attic of sleepy tapas bar on the outskirts of Partick (West Glasgow), it went on right through 'til 10 or 11am with brothers Terry and Jason educating everyone with their 30+ years of dance music knowledge before and after the set. You can find a recording from the La Cheetah show online.
Where to next for The Burrell Connection?
Release wise I've been working on two new projects, Alfie and Dream_E (the first EP on my Solid State imprint) both of which will see light in 2019 and hold a very different aesthetic to The Burrell Connection stuff. These two are pretty much tied up and I've recently began working on another TBC 12" and a brand new live show. I've taken up residencies on Noods Radio and La Cheetah Club, as well as kicking off a new party at Edinburgh's Paradise Palms with Solid State collaborator Parts Unknown and Lezure / Pace Yourself cohort Calum Sloan. Bristol, Berlin and Brighton are all lined up in the coming months, along with some brand new and also more familiar local spots too.