Kristina Dunn aka DELLA was the first Jaeger Mix guest ever to grace the Sunday night mix series. She's been an inimitable force at Jaeger, spurring the roots of House music in Norway through her American links and her  DELLA's Drivhus residency. Formerly of the duo, No Dial Tone, Kristina Dunn has carved out a solo career as DELLA since disbanding with productions and DJ sets that delve into the deeper aspects of House music and has spawned collaborations with the likes of Lil' Mark and Homero Espinosa.
From the studio to the booth, DELLA has maintained that original spirit that first took her from the floor as a dancer and installed her in a booth as a DJ. It's all about the dance for the DJ and it's something she continually perpetuates at her residency through her sets and the calibre of guests she invites to the booth, guests like Honey Dijon, Tommy Bones and Homero Espinosa.
Once again she channels this spirit through a pair of decks and a mixer as she makes her third appearance on the mix series. A sultry mix of deep grooves and warm keys ensues. DELLA plies her craft in her distinct way for a set that travels through the four-four depths of House music to the jacking beats of Chicago, perfectly suited to take us from the early part of the evening to making those first steps towards the dance floor. Now we're dancing with DELLA.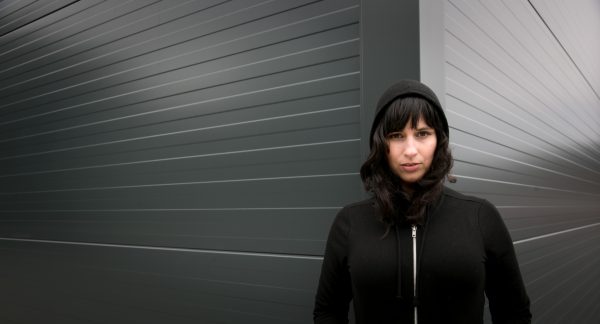 Hey Kristina. If you think about, you'll always be our longest serving Jaeger mix guest since you did the very first. A lot has happened since then, what have been some of your musical highlights? 
Hi Ivaylo, yes a lot has happened since then, and if I had to choose the highlights over the past several years it would be, regularly touring the US, launching Della's Drivhus, playing alongside Honey Dijon, and working in the Moulton studio in Oakland, CA. 
Your Drivhus nights have been going strong since about the same time. What's the secret to those nights and their success? 
There is no secret, it's purely about House music. Dance music! People are happy when they dance. I am happy when I dance. Meaning we all are happy when we are at Della's Drivhus. Isn't that we all want, to be happy? So, here's to more dancing and more happiness. 
Tommy Bones, Honey Dijon, Homero Espinosa, these are just a few of the guests off the top of my head that have featured on the night. What do you look for in the DJs that join you on those nights? 
It's pretty easy on who I invite as guests, I invite my House family. That's how you roll in House music, we take care of our kind and share the love. 
Any favourites? 
All my DDs are my favourite, but Honey Dijon, the best DJ I have ever had the pleasure of hearing. From selection to technical skills, Honey SLAYS. That was a magical night indeed!
That American connection in your roots is always prevalent in the bookings there. What do you think is the essence of those US roots in terms of music today? 
Thanks to the struggle of the American people, we have electronic dance music. A somewhat sad, yet true, reality of how electronic dance music formed, especially House. But, dance music is a global force, it's not American or German or English, it is all intertwined. It those American founders, who were looking for that ultimate escape, were not taking their musical interests sourcing sounds from overseas, being influenced by artists such as Kraftwerk or Giorgio Moroder, we would not have any of the music we have today. The true founder of House music is American though, Chicago baby: Frankie Knuckles. The Godfather. 
Not only is House music a sound, it is a culture, a movement. It is the ultimate form of freedom of expression through dance, and this is what I try to bring to Jæger at my Della's Drivhus nights, release. 
Have you ever felt that your tastes and approach to music has changed since moving to Europe? 
I don't know honestly. Being music is a global movement, I don't think your musical interests are defined to where you live. 
You also play in the states often, do you feel that you have to adapt your sets for audiences from the opposite sides of the Atlantic, and where do you prefer playing today? 
Yes, sometimes I do feel I need to adapt my sets for my audiences, especially in Europe. I honestly prefer playing the US. The purity of the House movement is very alive there. The promoters and artists I work with are incredibly dedicated to House music. The nights they throw are magical with packed dance floors and peeps rejoicing in the vibrations. It's what Americans do, they dance, and they are not afraid to. It's just an entirely different vibe. Maybe it's also my preference because it's familiar, it is the community I grew up in. 
Lets jump into the Jaeger mix. Can you give us an introduction to the mix? 
The mix is a small journey I put together. Deep House in all forms. It also includes an unreleased remix of my track 'Burning Hot' and my new heat 'Lose Yourself From Reality' coming out in Aug. on Moulton Music. 
It's a mix recorded live during what is essentially the early part of a club night for people that will most likely be hearing it on a set of headphones or at home. What's the trick to making it work for both contexts? 
I prefer to start my mixes out for the listener, but they usually always end for the dancer. So, it's really up to listener on how they would like to participate. 
What were some of your personal highlights in this mix? 
I included work from my friends and House fam and this was a highlight for me. Hearing their work, their dedication, and knowing they are thriving in their craft makes me happy. 
Beyond the mix, what else is happening in the world of DELLA in the near future that you can share with us? 
Yes, I would love to! I guess it's time to let the cat out of the bag. I am very excited about my next release coming out in Aug. on Moulton Music. It is a collaboration with the most influential DJ of my career, Mark Farina. I am beyond humbled that this song is soon going to be heard on dance floors. This collaboration between myself, Mark, and Homero Espinosa has come entirely full circle for me in my dance music career. A literal dream that came true. It's pretty rad and has inspired me to keep working in the studio. So, there is definitely still more to come. ;) 
I also heard a rumour that there's a Mr. F… on the cards for DELLAs Drivhus soon. Can you spill the beans on that yet? 
Hm, not sure. I do not have any future guests booked at this time for Della's Drivhus. ;)  My next Della's Drivhus is July 8, with me on the decks the entire night. It'll be House, proper. So come get down and #dancewithdella.