Anything can happen when we invite Robomatic for a Jaeger mix. The electro-android alter ego of Robin Crafoord (one half of Trulz & Robin) is the first and only stop in Oslo for all things electro. The last time he joined us on the Jaeger mix, he brought a selection of choice electro cuts, emphasising their imperfections and riding on that distinctive electro groove for the whole hour. Even when one of the records started skipping it added a unique charm to that mix. 
It's one of those mixes hat we look back on fondly throughout the series, but Robomatic is never one to merely repeat himself and when we asked him back to the Jaeger mix, he completely flipped the tables on us, arriving in the DJ booth with a pandora's box of synthetic noise machines under his arm and for the first time ever we captured a fully improvised live set for this edition of the Jaeger mix. 
Built on a foundation of jack-rabbit Electro beats, Robomatic coaxes alien soundscapes on inter-dimensional trajectories from his jumble of wires and flashing lights. Between improvisation and set themes, Rombomatic strings together set of transient tracks that float from one into the next like a DJ set, without setting specific markers between these pieces. It hardly loiters on a theme, expounding on that submissive energy of Electro in the live context, with what could easily make alluring future Robomatic tracks in their own right.
Robin Crafoord has for a long time been at the centre of experimental, live electronic performances and modular synthesisers through his SYNC project, but it's been a long time since we've heard the artist and DJ on a solo live performance and it's a first for the Jaeger mix series, which make 150 a very special number in the series,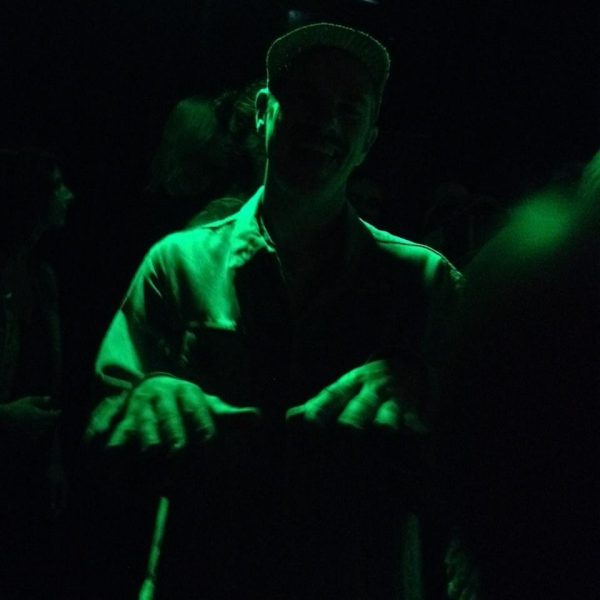 You're the first one to do a live performance for the Jaeger Mix series. Can you give us an introduction to the set?
I start with a loop on the sampler and try to build a groove around that. Every time I change the loop on the sampler I start a new "track". And on it goes..
It's all modular too, I believe. Tell us about the endless fascination with the modular synthesiser for you?
I wanted to have the tools to be able to jam and improvise with other musicians and the modular is an instrument I can grow with more than any other electronic device I tried so far. It's much easier for me to improvise and follow what I hear.
It really encourages the live performance aspects of electronic music. Why do you think that is? 
From the audience's perspective it looks awesome and it flashes and has a hundred wires connected to it, so you can actually see that something is going on, compared to a laptop. 
And for the artist it's a very unstable and delicate instrument so you really have to be on your toes all the time and there is a lot of small interesting mistakes that can spice up the jam. 
What were some of the modules you used during this set?
Effect/sample section:
Make noise Morphogen
WMD MSCL
WMD Overseer
Mutable Clouds
Drum section:
Antimatter Launch Codes
Mutable Marbles
Noise engineering Basimilus Iteritas Alter
Dave smith DSM 03
Miscigan Synth Works SY05
Mutable Peaks
WMD Fracture
RYO Optodist
Synth voice:
Turing Machine Mk II
Pittsburgh modular Lifeforms Primary Oscillator
DVCA Antumbra
ADSR Synthrotek
D-ENV Vintage Synth Lab
VCF-74 MK2 Vintage Synth Lab
Dark Matter Bastl Instruments
What did you have planned for this set and how did you have to improvise it? 
I'm playing some live sets this autumn with Espen T Hangård and CARSTEN ANIKSDAL so I wanted to practise as much as possible live, and not in the studio or at home. I need to do it live to push myself to try out stuff and not to be afraid of making weird shit that can be boring for a few minutes before I find my groove again.   
Were there any songs from the Robomatic back-catalogue making an appearance? 
No 
Compared to a DJ set, how are you able to adapt it to the context, the audience and the dance floor? 
Just as good or even better, it's really in your fingertips when you get to know your modules but you need to practice. It's an instrument and you can basically play a weird version of anything on it . 
There's some connection here to what you do with your SYNC events and SYNC marketplace. Tell us a bit more about that concept. 
It's all connected or SYNCed. I started the SYNC project to be able to practise and play with other musicians and this is why I started exploring modular synths to be able to improvise better at a SYNC session. SYNC marked is a used modular/vinyl/musical instruments market or meet. We encourage you to bring your electronic music making equipment, modular synths, synths, or soldering iron.
We want to make this an educational hub and a market so you can get to know and share experiences in the modular world as we don't have any shop here in Oslo specializing in modulars synths at the moment.
I know you often record these sets to use parts of it later in some future track. Will anything from this session, perhaps make it into a future Robomatic track? 
I don't know. And I haven't been as good as I used to be recording the jams. I should .. but I told Ivaylo that he could use whatever he wants from the recording so maybe there will be a IVO&ROBO record ? 
And what else is on the horizon for all your various projects that you'd like to share?
Please come and check out SYNC marked and Elektro Romantik at godthåb. And keep an eye out for new music from Trulz & Robin ft Baseman on the old/new Snick Snck Label together with Ost&Kjex
Thanks for having me, Robo.