A dub echo floats off into the distance where a gamelan and bouzouki wait to coax out exotic melodies through a sonic whirlpool of polyrhythmic percussion and muggy textures. It's a mix that could go anywhere from that moment, but which Derdowski and Local Pete channel into the deeper sounds of Tech and House for their debut on the Jaeger Mix.
Derdowski & Local Pete are two Oslo DJs that found each other through some serendipitous fate. Although they've been DJing solo respectively, as Derdowski & Local Pete they've found a sympathetic groove between eclectic tracks.
The mix laces angelic melodies through beat arrangements that makes deep impressions on sub frequencies. Big, bulging bass-lines trample 4-4 kick drums underfoot as they lay a foundation for wispy harmonies and melodies. The mix floats through elements of Trance, House and Disco through its duration, with a distinct groove through the tracks underpinning the mix.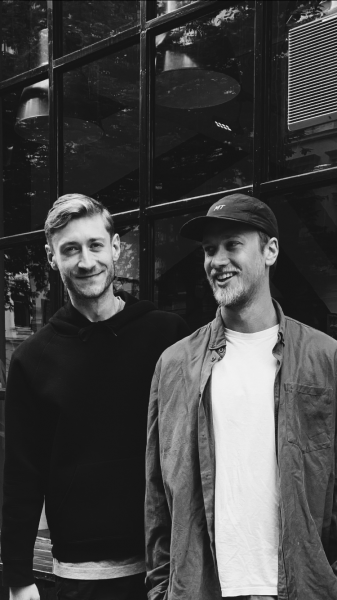 Give us an introduction to your Jæger mix.
After a late evening mixing at Emile´s place we realized that our different styles blended really well. It became a dramaturgic composition of minimal rhythms laying the ground towards the more melodic peaks. 
What is your earliest memory of a piece of music?
P: Kicking back on the couch with some choco frokost watching VH1 or MTV, listening to Bittersweet Symphony by The Verve, or some quality boy band gems. 
E: Gangsters Paradise in a Fiat Uno on the way to see my little sister for the first time. 
What encouraged you towards a career in music?
P: Get the feeling of being a musician on stage, but instead of playing an instrument or composing my own songs, I find the best music I like and mix them together. 
E: Discovering the universe of electronic music together with my best friends. 
What do you consider your role as DJ should be?
Lead the audience on a trip of different styles and energy. 
How have your musical tastes and sets evolved since you started?
E: More patience and dynamic, every discovery leads to a new one. 
P: When I started to mix, I played Space Disco, Funky House and Balearic. The taste evolved and included more deeper and faster tones in the genres of Deep House, Drum&Bass and breakbeat. But I always look for that dreamy Balearic synth in everything.
Are there any favourite tracks in this mix?
E: Valentino Kanzyani – Sleeping is a fictius need
P: Kousto – Seagull Chant
What do you hope your Æmix relays to the listener?
We rarely play b2b together, so we hope it relays one hour of good storytelling. 
What's next for you after this mix?
P: I'm working towards a couple of art shows that I'm doing this fall, so going to be quite busy with those. Will try to Dj at all of them. The one is the Hells Angels party in September, this is the 3th year we are hosting our "Undergrunnsutstillingen" there, and it so much fun to Dj, talk art and hang out with so many different people from all over Oslo and etc.. it's all kind of people there. In October I'm going to play in Istanbul with Aleksandir (TUR), so I'm super excited for that one.
E: Plan for the second evening of our new club concept called Virituelt, where an animator displays art on the walls accompanied by electronic music.