diskJokke (Joachim Dyrdahl) has been on something of a hiatus since his last single in 2012, and besides the odd DJ gig his absence was noted on the Oslo and Norwegian House scene. In his second appearance for the Jaeger mix, he's hinting at coming back to the DJ circuit more frequently with a recorded mix that is "more experimental" than his last appearance for the mix series. 
Playing to the recording while feeding off the early Sunday evening audience, diskJokke enters the mix with a sense of trepidation, picking up the pace throughout, going through all the hues of the electronic music rainbow, with a couple of easter eggs waiting for the listener towards the end. Elements of Disco and House music converge on the cosmic edges of the dance floor, with diskJokke's impeccable DJ skills tying these tracks together in a distinct sound that underpins all these tracks. 
It's still a varied mix with loads of dynamic twists and turns going from bubbly energetic tracks, to ponderous misanthropic moments with the mix catering to various different aspects of the dancefloor as it progresses through the hour. While it appears that diskJokke is committing to DJing again, it leaves some unanswered questions about the future of his own music, questions we get to ask on the following Q&A: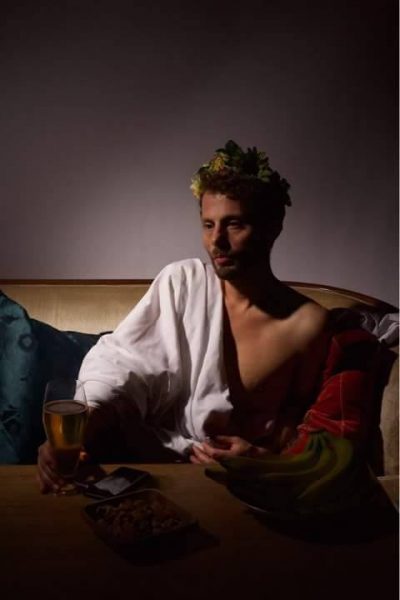 The last time you played the Jaeger mix, you kept it fairly deep. How is this mix different?
Still deep, but this mix is a bit more experimental. It's definitely less punchy than my usual sets. It's nice to be able to dwell in that landscape for a while. At the end I included some older tracks that I almost always play at peak time, but have never recorded. Glad to have done that!
What has been inspiring you in terms of music for Djing recently?
In 2019 I have really enjoyed djing again, playing a lot of techno but also producers with more flashy colors like John Tejada, Rex The Dog, and such. And of course there is always disco, never stops making my life bright.
You've been on something of a hiatus when it comes to making music. What is the reason behind that?
Basically no inspiration, maybe due to a shift in focus. Now I am happy to be spending more time with friends and family. 
Do you see yourself coming back to the studio in the near future?
Not really. I have a studio at home, but never seem to find the time or energy to sit down. 
When you approach a mix like this for the purpose of a recording, how is it different from  what you do normally in the context of a dance floor? 
In the old days I really enjoyed making a mix, spending weeks on putting the tracks together. Nowadays I find it quite frustrating as I am a kind of DJ that has learned to feed off the energy in the space in front of me, I rely on it for inspiration. When recording, I think the mixing is less edgy and more safe, and I enjoy it less. 
Anything else you'd like to share until the next time?
Vote green!