DJ Dust is an important touchstone in the history of DJ culture in Norway. Often in interviews with other legendary figures on the scene, his name will come up as an influential figure for his unique contributions in the booth. From his eclectic selections to a career working behind the scenes, facilitating a new generation of DJ and musician, DJ Dust is a still a prominent and unique figure in Oslo's DJ booths.
He makes his debut on the Jaeger mix, with an exclusive vinyl mix that sustains his distinguishable musical tastes. Built on a foundation of Soul and Funk channeled through a largely '80s electronic palette, DJ Dust dug through some of the more obscure corners of the decade for a truly unique take on the Jaeger Mix concept. From classics like Juicy Fruit, to the offbeat sounds of '80s disco oddities, this set contains a lot of records that appear in the digital realm for the first time.
Setting an off-beat tone for an early Sunday evening, DJ Dust's set traversed the margins of eighties pop music, with synthesisers and drum machines in the hands of the avant garde of  that generation. It's a set comprised of music that still sounds unique today, with only the faint pop and crackle of the vinyl format hinting at the age of these records.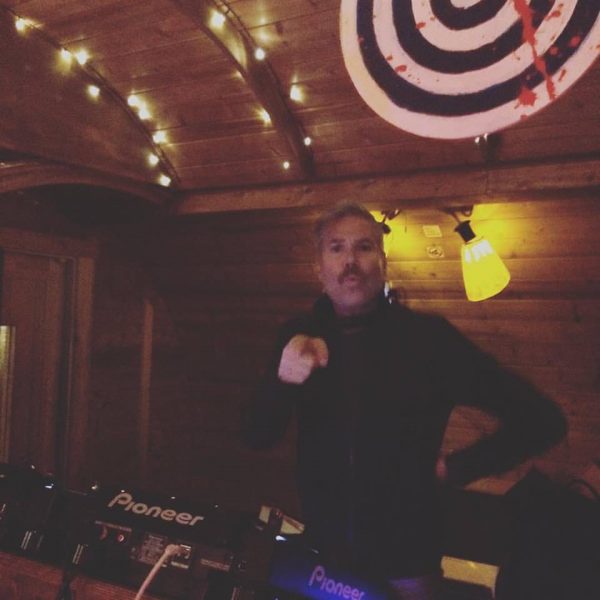 Welcome to the Jaeger mix DJ Dust. What do you have in store for us today?
Thank you so much, it's great to be here. Lets see what we got…
It's a recorded mix, but you're playing in front of a live audience. How did this influence you when you were packing your record bag?
To be honest, I actually didn't pack my bags with an audience in mind. This mix is mostly a reflection and a collection of artists and songs that I did listen to as a teenager in my room back in the south of Norway in the middle of the '80s. It's quite eclectic but with a focus on electronic soul and some left field disco provided by a favourite of mine, Mr. Ian Dury, there is also a reggae track in there and also some afro-vibes provided by King Sunny Ade. This mix or selection is done with vinyl only so please bear with me as it might be a little wobbly at times. I don't do vinyl-set too often these days. 
What do you hope the crowd and listeners at home get out of it?
Well, as all of the tracks is from the '80s I like to think of it as a little time travel. It's also very modern sounding, even today the sound it's quite cutting edge. I mean just listen to The Scritti Politti-track "Hypnotize" and "Juicy Fruit" By Mtume. I mean, wow!
I think it's fair to say that you're veteran in the booth in Norway today. How did you originally get into DJing?
That's almost and understatement, Haha. I did have my first gig in 1980 when I was 14. My god all that crazy music I played. I drove the crowd (my fellow classmates) mad and not in a good way with a schizophrenic selection of Jahn Teigen, Yellow Magic Orchestra, Ottawan and Level 42.
How have you experienced the DJing landscape change over the years and how have you had to evolve with the scene?
I have always done my own thing which is playing mostly funk, soul and disco and that's what I still do. Nowadays `everybody` is a DJ because the equipment is cheap and easy to use. I have no problem with that because the ones who really have something to bring will be the ones that will carry on playing great music. I don't do vinyl as much any longer. Even though I love vinyl it can be a pain in the ass with feedback etc. And of course the weight. Phu, I don't miss carrying 20-30 kilos of vinyl around.
With Djing you have to kind of stay relevant and up to date. How do you find that balance in  your sets between doing your thing and making sure you keep it new and exciting for yourself?
I still keep a close look at new acts and interesting edits. And I still buy a lot of vinyl for home use or for special vinyl-sets. My day-job is as a Music Supervisor so I keep a close look on what is new and interesting in all genres of music, but I must admit that my heart still beats faster when it comes to soul, funk and disco.
Was there ever a moment where you felt like you wanted to stop?
Hehe, hell yeah! Lots of times. But it's when you get out there and start playing and you see people really enjoy the music and dance their ass off to it makes it all worthwhile. I believe I will stick around for a couple of more years.
Where do you find music and inspiration for your sets today?
I don't go out that much any longer, but I find music online and as a collector I visit a lot of vendors online, also I can get lost on Discogs for hours. When it comes to mixes I find a lot of great mixes on Soundcloud and Mixcloud
Whenever I interview Norwegian artists and DJs, DJ Dust is always some kind of touchstone as an influence. Why do you think that era that you arrived through was such a fertile time for Norwegian DJs? 
Thats nice to hear. When I first moved to Oslo in 1990 I brought my love for soul, funk and disco into my set here and not many DJs did that in Oslo at the time. I also played hard uncompromising funk on national radio (NRK/P3) for about 5 years (1997-2002) and that I know inspired quite a few DJs and musicians.
You've also worked within the industry. How far has that ever influenced what you do in the booth if at all?
I worked as a Product Manager in Virgin Records for 10 years and 5,5 years as Head of Music at MTV Norway. Virgin Records was a great label, and I did use a lot of the releases in my sets in the 90s.
I believe you have had a hand in production in the past, but for the most part you've always been a DJ first and foremost. Was that always a conscious decision on your part?
Yes, I have been a musician (I played drums) and some production, but foremost I am a DJ. 
Do you think there will ever come a time when you stop DJing?
When my hearing is gone or maybe I'll just carry on as the DJ in the movie "It's all Gone Pete Tong"  with my bare feet on the subs.