A:G is no stranger to the Jaeger Mix concept, approaching each new edition with an altered view from his extensive record collection. While the last mix thrived in the gleaning metallic sounds of electro and Tech, this latest mix looks to the jangly rhythms of breakbeat and the melodic flourishes of Jazz.
It's possibly the most extensive view we've had from A:G's record collection in this series, as skipping beats give way to quarter-measure kicks and organic soundscapes dissolve into ephemeral electronic ambiences, coaxed from squirming bleeps and delicate pads. A:G covers all the corners of the dance floor, in a mix that sets an inviting tone as we take those first tentative steps towards the dance floor.
In the following Q&A we try to uncover his recipe for the Jaeger mix sets, Blossy, and some upcoming new releases from the man of the hour, one of which we learn is hiding somewhere in this mix. 
Hello Asgeir, This is your third time on the Jaeger mix. What in your opinion usually works on this kind of mix?
Hi there, and thanks for having me back! I've never really had a set recipe for these mixes, but in short I just try to express myself honestly with tracks I love, reflecting the inspiration of late.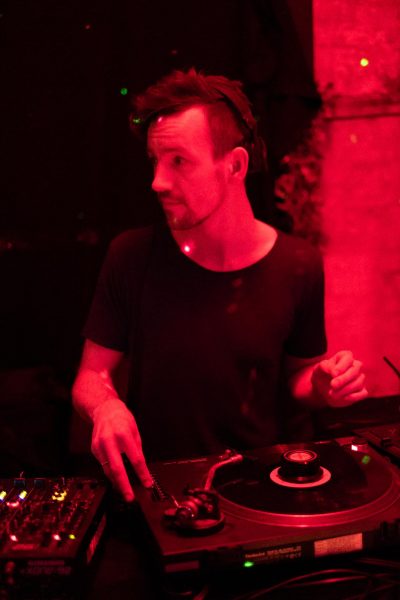 You made a decision a while back to return to playing exclusively on vinyl. What influenced your decision and what keeps going back to the format?
I've always loved playing, and I've always enjoyed playing records the most. There's something about flicking through the records in the bag playing record after record for hours on end that I really love. It becomes an autotelic experience of sorts, where flow and muscle memory gives room for me to really get into the groove of the music. I do play an odd edit or some fresh studio output via USB from time to time, but I'm also irrational enough to order dubplates with unreleased tracks of mine to put in the bag. This also helps me stop making new versions of the same tracks in the studio, and move on to new projects.
Also, depending on the different mixer setups one can encounter, there can sometimes be big tonal differences between vinyl and digital, making the transition between tracks feel less smooth for the listener if one goes back and forth between the formats in the same set.
Tell us about this latest edition of the Jaeger mix?
After an intense summer with quite a few great gigs, the top highlight being b2b with Thorgerdur Johanna at our own wedding rave at Hoppetosse, there are obviously quite a few moments of  sweaty dancefloor action that might have inspired this mix. But also since this is the first summer season in several years I haven't had any long outdoor sets at Sunkissed, the craving for playing some more organic breakbeats and nu jazz influences also played a role in the selection, I guess. 
How is it different from the last two?
The styles visited differ slightly, and it might be audible that it's done with a different mindset from the earlier ones. I rarely repeat myself or try to recreate something done before, but I'm not trying to distance myself from earlier stuff either. Just giving a glimpse into some of the tracks I'm feeling at the moment.
How do you find that balance between playing for an audience and a recorded mix with the knowledge that most people will be listening to it on a set of headphones or at home?
I approach the two slightly different, as with an audience the visual feedback from the room intertwines with my feeling for the next tracks to pick, whereas when I record something for a podcast, I tend to turn more inwards for the selections and timing. But when recording in a club with a good sound system, it helps me connect to the physical feeling of the tracks and transitions quite nicely, which in turn hopefully translates well to the listener.
How does the Jaeger mix set then differ from the type of set that would play in a club?
I rarely keep to one style throughout my sets, but perhaps there's a wider style range in a shorter period of time than when I play with a dance floor in mind.
Also, I tend to include tracks usually left out of the typical high energy club set. And vice versa, some builders that can be perfect in the club might be left out of the podcast format.
In the past we've never really had a chance to talk about Blossy. Can you tell us a bit more about the concept and some of the ideologies behind it?
Blossy is the concept by Thorgerdur Johanna and me, where the idea was basically a platform to express ourselves. To release our own music is an important part, but we also wanted to have a podcast series with mixes from talented friends from around the world. We also try to bring some of our connections and inspiration to Oslo in the form of club nights, where we've so far had Z@p and Laurine play great sets for us. We are just trying to let this concept evolve naturally among all our other activities.
So far there's been one EP out under the Blossy label. What's in the pipeline for the label in the near future?
Yes, and luckily it's still being discovered by new listeners, where quite a few DJs we highly respect have played it, even recently. As for the pipeline, there are several tracks cooking in the studio, but we are not rushing anything.
And besides the Blossy and the Nose EP which came out on Det Gode Selskab last year, when will we get a chance to hear some new music from you?
In this Jaeger mix, actually! Release wise, the first EP in the pipeline will come on a UK label I really love, EYA Records, and also some more output is filling up for release next year on various outlets. These are tracks from different parts of my life, and the first upcoming release has a connection to a personal journey behind it. I really hope it's well received :)
What else is happening  in the world of A:G that you're eager to share?
As it's been a subject from earlier interviews, and it's a question I get quite often when I meet people in clubs nowadays: "How are your ears?" – I just feel that for the sake of others that might be struggling with tinnitus and/or hyperacusis, I want to tell them to give it time, and don't give up. In my experience, habituation has made it a lot easier to live with, and it's been possible to enjoy music at home and in clubs a lot more as time progresses. Be very careful with headphone volume and use earplugs to protect against loud sounds, so you can enjoy more music without hurting your ears, and subsequently your mind.
The entire experience with retraining my brain's limbic system to enjoy music again has given me a new way of listening to all sounds, giving me a different flow in the studio too. It feels good to be able to see positive results from difficult experiences, and for me music is the best therapy there is. I'm just really happy I'm able to enjoy music, and I feel lucky to be able to share this passion with others.