Mandagsklubben is the longest serving residency at Jaeger. It started life at Fisk & Vilt over ten years ago and in the years it's been active it's become an institution in the city. At the centre of Mandagsklubben is Brokesteady, a DJ crew made up of Davidow, Jeff Niels and André Bravo; three DJs whose individual tastes coalesce over a broad spectrum of music made for the dance floor.   
Mandagsklubben is only one aspect of André Bravo's extensive and versatile output as a DJ, which sees him play three to four times a week in and around Oslo, where his sets can go anywhere from the marauding beats Techno to the soulful exaltations of modern R&B. A DJ with an extensive background in music and DJing which extends from scratching to appeasing various dance floors across the capital, André Bravo is flexible in any situation and you never know which direction he might take you into next.
And that was the case when he showed up at the Jaeger Mix for the first time last Sunday. So what would it be on this occasion…Hip Hop, Deep House, Minimal Tech? It was none of the above and quite a surprise when Bravo showed up with a collection of liquid Drum N Bass on his thumb drive.
Sparkling hi-hats, rumbling kick-snare combinations are pieced together into ferocious breakbeats that are smoothed over with soft pads and subtle melodic treatment. A vocal is never too far away in Bravo's mix as soulful vocals croon over the ecstatic beat arrangements. André Bravo steadily ramps up the energy in his mix, breaking only  briefly with a filtered bass growl, before subsiding again into the languid waters of liquid Drum n Bass.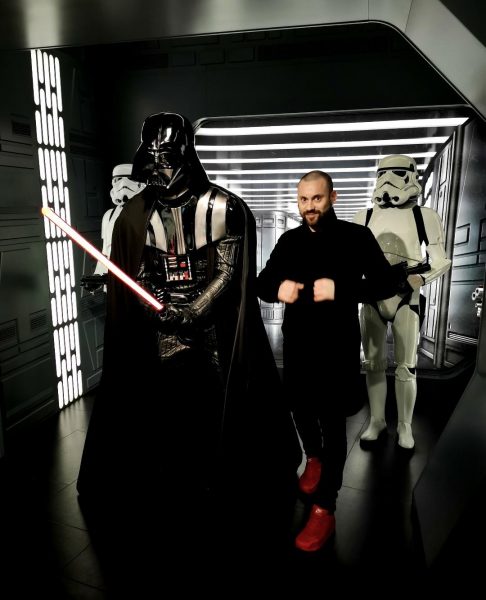 Hey André, welcome to the Jaeger Mix. What do you have in store for your mix?
Hi thanks, I want to play a liquid Drum & Bass set, a music style that I usually never get to play at clubs but I have a big love and respect for.
Mandagsklubben is the longest serving residency at Jaeger. What is the secret to longevity?
I know it's quite insane to think that we've had a weekly club night for over 10 years. Can't really say if there is any secret but I know that doing it together with Brokesteady and having regular guests has had a huge impact and motivation to keep going.
The concept's first iteration was at Fisk & Vilt and the music was quite different from what it is today. How has the concept evolved?
Yes the first two years were at  Fisk & Vilt and at that time we played all types of club music on the Mondays everything from Baltimore Club to 90s Hits to one-off nights with just one style of music.
After we moved to Jaeger it became more and more a House, Disco & Techno event, even though we still at times have one-off nights. It just happened naturally because of the place and the people. Now it has become an institution in its own right.
It's just a part of the nightlife of Oslo now, it's not ours anymore. It is a great feeling and experience to be a part of.
What is the integral philosophy around the concept that has remained unchanged?
Having a great time with friends and not to take anything too seriously.
You are a DJ that plays like 4 gigs a week around Oslo. How do you keep it interesting for yourself?
Yes I do usually have about 18-22 gigs a month,  the thing that keeps me going is all the different styles of music I love and can play, like for instance  one gig I will play a lounge set of lofi house and disco edits, another night the same week I will play a Twerk, Hiphop & R&B set, then a hardcore Techno set and so forth every week. So it never really gets boring, all this diversity makes it fresh almost every time.
That must mean you have to go through a ton of music on a weekly basis to accommodate all these gigs. What do you look for in music and where do you find it today? 
Yes I do use most of my time to listen to new music in every genre. The way I usually look at music is as tools for djing. So every time I hear something I ask myself if I could use that track or skit etc, in a certain way for me to work in any of my sets.
I find music through different record pools, vinyl shops and the regular places as Beatport, iTunes, Juno, soundcloud etc as well.
I imagine you play quite a wide range of music between these gigs, but what sound do you feel represents André Bravo today in the context of the club?
Yes, like I said earlier I play a wide range of music but the common theme is club related music, so I think that  in itself represents me, the style I play varies to what place / club / event I am playing.
How do you relay it here on the Jaeger Mix?
In this mix I really just wanted to show my appreciation for one of my favourite genres that doesn't get the deserved play in clubs as I would like. I'm in love with liquid D&B so it was an easy choice.
Besides all the club style DJing you're also a skilled scratch DJ and there was a video that cropped up about it on social media recently. Does that mean the Kanye Hest alias will be getting a bit more play time in the near future?
Yes the video was a short documentary about us in Oslo Flow made by the company BoomCity.
It was always my impression that to be a good DJ you have to be able to scratch which obviously isn't the case but it stuck with me and I just love the sound of it so much. Oslo Flow has been doing shows outside of Norway for quite some time, just this year there was a Tour in the west coast of the USA with shows in Los Angeles, San Francisco, Sacramento and at the NAMM show also at the annual Scratch community BBQ in Brighton, England and the Scratch Games in Galway, Ireland. I don't know anything about Hest / Android doing any shows in Oslo though we will see. Hopefully if I have time.
Where does Kanye Hest and André Bravo crossover?
Android / Kanye Hest / Andre Bravo is basically all the same,  a scratch dj whose job is to play what he loves the most… "club music" .
And what else is happening in the world of André Bravo that we need to know about?
Check out my producer alias Culo for some Jersey club action, look out for some new techno tunes hopefully very soon!!
Check out  the BoomCity Video and my crew Oslo Flow!
All the best to my second home Jaeger! Olanskii and the whole family there!! <3
Check out these sites for some music!
https://soundcloud.com/andre_bravo
https://soundcloud.com/culoculoculo
https://soundcloud.com/androidosloflow
https://soundcloud.com/djandrebravo