Espen Haa is DJ royalty in Oslo. Regent to the Prins he's the brother of Thomas Moen-Hermansen and the two siblings share an incredible passion for all things music, from collecting records to making their own. While you might be inclined to think that Espen grew up in the shadow of his older brother, that is not the case and since the early nineties he's been a dominant force on Oslo's DJ circuit.
He was the lynchpin behind the Full Pupp nights at Blå, which came  to their conclusion this year after 15  years, allowing Espen the time to set up a new label Neppå, re-issuing music on the 12″ format. I suspect at least one of the two releases from the label made assn appearance on Espen Haa's debut on the Jaeger mix.
Slow chugging rhythms bathed in FM synths, wobbly guitars, and languid keys places this mix in an sonic epoch between the late seventies and the late eighties,  with modern interpretations joining their ancestral counterparts on the mix. Between Disco, Bubblegum, and Synth Wave Espen Haa's selections play on a kind of psychedelia, with temperate grooves, contrapuntal percussion and median sonics whipping around the tracks in some lysergic miasma.
Espen Haa expertly finds a balance between the beat and the context, playing to an early Sunday evening where he sets the tone for a nascent dance floor to emerge.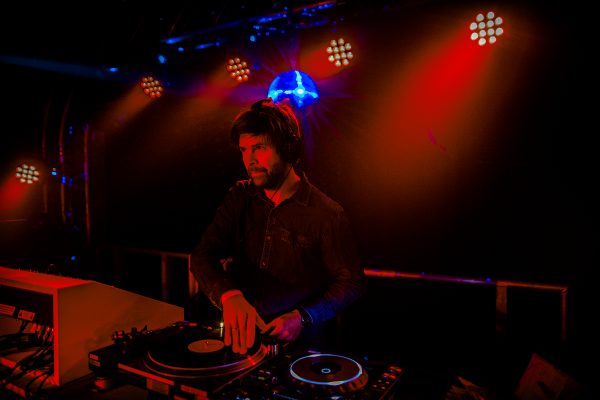 Hello Espen. Welcome to the Jaeger mix. Can you give us an introduction?
Hi there, Espen Haa here. Husband, dad, dj, and label owner. Been doing this thing since mid 90s, and into it more than ever.
What is your earliest memory of a piece of music? 
It's hard to say, probably something my mum or dad played. Trille, Marie Bergman, and Rolling Stones. In no particular order. I grew up with cassette and vinyl, and Kiss "The Elder" being my first album.
Was it Thomas that got you into DJing and what was the music that encouraged you to working with music and DJing?
Thomas definitely got me into DJing. I can't see how he did not. When you have a brother as passionate as him, it's hard to not being affected in some way. I was always very interested in music. I actually played at the local youth club in the 80s, but that does not really count. That was just playing hits after hits, with the clubs 7″. It was actually just a way to look cool, the girls you know. Mid 80s until the early 90s it was punk, indie rock, and grunge for me. Never playing, but very into the music and lifestyle. 93-94 I was hit hard by dance music. It was very liberating, and much less formulaic than rock music. The rock-thing had so much posing, and way too many things that was a no-no. It got boring.
I moved to Bergen in 1995, and it was just great to be in a city with a vibrating scene as Bergen's. Clubs like Cafe Opera and Miles Ahead inspired me, and lot`s of great nights were had. DJ Harvey at Kvarteret in 96, that was pretty special.
Where have your and Thomas' tastes in the booth always converged and diverted from one another?
We actually have a lot in common! I think we both have a restlessness in our taste, Thomas more than me. When you do as many gigs as he does, you need that restlessness, that need/want to get something new and different. The need to do the unexpected. I can get restless in the middle of a set, I need to break it up, try to take it somewhere else. I find it hard to play the same style of music for hours and hours.
In the late 90s and early 00s I was very into Body & Soul, the legendary NYc-party. The way they mixed it up, playing uptempo and downtempo back to back, it really inspired me. And of course David Mancuso and his Loft-parties. I got to know David a bit, having him over to Oslo two times. His way of doing a party is still the gold standard for me, but at the same time I have this silly idea that he would be the only one that could do it like that. The way he was setting up the soundsystem, playing the entire song, no mixing. It's pure. I think some people were put off by it all being too purist, too many rules. But I still have not heard a better soundsystem than his.
What do you consider your role as DJ should be?
Pure entertainment, but it's always nice to throw in some challenges. In the nicest possible manner! Playing outside in the sun or in a dark club for a packed dance floor, my approach to those environments would obviously not be the same.
It seems to me that you're much more reserved than your brother when it comes to DJing and making music. Is that a conscious effort on your part?
Thomas is the most ballsy DJ and producer I know of, so it's kind of hard to match him. I am not the kind of guy that sends e-mails east and west to get gigs, so if that is reserved, it`s fine by me. I do things at my own pace, ha-ha. Producing music has not been a big thing for me. I don't know my way around equipment and instruments, so I would need a lot of help. I admire those that have that particular flame burning, but for me it's no big thing. I love other peoples music.
But, I've just started a label! It`s called Neppå, and the second 12″ is coming this month. I am reissuing old and forgotten (and too expensive!) music on 12″ vinyl only. Great music, great sound, with a great cover, no hokus-pokus.
You were instrumental in the Full Pupp nights at Blå. Why did those nights come to an end, and is there anything waiting in the wings of that night?
The Full Pupp-nights at Blå were fantastic. It was a home away from home for 15 years. Before that I had a night there called "In the jungle" for two years, and Thomas and Pål Strangefruit had "Cosmos jam session" for 3-4 years(?). Blå has been great to us. What happened with Full Pupp at Blå? Wear and tear I guess. We thought it would be best to take a break. It's hard to say what will happen in the future, our door is always open.
Tell us about this mix. Was there any theme that ties these tracks together?
I tried to do a proper Sunday evening mix. It`s wonky as hell, and it was played with the vinyls. It's me having a go at doing a mix with a bunch of fave records for an hour. I got in some percussive stuff, some disco, and some old favourites. It's hard to pack in a lot of different styles and moods in an hour, but I did it anyway.
It's a curious context, because it's a recorded mix in a club on a Sunday. How did you have to adapt your style for this context?
The choice of records and overall vibe would have been different if it was a Friday or Saturday. It would have been much more uplifting and party-oriented then. Sundays sets the mood like no other day, ha-ha.
And most people will be listening to this mix on Friday afternoon. What do you hope they'll get out of this mix then?
I truly hope they will get to know some new, funky, and interesting music.