Traversing the deep echelons of contemporary House music to the fractured peaks of broken beat 90's Rave, foufou malade and Terrella awaken a dormant dance floor by the end of their debut for the Jager Mix series. Glisteninging keys stabbing at some uncooperative chords and liberating diva vocals, pursued by an enthusiastic percussive workout, sets a determined course for the dance floor. It's the end of a mix that has been eeking out a progressive journey to its ultimate conclusion, way long way from the two-step dub groove from which it set forth.
The DJ duo has made some strides in Oslo's underground dance community over the last year, between hosting events, DJing and making music. They've formed the Toalettkollektivet as an outlet for their creative endeavours which aims to go beyond the club as a label as the collective grows beyond their solitary ranks. They count uteklubb as their contemporaries as a new generation of artists and DJs that are eroding the boundaries between genres and looking to the past when.
Today ghostly echoes of the likes of Prodigy and Massive Attack haunt their mix as foufou malade and Terrella return to our lounge for the Jaeger mix series going back to back on the last Sunday of 2019.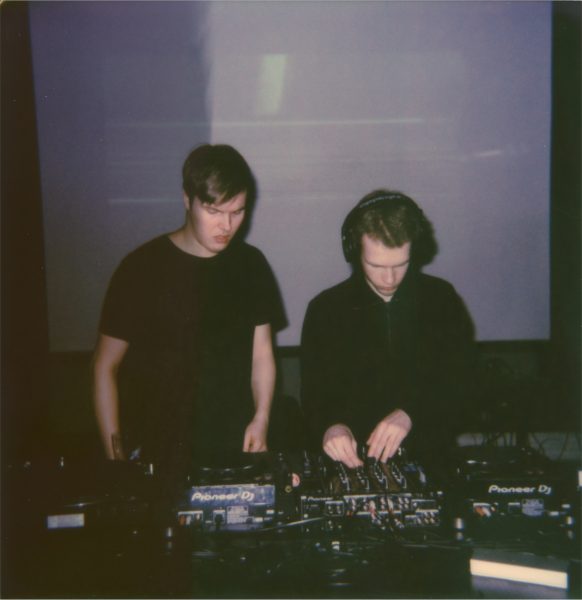 Give us an introduction to foufou malade and Terrella.
Terrella: I have always loved music, and was that weird kid who listened to and made weird music growing up. I got my hands on Ableton when I was 14, and have been doing all kinds of projects ever since, ranging from House, Dubstep, Ambient, Hip Hop, Trap and Techno scattered all over different aliases and soundcloud accounts. Recently, I have made mostly techno under the alias Terrella. The name Terrella is a tribute to a famous Norwegian physics experiment on northern lights because I'm a nerd like that. The pictures (as well as the physics hehe) from the experiment are just so fucking cool, and so fucking techno, at least in my opinion.
foufou malade: Similarly to Terrella, I'm into all kinds of music. As foufou malade however, I portray my main passion – techno and house. I grew up surrounded by music 24/7 and definitely feel an influence from my childhood, the late 90s and early 00s, when producing and playing music. This is also reflected in my alias; as a kid I used to say that cool things were foufou malade (French for super-duper crazy), and I try to parallel that musically.
As for the two of us together, we first met walking to a cabin trip the first weeks of high school arranged by the school so the students would get to know each other. While walking, we started talking, and ever since learning that we were both making house music in Ableton we've been very close friends. I guess you could say that our individual passion for music brought us together.
And what is the Toalettkollektivet?
We noticed that a venue's toilet says a lot about it's crowd and culture, and thought it was funny. So, we started "collecting" photos of toilets of venues as a joke. At the same time we also decided we wanted to start organising parties, do events and release music together, so "Toalettkollektivet" just kind of happened naturally. As of right now it's just the two of us, but we are planning to include friends and other up and coming artists and DJs.
What were your earliest memories of a piece of music?
Terrella: My dad always played the compilation album "1" by the Beatles in the car. I knew all the lyrics but didn't know what any of it meant being 4 years old. I also remember my grandfather always playing the saxophone when I was a kid. He actually started a local scene for jazz music where I grew up that sprung out of parties at his house. Eventually the parties outgrew his house and they had to get a venue and it became a regular thing. In a lot of ways I want to do the same thing with my music, but as of right now I only have a cheap smoke machine, two LED bars glued to the ceiling in my living room that I (try to) sync up with music in Ableton, a small shared apartment and angry neighbours (and sometimes angry roommates).
foufou malade: Dancing to DJ BoBo – Chihuahua on full blast with one of my best friends from childhood. I still have the CD somewhere…
We still do that – except it is now Uteklubb we dance to, not so much DJ BoBo.
What encouraged you towards a career in music?
We are both very passionate and ambitious about the things we do, and will go out of our way to get involved in any way we can. Honestly we haven't really thought about it as a career, it's just something we love doing. It has been an organic progression, influenced by the support of friends, family, and the passionate music scene here. We can't stop doing music, that would just suck so much, so there's no other option than to pursue it.
Where do your musical tastes converge?
This is very hard to answer. Both of us like a very wide range of music, always very similar but never exactly the same. We like the dynamic this creates when we play together because we never let each other get stuck in one vibe. So, we just kind of ping pong ideas off each other throughout the night, and build off of each other. Sometimes one of us might say "screw it" and completely change the direction of the set, and then the other is forced to adapt. To try to answer the question more specifically, lately we've both been converging to super fast techno with breakbeats and retro trance elements. We've also been listening to a lot of the same "classic" house music. We also usually get super hyped together when a DJ plays something really weird and unconventional in a set that somehow worked, which is similar to how we like to play.
How is this reflected in your Jaeger Mix?
In this mix we wanted to hint to the different music we enjoy playing while keeping it mainly house. There are some acid basslines in there, some breakbeat, old stuff, new stuff, happy stuff, sad stuff, more chill and dubby tunes and some energetic tunes. We were actually a bit naughty and played a few tracks that aren't house, but that we felt would fit in the house mix anyways. Originally we wanted to do way more variation in style within the hour, but we realised that there wasn't enough time. However, in the end we got it where we wanted it in terms of variation.
And how does this mix differ from what you might play on a club night?
It is important for us to feel like we want to be on the dancefloor when we're playing in the DJ booth. We have a very loose style normally, where we just bounce off of each others' vibe, and the atmosphere in the room, and go with the flow, wherever that takes us, regardless of genre, tempo etc.
With this mix, we were not playing for the room, were limited with time and also couldn't really switch things up a whole lot if we wanted to. Not having live feedback from listeners of the mix meant more emphasis on a linear progression throughout, and less experimentation.
We also tried to keep in mind that some things are really cool live, but won't transfer well to a recorded mix. So the really weird, wild, minimal repetitive stuff that can sound absolutely amazing on a good system with the right timing had to be left out. To sum it up we are usually more genre-fluid, with a higher energy, more focus on bass and rhythm and more weird things thrown in there.
What do you consider the role of a DJ should be?
This might be cliche, but a DJ is like a tour guide, taking you on a musical journey. Every DJ has to decide what type of journey they want, or don't want, to offer. For us, we want to show people what we are all about, who we are and what we like. An uncompromising journey into our musical world. DJs have the responsibility of exposing the listeners to music they would not otherwise come across.
What were some of your personal highlights in the mix?
foufou malade: "No Good' is a track that really sticks out to me. It brings back good memories from when I dropped it at our rave last summer. The oldschool sound is something I'm really into and try to pay homage to in my sets.
Terrella: We really like how we started out very slow at the opening hour on a Sunday night, but got everyone moving by the end. We didn't want the mix to sound like the same song over and over, so to us the highlight is the variety and contrast between the songs. Finding really different songs that work together like "Take It Easy" and "Loose Legs", just to name an example, is pretty interesting in our opinion. Hopefully it worked.
What do you hope the listener gets out of it at the end of the mix?
We hope the listener found something new and fresh that they haven't heard before, didn't know they liked or hadn't heard together in that context. We also hope the listener got an impression of our style and taste.