The moment your feet touch solid ground at Narita Airport in Tokyo Japan, a wave of calm and serenity envelopes you on the sonic plain. There's a quiet, light hum from people scurrying to their final- or next destination, but filling the noticeable void where noise usually resides in western transport hubs, a synthetic glass harmonium plays a forlorn melody over some small speakers in the distance. Legato notes sustained to forget any purpose or objective, and bounce off the vacuous entrance hall to the airport, the odd short burst from a human voice interjecting the quietude that ensues throughout.
Before my first visit to Japan, I had been made aware of Japanese music culture from various sources: Haruaki Murukami's novels which often talk of the country's Jazz traditions; music and mixes from the electronic sphere with special reference to the likes of Ena, Soichi Terada, Dommune and DJ Nobu, and countless articles and essays on the audiophile culture in the country, most significantly a recent RA article. But nothing could ever quite prepare me for the extent which music infiltrates the everyday in Tokyo and what was just a short trip on the airport travelator would set the tone for an experience that still only scratched the surface of music in Tokyo.
My first evening in the city, a hazy jet-lagged affair spent sampling a variety of meats on a stick and my first taste of Shōchū & Hoppy, bares associations with the boisterous sound of the many arcades in Shimokitazawa. A cacophony of 16-bit noise operating at the most superficial of listening levels, completely assault the ear while a blinding array of visual messages expound on the discorded noise, relaying no singular objective other to engage with the inanimate object. Some people approach the activity-based consoles with the same vigorous energy of an exercise session, and if you remove yourself just momentarily from a singular focus, all the sounds conspire into a densely orchestrated "noise" that brings with it its own unique peace. From this distance there's an objective ambience, nothing more than inoffensive childish innocence that can be ignored instantly in the spiraling density of sounds that play out in this Tokyo precinct daily.
Night and day play out in complete contrasts, and the next morning proves to be an antithesis to the preceding night. Where chaos and cacophony raged the night before a calm reigns through a piano concerto strained through a thin tannoy system. The slow moving classical piece, a recording of a simply orchestrated arrangement, reflects the order and the cleanliness of the street below. Inoffensive it creates yet a new acoustic backdrop to the very same street from the night before as the bohemian little district wakes up and goes about its business.
It doesn't take long to realise there's hardly ever a moment of complete silence in Tokyo. Walking through Shibuya in the early evening its presence can be felt more than ever. The continuous drone of a people living in a big city in constant harmonic counterpoint to the sharp incandescent lure of pachinko machines; the intermittent shriek from a music video; the loud visuals from a collage of advertising boards floating above a mass of human heads; and even the synthetic bird-song being broadcasted through the metro system. They all conspire in a general sonic atmosphere that bombasts the individual, and although they all hide their own peculiarities, I can't help but wonder; what of the more concentrated and purposeful efforts? What of the actualised music?
This is why I'm in Shibuya. Away from the metropole where sushi bars and Izakayas lure the hungry and thirsty off the streets, past the giant intersections where crowds crawl their way across, selfie sticks raising a flag where tourists take ubiquitous holiday snap, there lies a bar/club, called Oath. I make Oath my first port of call in the first club-music experience that would eventually lead me to UNIT and DJ Nobu later that evening.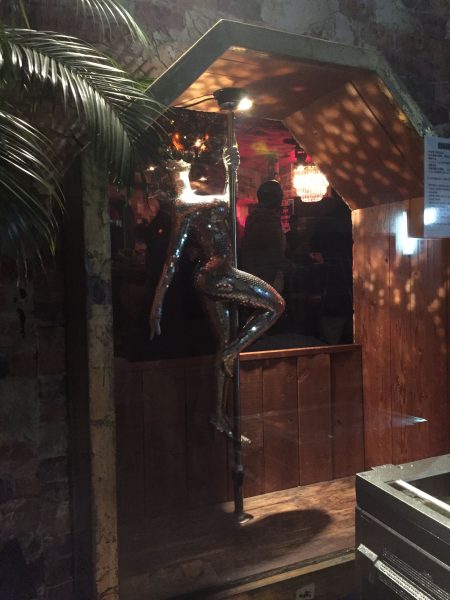 Oath is a very inconspicuous hole in the wall for the business district just shy of the centre of Shibuya. Inconspicuous in aesthetic, its entrance lies in a back street, but where traffic noise and very little else persist, Oath can be heard, long before it can be seen. It dominates (both physically and sonically) Tunnel, the more commercially aligned, Disco-orientated sister club in the basement. Walking through the plastic curtain over its threshold, Oath perpetuates the idiom "big things come in small packages". A clunky iron-red look commands the interior, conservatively perpetuating the intimacy of its physical dimensions, trying very hard to contain the larger than life sound radiating through the walls, while mirrors play visual tricks to enlarge the actual size of the space. It's barely gone ten in the evening and already a small dance floor has formed, DJ U-T representing Seltica is presiding over a small audience made up of a mixture of expats and locals. The swell from the single Tannoy® sub at my feet is loud but warm, never consuming nor overwhelming and although it's a PA system rather than a hi-fi system, the sound in the small venue is incredibly controlled. DJ U-T plays a selection of Deep cuts that border on the malignant and darker sound of Techno eluding to more than what House percussive arrangement might suggest. The DJ stands behind the bar, where the relationship between the DJ and his/her audience is very much one of facilitator and not their nucleus of focus. Assuming the same position as that of a barman, any notion of performance is acutely missing, a universal reality I have found throughout Tokyo.
Oath and the venues that make up the bulk of that RA audiophile article, only scratch the surface of Izakayas and bars where two decks, a mixer, a wall of records and barman assuming the role of DJ prevails. In the smaller and more musically varied venues barmen and -women mix records while mixing drinks without any real notion of something like a trend or curiosity. This is just the reality for your average watering hole in the city. These can go from a more commercially-focussed venue, catering to executives with carafes of expensive French wine and familiar eighties pop standards to a smokey third-story apartment, playing esoteric Japanese folk music from the sixties while you sample the array of Japanese whiskies on the shelf behind. Izakayas like these are too many to mention and are incredibly varied and more often than not I found myself looking for specific venues only to be sidetracked by the allure of the sound of a record spilling out from some open hatchway leading to a bar that could accommodate a mere handful of people.
Oath is one of the more established venues in this regard, regularly featuring Tokyo's most esteemed DJ's and a host of international contemporaries in a venue the size of a living room. Not quite featuring the high fidelity focus of some of their contemporaries, Oath is definitely more club music oriented, but a finely-tuned system, padded ceiling and thick walls suggest that audiophile focus is definitely present and accounted for. Jun Kitamura (the head of Capricious records) takes over from U-T continuing to move in deep territories, but delving further into the eclectic, touching on elements of Techno and Acid as the "dance floor" expands. With 20-odd people in the venue, Oath is nearing capacity and everybody is in some state of conversation, while the DJ tucked away next to the bar, works through his bag of records. I find myself looking out the window, admiring the skull and bones insignia on the bricks and taking in the general atmosphere with the DJ's role certainly more retracted, even absent when compared to most European clubs.
It's quite the contrast from what I experience later that evening when I find myself at UNIT for a Kontra Musik and Nuance night which sees DJ Nobu on the bill – in fact it's almost the complete opposite of what Oath is. It's something more familiar as a "club". Buried about three floors beneath the surface, at some distance away from any other nightlife establishments, UNIT's impartial cavernous space is dotted with small pockets of people, dancing to a live show of TM404. A good expat contingency is accounted for, many of which make up the Nuance crew currently playing some ambient tracks from the likes of the 7th plain in second room to a reticent audience, slinking back in their chairs, catching a breath before returning to the main floor where Ulf Eriksson has just launched into his set.
It's a year on since Japan has scrapped the dancing ban, which required venues to have a specific license to allow people to dance. UNIT is full, but hardly capacity, and I assume it's because people are still adjusting to the lifting of this ban, only to find its relevance to dance music and culture was probably not as significant as I thought it to be. I ask one the expats about the turnout, a Canadian who works for Yamaha music and keen supporter of DJ Nobu. "No, this is a good crowd", he replies "Techno is not very popular" he suggests and even though a place like Tunnel might be packed with people dancing to Disco, a genre like Techno still mainly operates in the shadows. He can't give any input  as to the dancing ban's influence at all, and poses the same question to his companion, SAYA, who by some coincidence is a Techno DJ with a residency at Oath. She reiterates the justification for the small turnout, but neglects the question on the effects of dancing ban. "It's only recently that people are getting into Techno" she says in perfect English, the dancing ban, it seems by her disregard of the question, playing less of a role in the recent evolution of electronic music in Japan than what I perceived through many articles I had read on the matter. I ask more of the locals at UNIT about the subject, and where some try to offer a picture most don't understand the question. I had hoped to write something along the lines of "electronic music in Tokyo after the dancing ban" but what I found was a electronic music culture still very much in the embrace of the underground, where mainstream statutes still hardly have a stake.
Abandoning my line of questioning in light of these aspects, I'm now more curious as  to which DJs and producers are currently setting the tone for electronic music in Japan and Tokyo. SAYA mentions DJ Yazi as an example of her most immediate influences, but insists most of her record collection is of European descent with the record store, Technique a favourite hub for DJs like her to find those records. I make a mental note to visit the store when I'm back in Shibuya, just before DJ Nobu takes to the decks. After Kontra Musik's Ulf Eriksson's somewhat lacklustre, but technically adept performance, Nobu's style hits you like a freight train. The elder statesman of Techno in Japan is dynamic, raw and forceful. His mixing proficiency is a stark contrast to Eriksson's smooth, calculated manner and Nobu's mixes go from peak to peak creating these brilliant walls of sound that swell and crash over pieces selected from both the past and present. In the black, featureless hollowed out space of UNIT, Nobu fills a void with music that inserts colour, movement and texture from Techno's more obscure and uncompromising corners.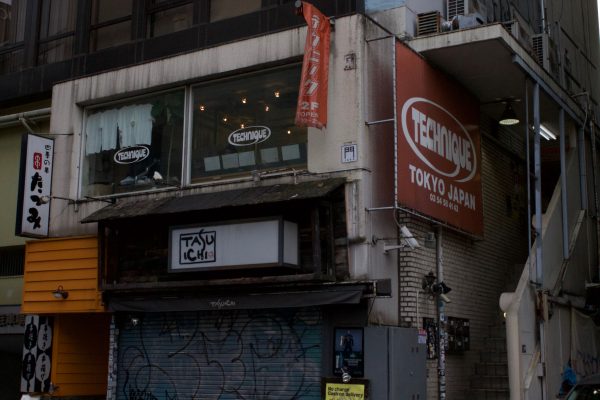 Inspired by Nobu's set and recent releases by a latent Japanese Techno talent ENA, I make my way to Technique a few days later looking for some new music records. Unlike SAYA and her peers, I am here solely for new Japanese artists, but a hearty  Detroit section leaves me inclined to paw around in the compact space of the record store and stick a Rhythim is Rhythim release in my bag. Back on track however and with some help from the clerk, who hands me a formidable bundle of personal picks, I make my way to a listening station looking for something that jumps out at me and my personal tastes. The man next to me is bobbing his head to Robin C and Omar V's Full Pupp split, but my bundle is solely made up of Japanese artists and labels. Immediately, titles from Britta, Gonno and Iori jump out at me, and I can't help but fall for the latter's second cut, "Ripple" on Less is Techno's ( a new French label) second only release. I flip past some other familiar titles and what I come across for the most part is a sound that is reminiscent of U-T's set from OATH. It's a Deep House sound for the most part, extorted to its bare essentials, loitering in the melancholy fringes of Techno. A peculiar antithesis to the more upbeat, cut & paste sound of Deep House in Europe at the moment, the Japanese interpretation, seems more inclined to follow the production aesthetics of Techno, devoid of the sample-based formula distilled from producers coming from a Hip-Hop background, with machines creating new luscious landscapes from unidentified sources. I grab a melodious deep two-tracker from EFDRSD, an outlier example of this sound, featuring an Inner Science track on the B-side that entwines you in its sweet melodic prose like an artificial intelligence learning to communicate for the first time.
The few hours I passed at Technique was a definite highlight, but the "digging" experiences to be had in Tokyo are plentiful and can go from finding new Japanese music to finding rare copies of European and American music under thin layers of dust, tucked away in stores like Flash Ranch in Shimokitazawa. It was indeed in this little bohemian neighbourhood made up of used clothing stores and eateries that I found the more intriguing record stores. One such place lead me back to Mr Murakami's novels and Japan's own traditions with Jazz. In one of the border streets to Shimokitazawa lies a record store whose Japanese title still eludes me. A lone clerk, I assume to be the owner, handles the records with white gloves as he transfers them from player to sleeve in the way a museum archivist might handle an antique vase. It's with some trepidation that I embolden myself even to ask to listen to a few pieces from the Japanese fusion section, my clumsy hands pawing at the immaculately preserved sleeve with the grace of a ten-ton truck compared to this man. Nonetheless, he allows me and I imagine I steal a glance of a smile when I leave with a couple of records from Stomu Yamashta and Sadao Watanabe under my arm.
Later that evening in Shimokitazawa and the scent of Korean style BBQ has my hunger piqued, but yet again it is a sound that overwhelms my other senses. The sound of a wayward percussive rhythm stumbling up some stairs in reverse, drawing me to its source where a mælstrøm of sound drags me down to the subterranean levels of the city. A staircase leads to a small room where a Jazz trio is performing a piece of fierce intensity. The drums are locked in some perpetual dual, rhythmical in counterpoint to a double bass which purposefully slingshots between melodic phrases and percussive stabs. Each player in this scene has left the humble single sheet score in front of them far behind in search of some new conscious plane. Their virtuosity is immediately obvious, the technical ability of the pianist so controlled and effective as fingers glide effortlessly over the old upright in the corner. They and their audience are completely engaged on every level through the performance, the hour-long musical session unravelling across set pieces of improvisation where the trio finds some unconscious synergy, even if each player is wholly travelling individual paths. The intimate space is almost at maximum capacity with a mere handful of people and when the session ends I grab a chance word with one of the patrons, a classical pianist who admires the performers and their dexterity in negating the scores direction. "I need the score to play", she says as we discuss music from Norway's own Jazz traditions to Noise. "Yes, there was some guy here last week making some sounds with all these different boxes", she says about that particular subject with no noticeable indication of some musical edification impeding her opinion. I try to stay for the second session, but hunger has inhibited me and I find myself floating back up to street level where a Korean style BBQ feast awaits.
Listening to the improvised conjecture from Jazz musicians and their instruments would prove to be the last orchestrated musical experience for me in Tokyo, rounding off a diverse musical collage of the city, that includes everything from the strained, dissonant sounds of Gagaku (traditional court music) at Meiji Shrine
to bubblegum pop playing through the narrow alleyways in Harajuku – mere footnotes to this piece that could easily make up yet another article. There's no singular musical identity that defines Tokyo, but whatever they do, even when it's playing the music from further abroad it is uniquely theirs. A broad musical dialect that ranges from contemporary Jazz to dystopian Techno, music it seems, consumes the quotidian life of Tokyo. I wasn't quite prepared just how omnipresent music is in Tokyo, and how even the most banal of activities has a musical component to it. I leave Tokyo in the same way I arrived, with a new version of that synthesised harmonia playing me out, but more inquisitive than ever, already planning my next visit to the city and digging much further beneath the surface of this wonderful musical culture.